An Easter tradition made easy.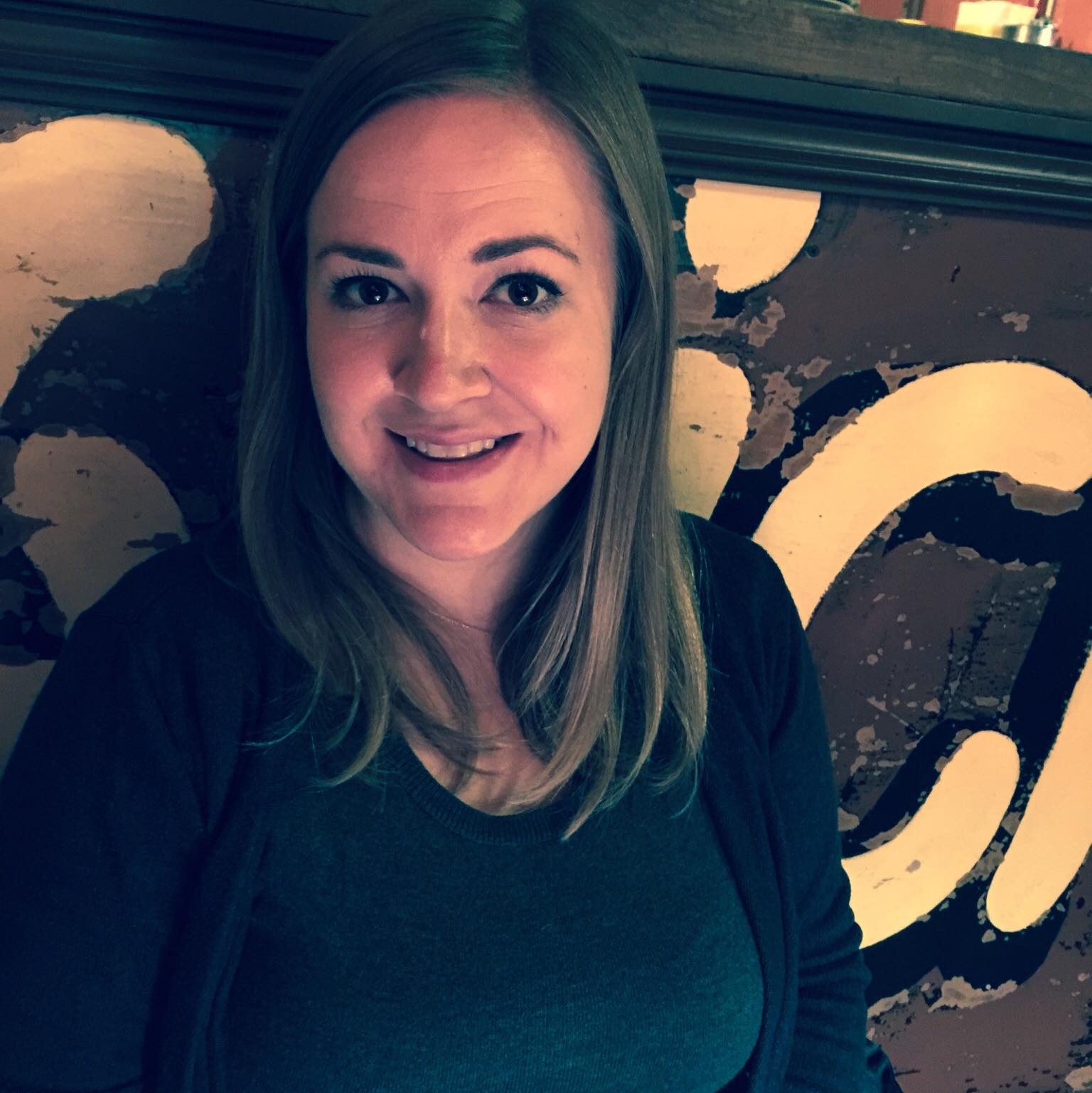 Kristy Norrell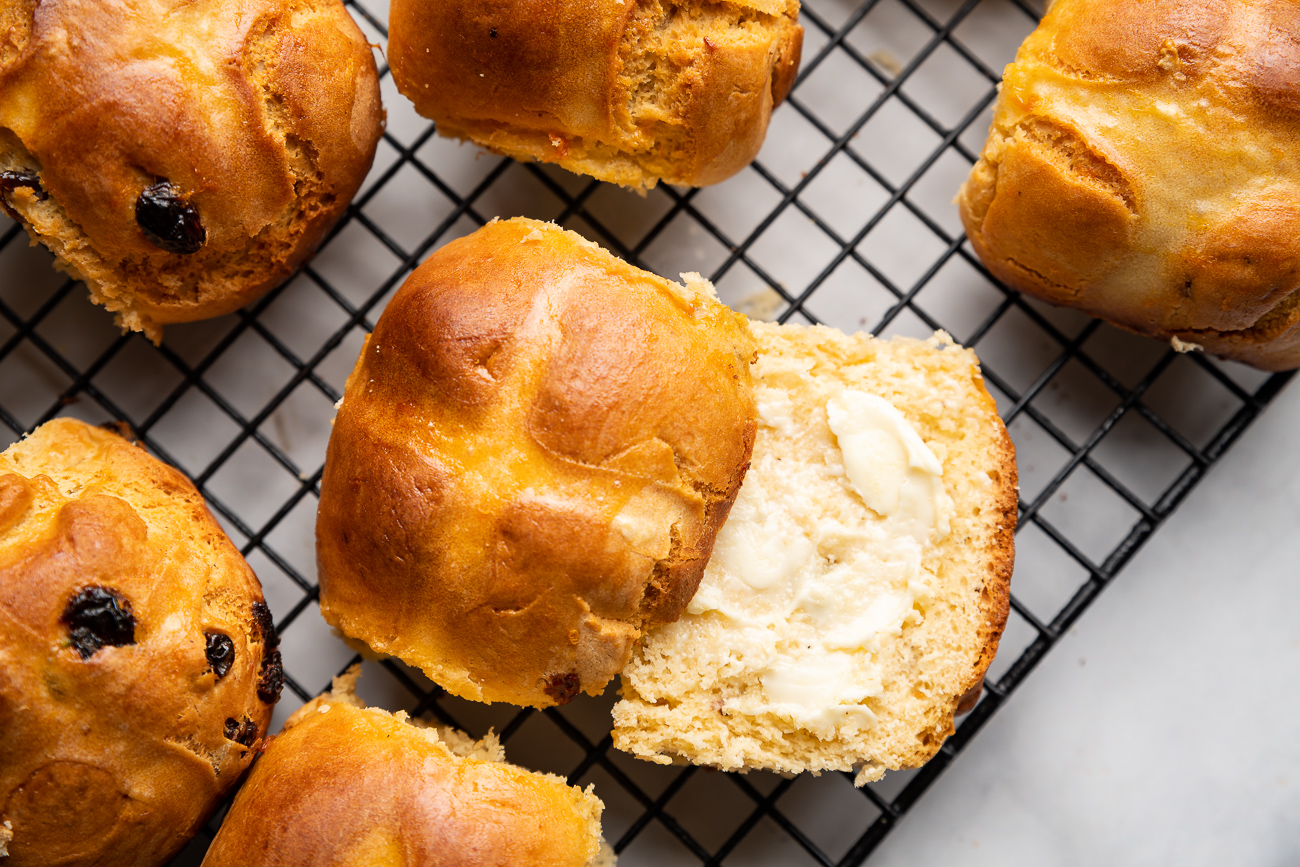 There are some foods that we only eat once a year, but that just means that you get to spend the rest of the year looking forward to them. And Hot Cross Buns are always something to look forward to. Sticky, sweet, and spiced, they're an Easter favorite for good reason and it has just as much to do with the flavor as it does the cross on top. These buns, generally eaten on Good Friday to mark the end of Lent, are meant to represent the cruxification and date back as early as the 14th century. They're delicious little buns, studded with dried fruit and warming spices, but you don't have to rely on your local bakery or grocery store to provide them — they're easy to make at home and make for a very fun family baking tradition.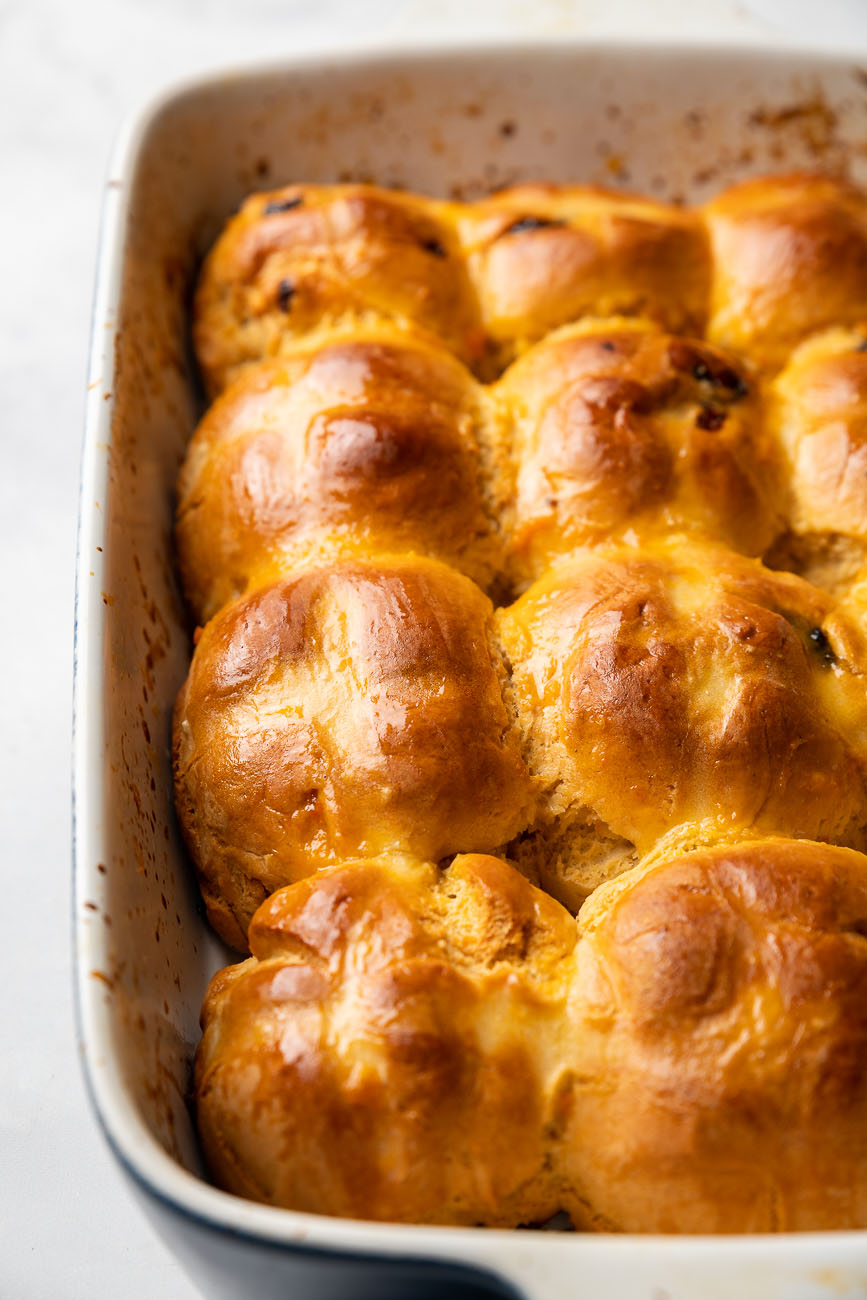 These are made from a yeast-risen dough but don't let that make you think that they're complicated. It's an enriched dough, which means that it incorporates things like milk, butter, and eggs that give the dough a soft, pull-apart texture and a lovely sweet flavor. You simply mix your dough together and either knead it by hand until smooth or let the dough hook on your stand mixer have at it for about ten minutes, and then you mix in a key component.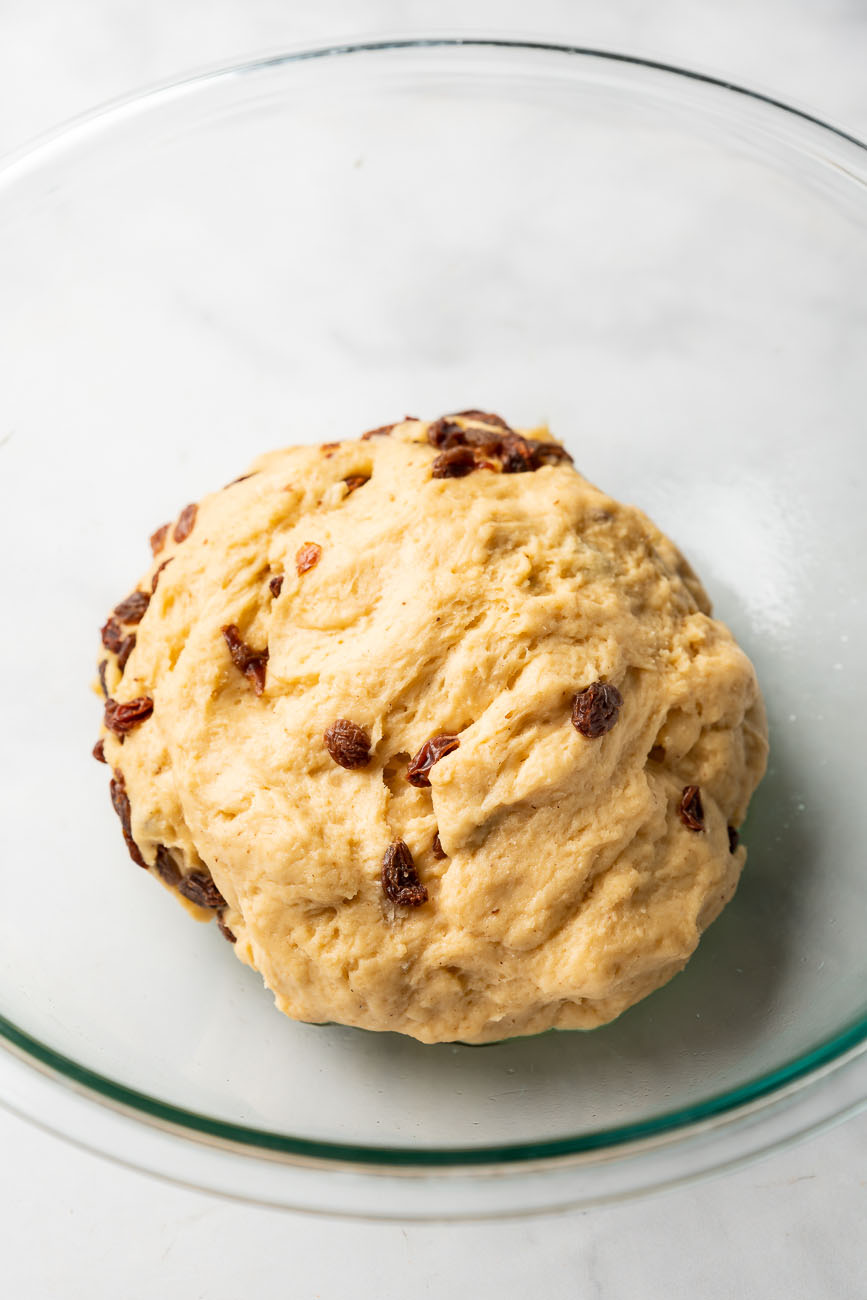 That key component would be dried currants or raisins. You can use either, or even dried cranberries, but you'll want to soak them first to get them to plump up a bit. You can leave them to soak while you start to work on the dough and then stir them in once your dough is kneaded. Just make sure to pat them dry first so you don't incorporate too much liquid into the dough. Then, set it in a bowl, cover it up, and let it sit for about an hour until it doubles in size.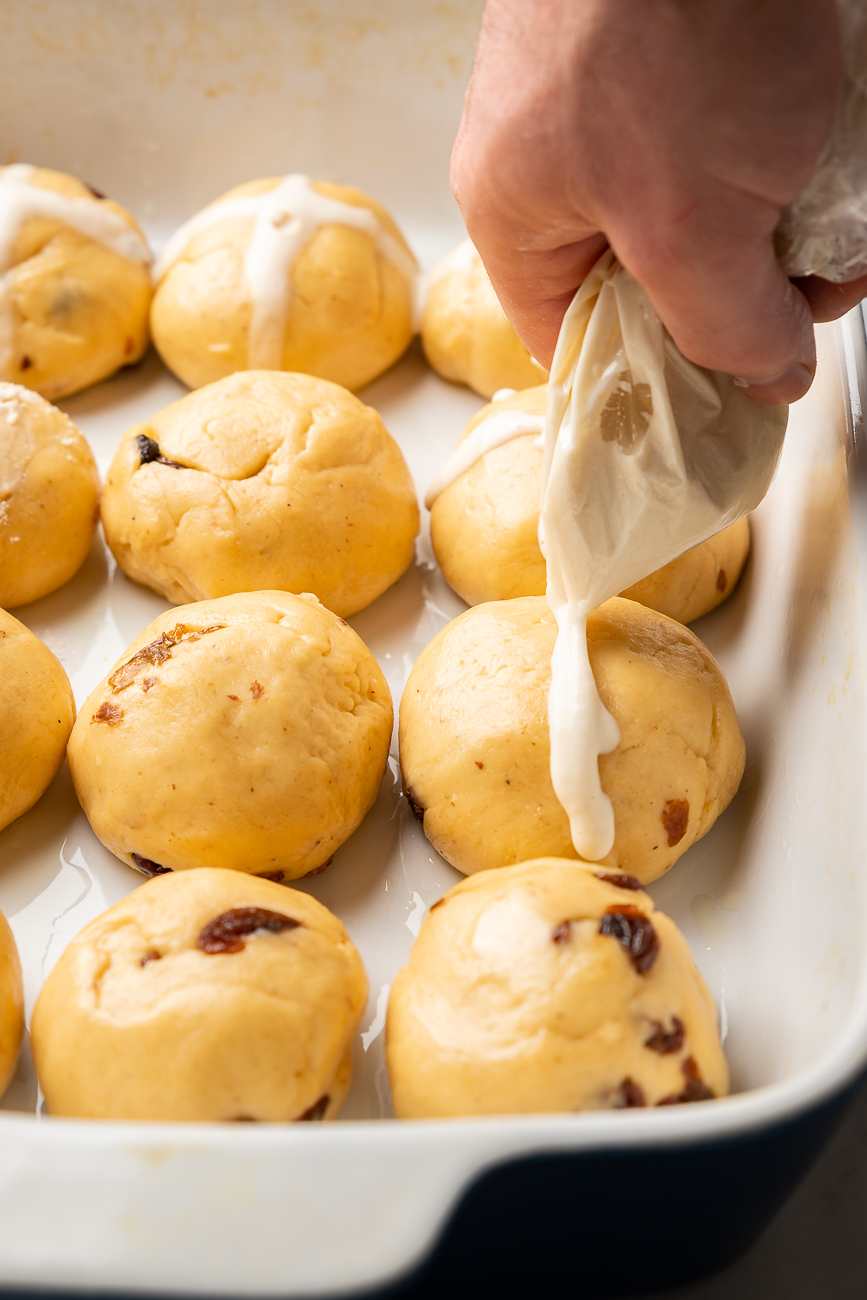 At that point, you'll divide the dough into twelve little rolls and place them in a greased baking dish and let them rise one more time. They should puff up quite a bit in the course of an hour and then it's time to add the crosses. While a few recipes call for the crosses to be added as an icing at the end of baking, the more traditional way is to add them as a flour paste before they head into the oven. Just mix together some flour and water and pipe that mixture over each bun in the shape of a cross.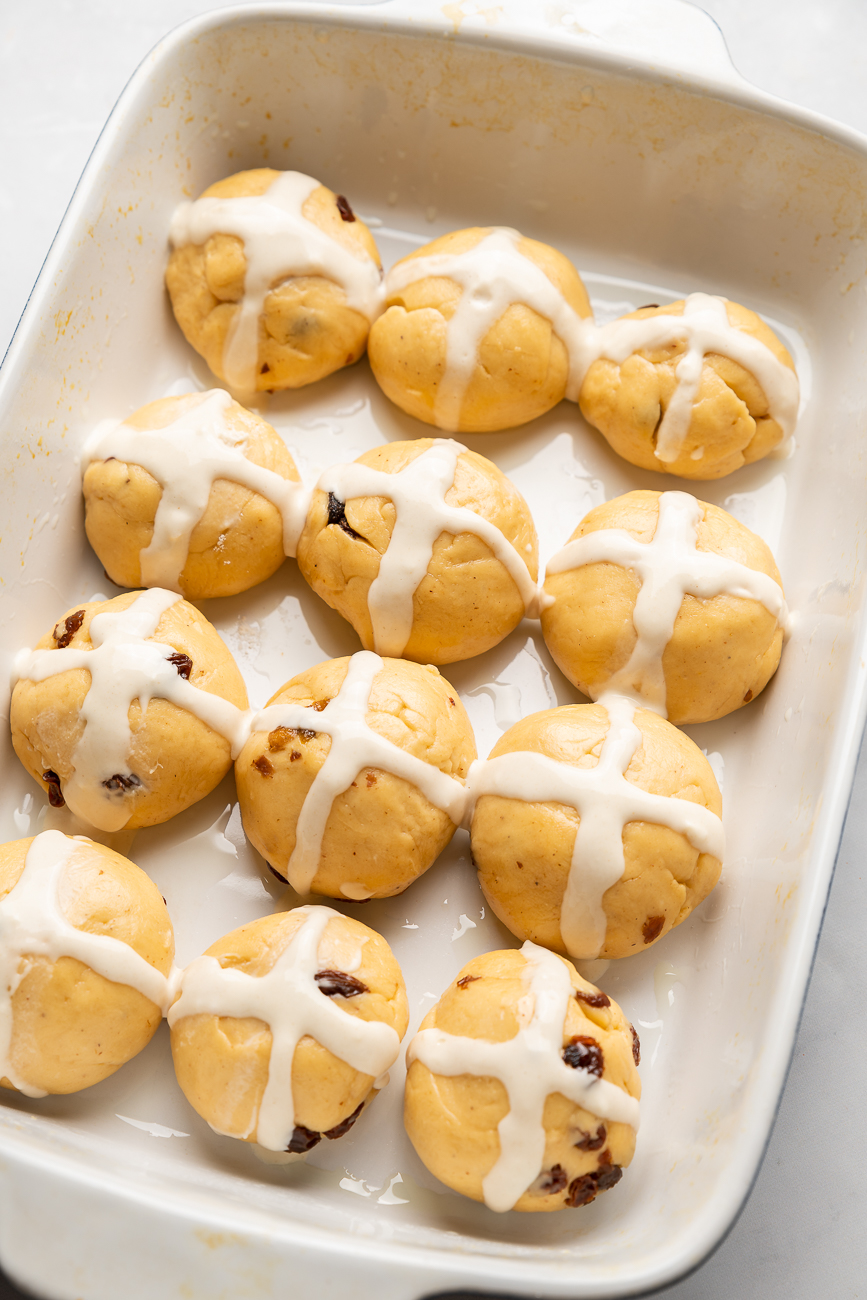 They take just about twenty minutes in the oven and should emerge fluffy and golden brown.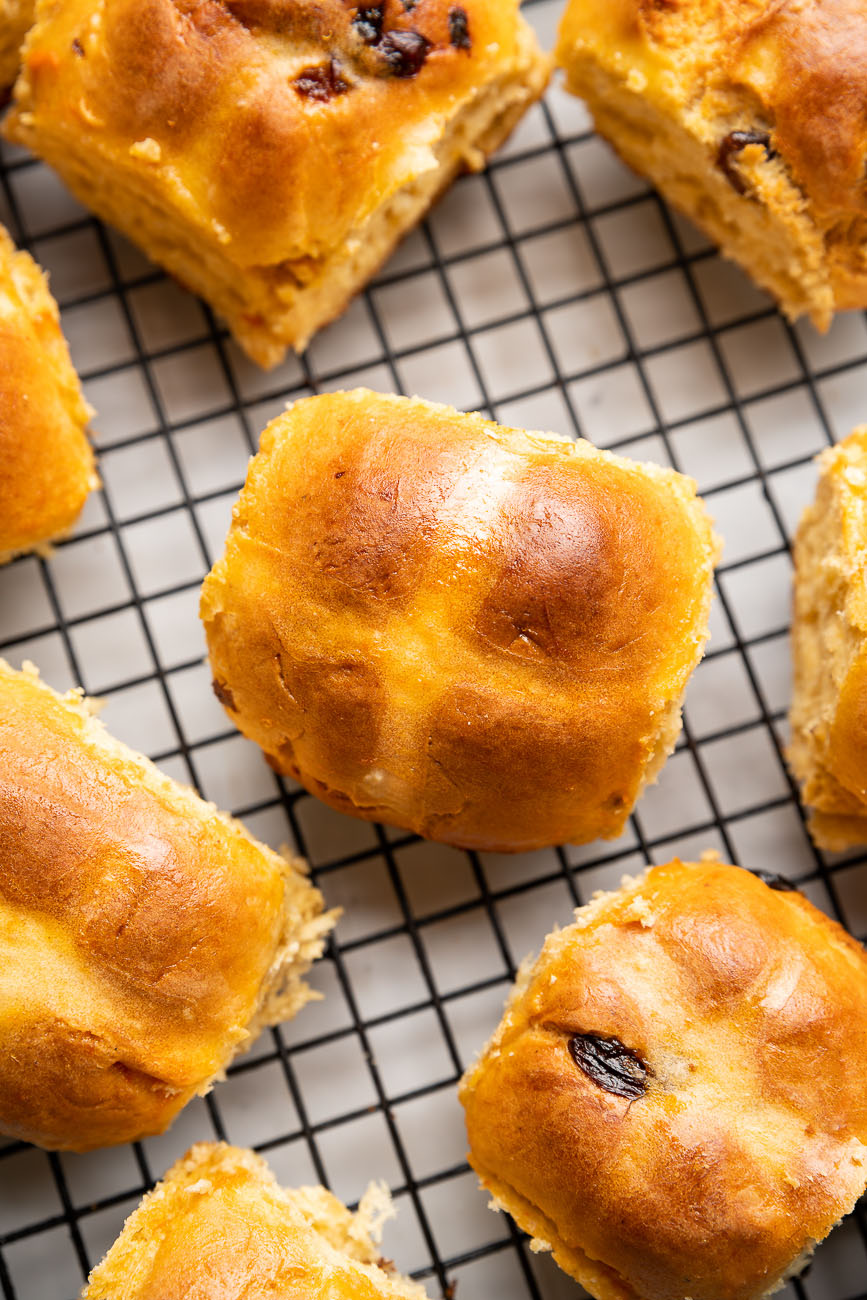 Another key component is a sweet and sticky glaze that's brushed over each bun. "Glaze" is really making it sound more complicated than it is, because all it really involves is microwaving some apricot jam and water until it's thin and brushable and then brushing it over the Hot Cross Buns.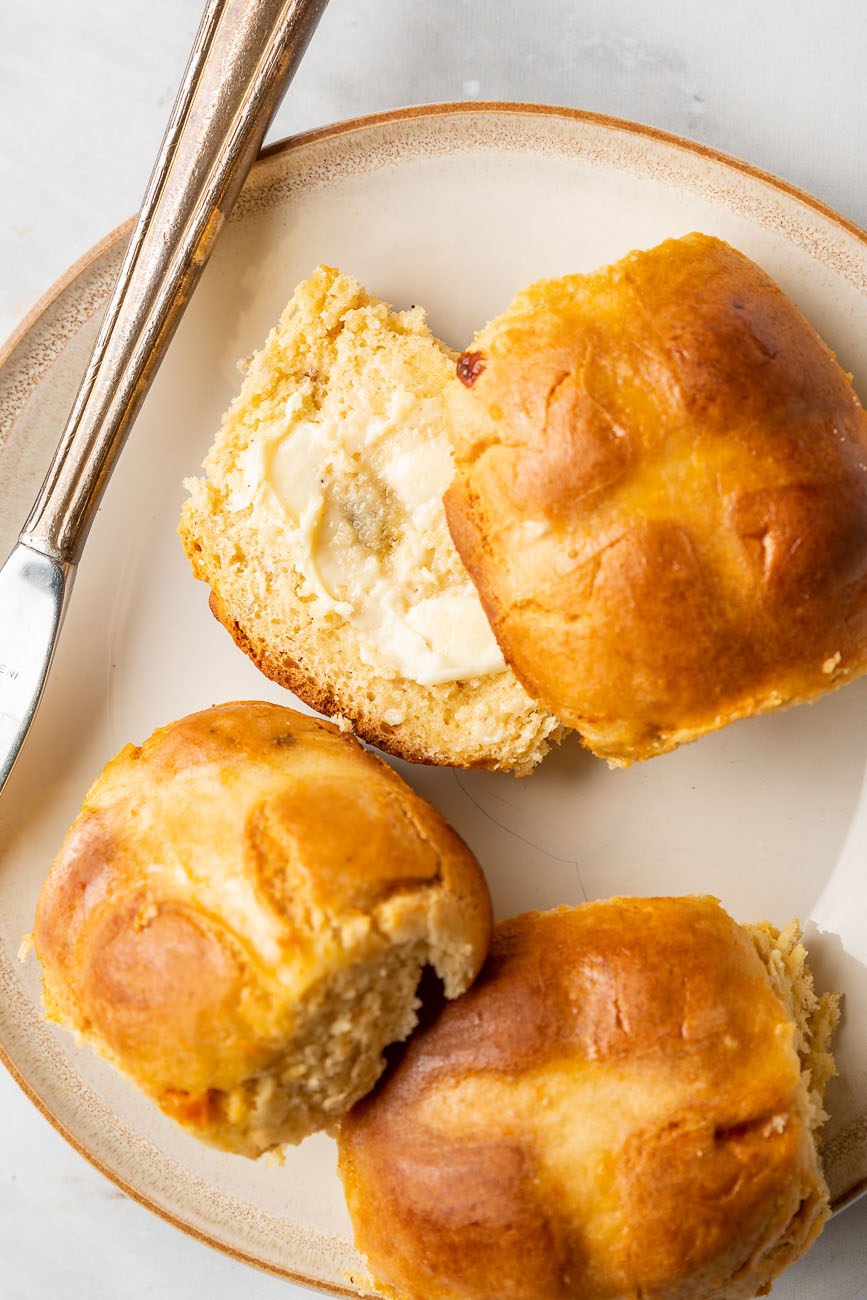 It adds another hint of sweetness and a lovely sheen. Break one open, spread on some butter, and you're ready to enjoy. You just might find yourself wishing that you got to enjoy them more than once a year… but when you make them yourself, you can do just that!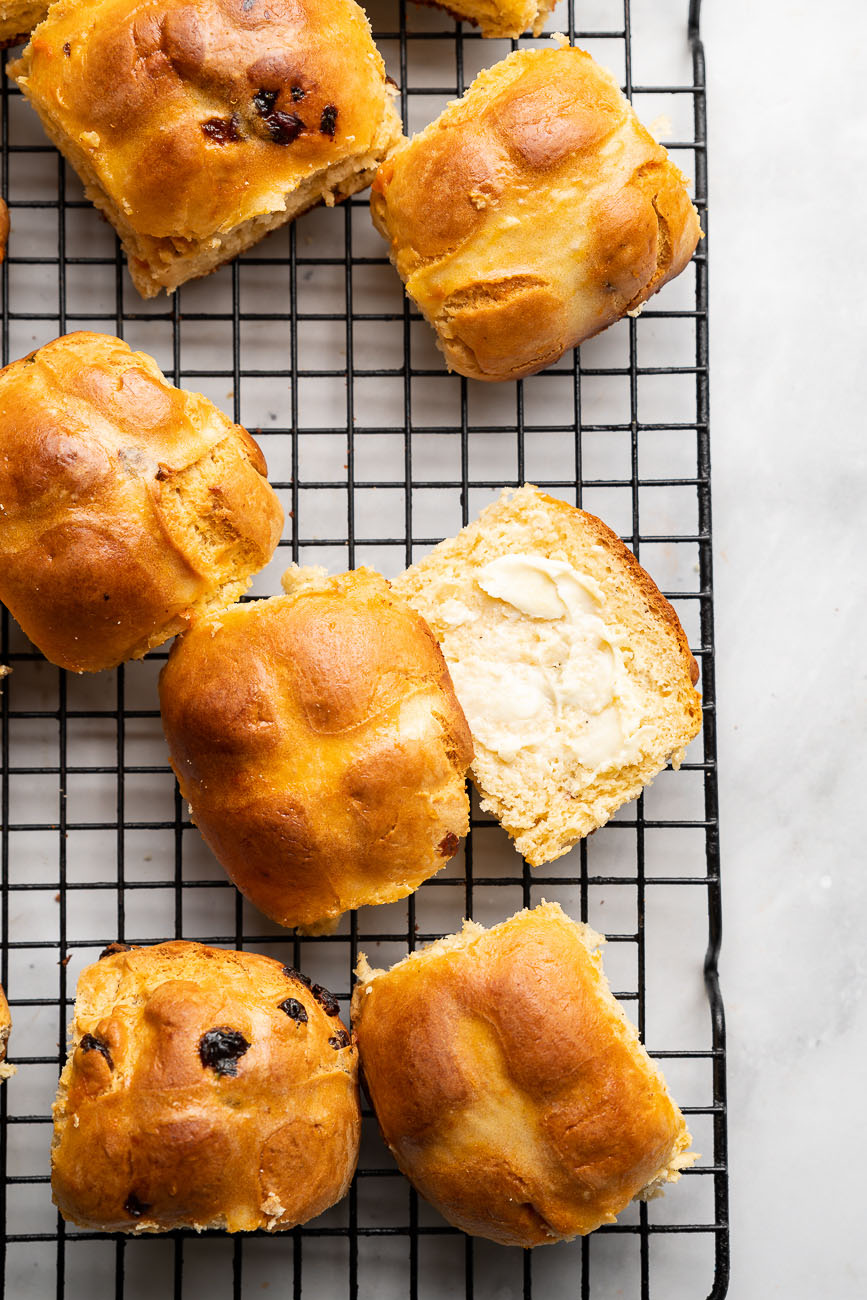 Easy Hot Cross Buns
Yield 12 rolls
25m prep time
20m cook time
2h inactive
For the dough:
1/2 cup raisins or dried currants
3/4 warm milk, divided
1/2 cup granulated sugar, divided
1/4 cup unsalted butter, softened
1/2 teaspoon salt
1 envelope (2 1/4 teaspoons) active dry yeast
2 large eggs, beaten
3 1/2 cups all-purpose flour
1/2 teaspoon ground cinnamon
1/4 teaspoon ground nutmeg
1/4 teaspoon cloves
2 teaspoons baking powder
For the crosses:
1/2 cup all-purpose flour
5 tablespoons water
For the glaze:
1 tablespoon apricot jam
2 teaspoons water
Preparation
In a small bowl, combine the raisins or dried currants with 1 cup boiling water. Let rest for 10 minutes, then drain and set aside.
While fruit sits, combine 1/4 cup warm milk, 1 teaspoon sugar, and yeast in a small bowl. Stir and let rest until bubbly, 10 minutes.
In the bowl of a stand mixer, combine remaining warm milk with remaining sugar, and the softened butter, and salt. Add the 2 eggs, yeast mixture, cinnamon, nutmeg, cloves, and baking powder.
Using the dough hook attachment, mix in flour 1 cup at a time until a soft dough forms. Knead on low speed until smooth and elastic, about 10 minutes.
Dry raisins or currants if still wet and add to dough. Mix until just combined.
Grease a large bowl with butter or cooking spray and transfer dough to it. Cover bowl with a plastic wrap and let rise until doubled in size, about 1 hour. You can also proof in an oven with the light on.
Divide dough into 12 equal-sized balls, about 1/3 cup in size. Use greased hands to shape into balls and place into a greased 9x13-inch baking dish.
Cover with plastic wrap and let rise until rolls have puffed, 45 minutes to 1 hour. Halfway through rising time, preheat oven to 375°F.
To make the crosses, mix together 1/2 cup flour and 5 tablespoons water and transfer to a zip top bag. Snip the corner and pipe crosses over each bun.
Bake until golden brown, 20-24 minutes.
While buns bake, microwave the jam and 2 teaspoons water and mix together. Brush over warm buns and serve warm or at room temperature.
Recipe adapted from King Arthur Baking.
SKM: below-content placeholder
Whizzco for 12T