This decadent peanut butter pie is absolutely delicious and there's something about it that just feels festive to us. Maybe it's the extra touch with the caramel peanut sauce or the pretzel crust, but either way, we love it and look forward to making it all year until the time is just right.
There are different ways you could go with this pie, so feel free to make it a bunch of times until you find the version that's perfect for you–we like a pretzel crust, but you could easily do Oreo; plain or store-bought caramel sauce instead of homemade with peanuts; super whipped peanut butter mousse (with more heavy cream) to make it ridiculously light and airy– the list goes on and on. Whichever approach you end up taking, get excited because (apart from friends and family and good fortune) this pie could very well be the highlight of the season!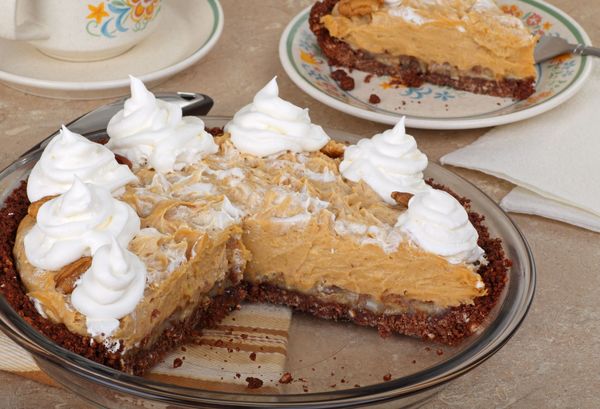 Caramel Peanut Butter Pie
Yields 1, 9-inch pie
Ingredients
Crust:
1 1/2 cups pretzels
2/3 cup unsalted butter, melted
Caramel Sauce:
1 1/3 cups sugar
1/3 cup water
1 1/4 cup heavy cream
1 cup roasted salted peanuts
1/3 cup crème fraiche
Filling:
1 1/4 cups smooth peanut butter
1 (8 oz.) package cream cheese
1 cup heavy cream
1/2 cup sugar
1/2 teaspoon vanilla extract
1/4 teaspoon sea salt
pecans, optional
Directions
Preheat oven to 350 F.
Pulse pretzels in food processor until semi-finely ground (or chop pretzels by hand).
Drizzle in melted butter until coarse mixture comes together. Turn out into a 9 or 10-inch pie plate and use your hands to firmly press pretzels into a packed crust.
Bake for 8-10 minutes, or until dry and set. Set aside.
In a medium saucepan over medium heat, cook 1 1/3 cups sugar with 1/3 cup water to begin your caramel sauce.
Stirring frequently, cook for about 10 minutes, or until mixture is a dark, amber color.
Remove from heat and add heavy cream. Be careful, as mixture will bubble up.
Return to heat and bring to a boil. Stir continuously so caramel cooks evenly and becomes smooth again.
Pour into a bowl and stir in crème fraiche. Refrigerate 35-45 minutes, or until chilled, then mix in peanuts.
For filling: In a large bowl or mixer, beat together peanut butter and cream cheese on medium-high speed until pale, fluffy and smooth.
Gradually add in sugar, vanilla extract and sea salt, and beat until fully incorporated.
In a separate medium bowl, beat heavy cream until soft-medium stiff peaks form.
Spoon 1/3 cup peanut butter mixture into heavy cream and fold it in. Then return 1/3 cup heavy cream into peanut butter and fold in to incorporate.
Repeat with remaining heavy cream in 1/3 cup increments.
Remove crust and sauce from refrigerator and pour caramel sauce in an even layer over the crust.
Then use a rubber spatula to smooth peanut butter mousse over the caramel sauce. Make sure they don 't blend together. Refrigerate 30-40 minutes, or until set.
Garnish with whipped cream and pecans if desired, and serve chilled.
Recipe adapted fromCuisinart
SKM: below-content placeholder
Whizzco for 12T