A 30-minute recipe that stacks up to takeout every time.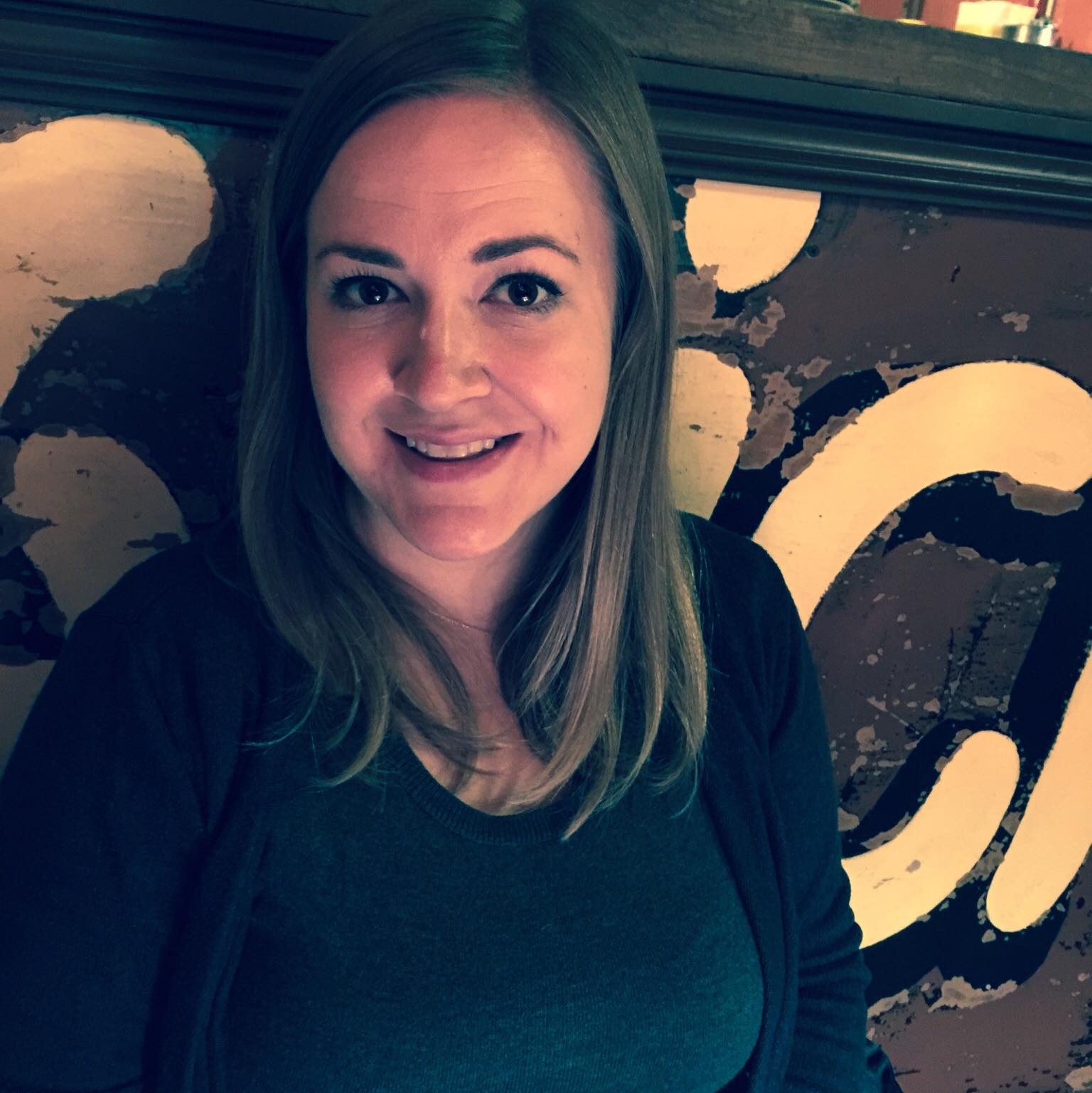 Kristy Norrell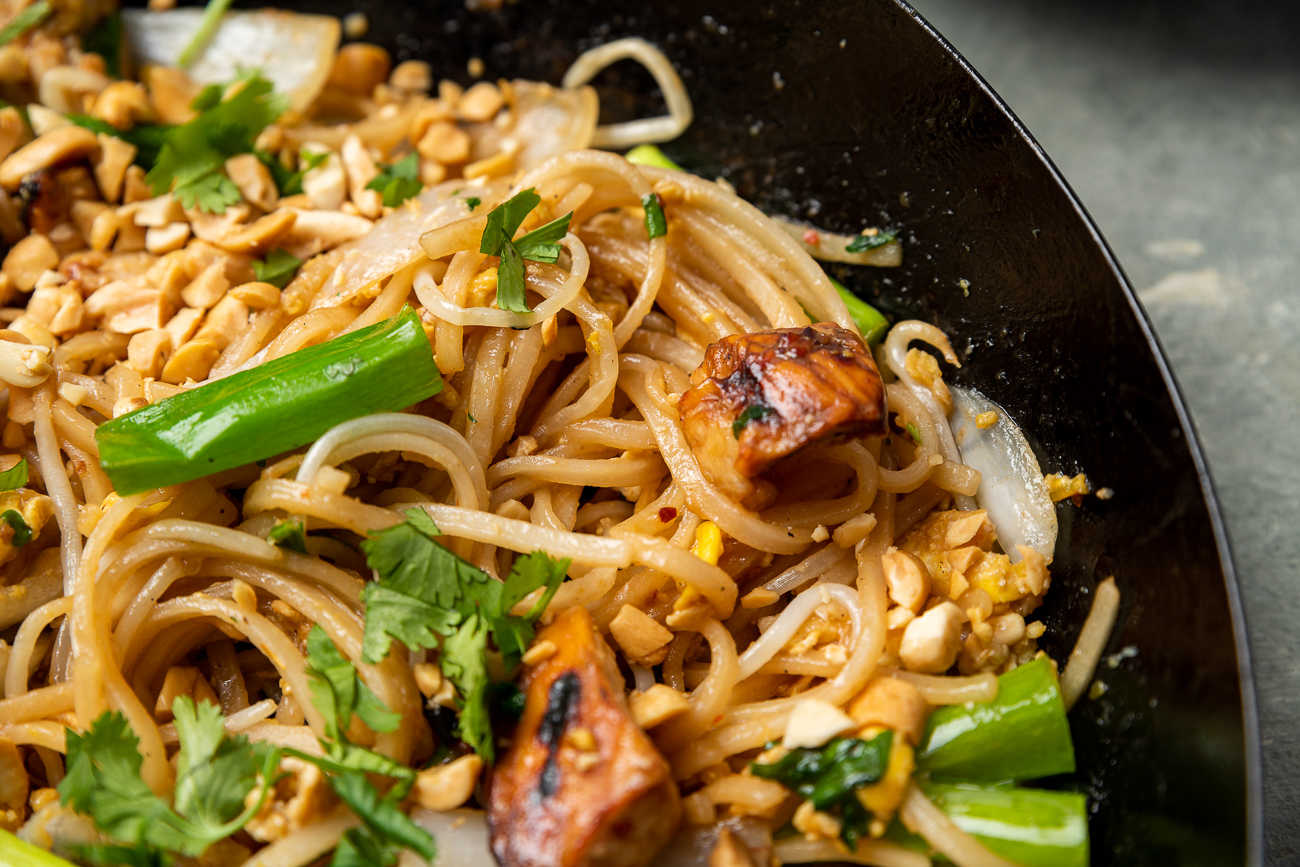 I know I am probably not alone in ordering Chicken Pad Thai every single time I go to or order Thai food. It's just too good to pass up. Like me, you also might have relegated it as a "restaurant food," one you only ever order out and never make at home. But that's silly. While there are some dishes that are pretty hard to recreate in your home kitchen, Pad Thai is not one of them. In fact, it's really very easy to make at home — a thirty-minute meal that doesn't have a mile-long list of ingredients. And while one or two of those ingredients are a little bit specialized, it's true, I've got some tricks for you if you don't happen to have them in your pantry.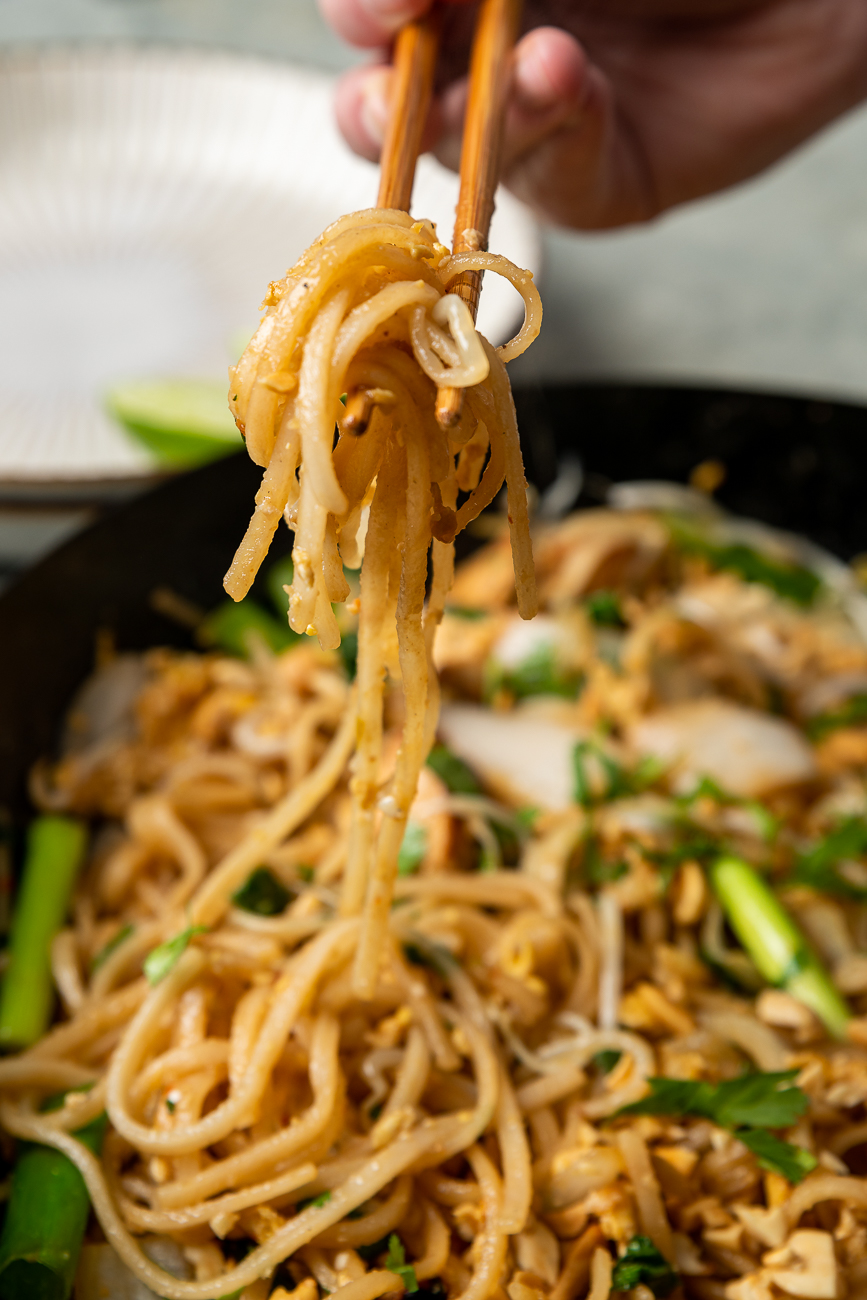 More or less, Pad Thai is a stir fry, and as you probably know, stir fries are a go-to for a quick and delicious dinner. One nice thing about Pad Thai is that you can dress it up with whatever protein you'd like — leave it vegetarian and just rely on egg, go with some shrimp you happen to have in the freezer, tofu is a natural fit… but we're going with chicken here since that happens to be my favorite kind of Pad Thai. That chicken is the thing you'll cook first — just brown it up until it's cooked through and remove it to a plate while you work on the rest of the components.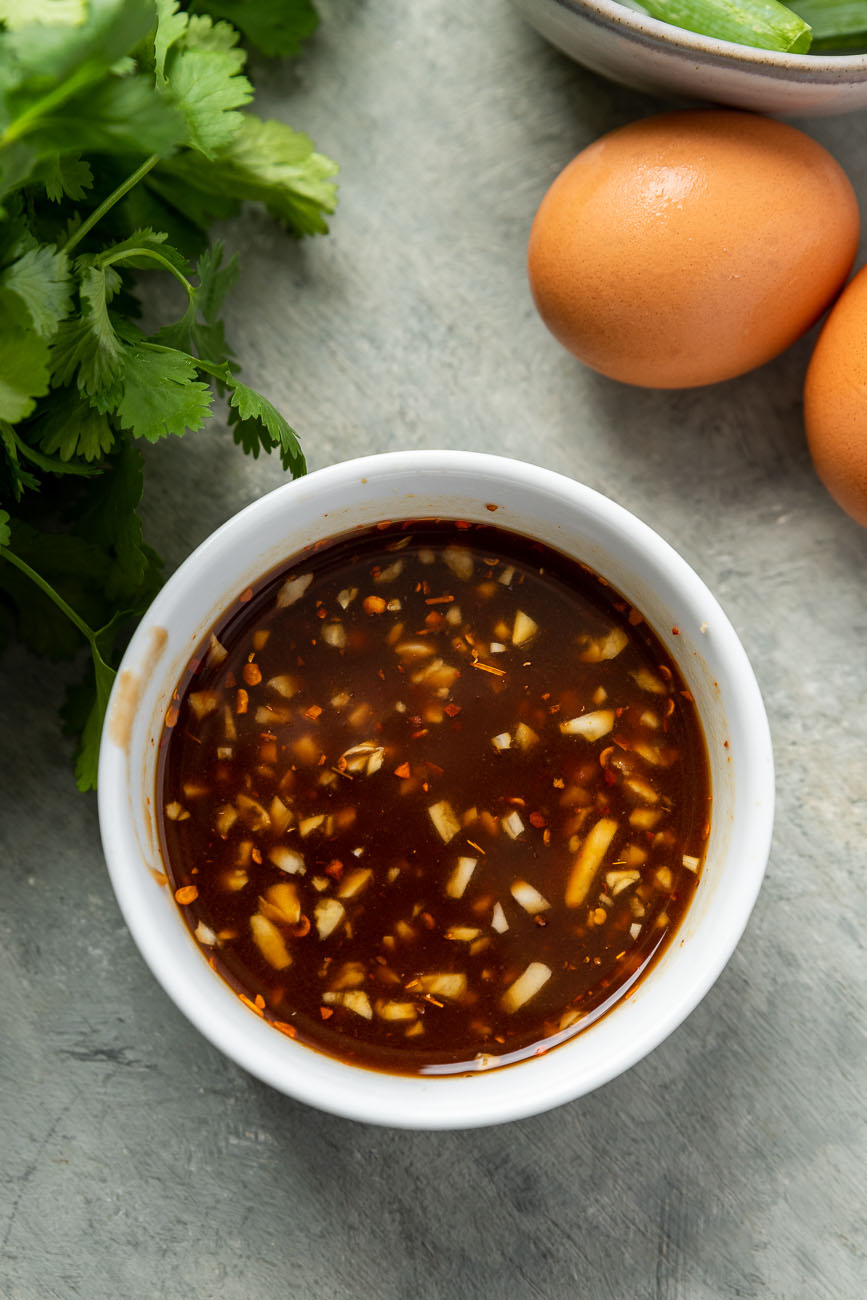 While the chicken cooks, you'll want to whisk together your sauce because the rest of the dish moves pretty quickly. The sauce is (obviously) the key to the flavor in Pad Thai and one component that gives it that signature flavor is tamarind puree. Now, tamarind puree isn't something that we all have stocked in our pantry but it is reasonably easy to find at your basic grocery store. That being said, if you don't want to pick some up, you can actually substitute a tablespoon of ketchup and a couple of tablespoons of rice wine vinegar. It's not at all authentic, but it actually does approximate the flavor really well, I promise!
Another key component that you might not have on hand is fish sauce. Now, fish sauce isn't going to make this taste fishy but it is going to add some wonderful umami. If you don't have any, you can add a little extra soy sauce to get a similar effect.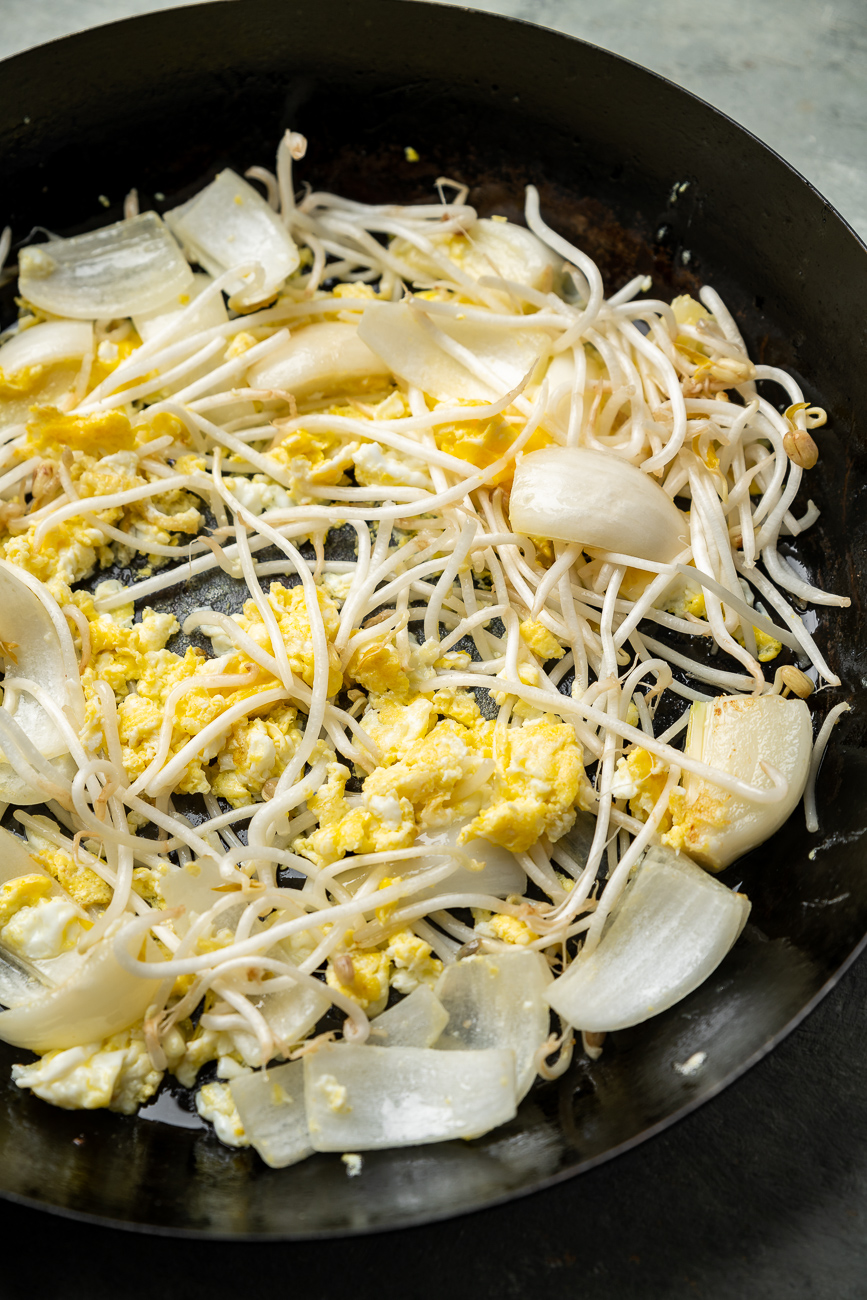 After scrambling up an egg and adding in some onion and bean sprouts, you'll add back in the chicken, the sauce you just whisked up, and the noodles. What kind of noodles? For Pad Thai, you want to use thin flat rice noodles, which you can find on the international aisle of your grocery store. You'll likely see very thin noodles like vermicelli and much thicker wide flat noodles, but what you want is the kind that look a little bit like fettuccine. Some varieties only require you to soak them in hot water, some you'll have to boil — just follow the package instructions until your noodles are cooked through.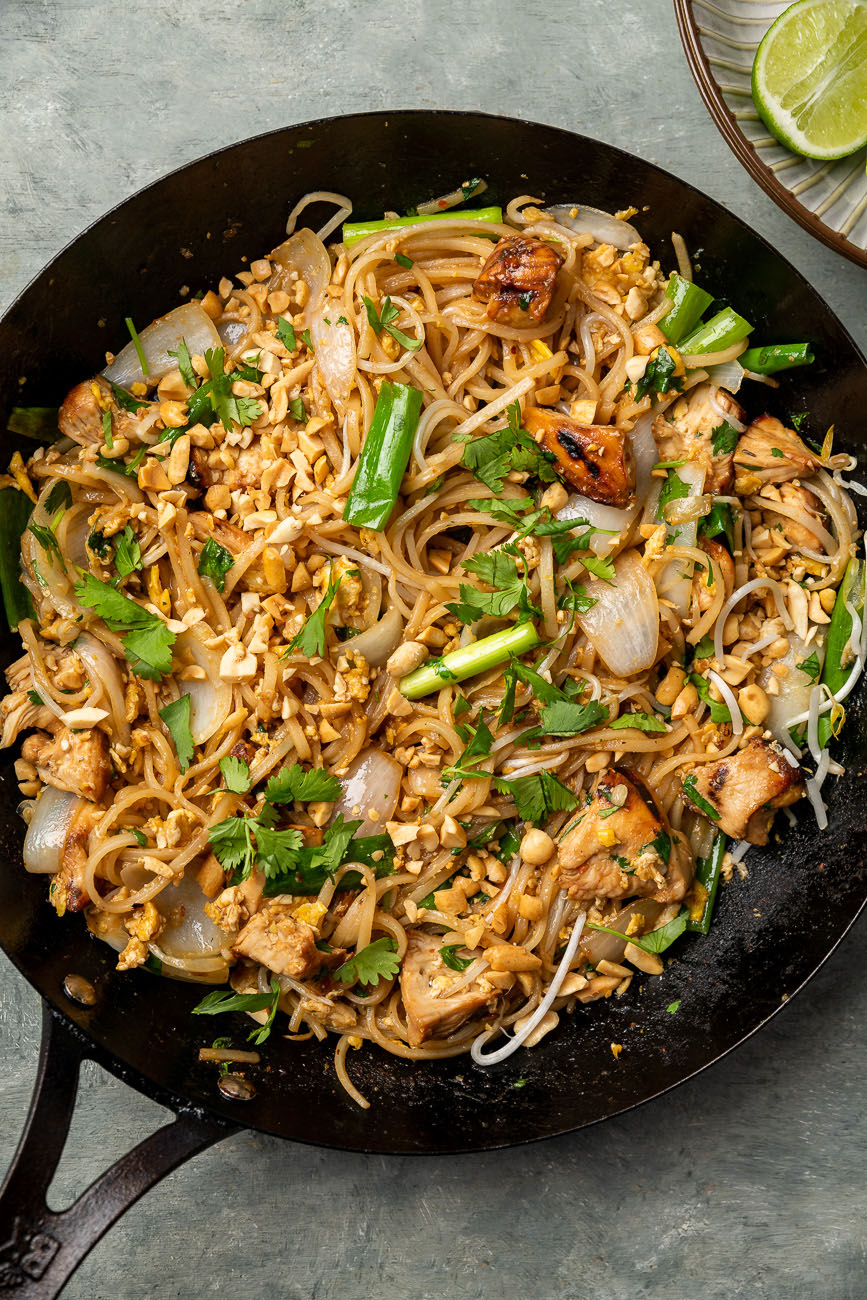 And then toss those noodles in with the sauce and the chicken and the veggies and it will all come together in a manner of seconds. I love this with chopped peanuts on top and a squeeze of lime, but no matter how you opt to garnish it, this really stacks up to good restaurant Pad Thai! (And it does it in under thirty minutes.)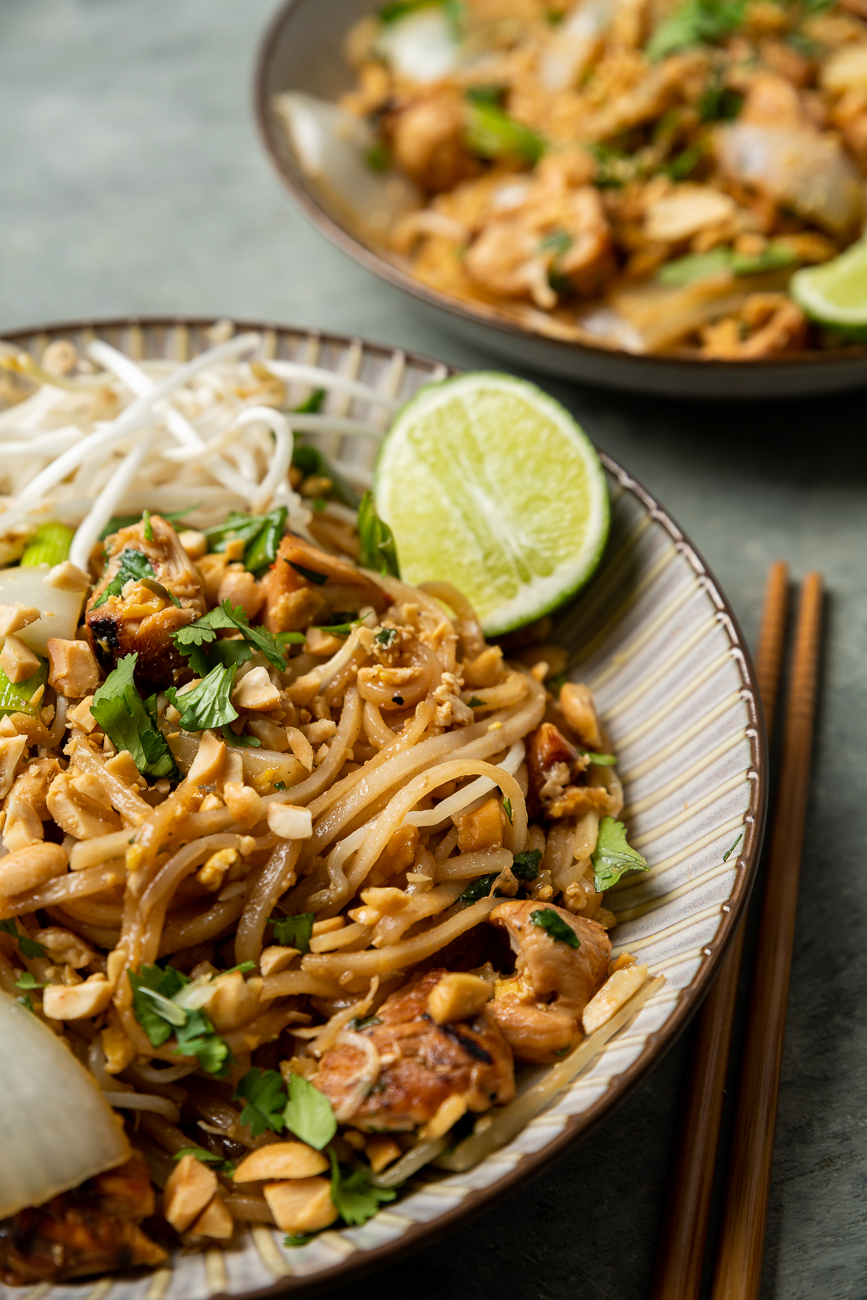 Easy Chicken Pad Thai
Serves 4
10m prep time
20m cook time
Ingredients
8 oz flat rice noodles, cooked according to package instructions
1/2 lb boneless skinless chicken breast, chopped into bite-sized pieces
2 eggs
1 cup fresh bean sprouts
1/4 cup white onions, thinly sliced
1/3 cup green onions, sliced
1/3 cup fresh cilantro, roughly chopped
For the sauce:
1 1/2 tablespoons tamarind puree (See Notes)
2 tablespoons fish sauce
2 tablespoons brown sugar
1 tablespoon soy sauce
2 cloves garlic, minced
Juice of 1 lime
1/4 teaspoon crushed red pepper flake, plus more to taste
Peanuts, finely chopped, for serving
Kosher salt and freshly ground black pepper, to taste
Note: If you can't find tamarind puree, substitute 1 tablespoon ketchup + 2 tablespoons rice vinegar
Preparation
Season chicken with salt and pepper.
Heat oil in a large skillet or wok over medium heat. Add chicken, and cook until cooked through, about 6 minutes. Remove to a plate and set aside.
While chicken cooks, whisk together the sauce ingredients: tamarind puree, fish sauce, brown sugar, soy sauce, garlic, lime juice, and red pepper flake. Set aside.
Crack eggs into pan and scramble until cooked through. Add white onions and bean sprouts to pan.
Add chicken, sauce, and noodles and toss to coat everything in the sauce.
Stir in green onions and cilantro. Top with chopped peanuts and serve with additional lime wedges, if desired. Enjoy!
Recipe adapted from Le Creme De La Crumb.
SKM: below-content placeholder
Whizzco for 12T