Summer is in full swing, but we're also in the middle of a pandemic. This means that we can't quite enjoy the full fun of summer as we normally would in pre-COVID times. As a result, many of us are continuing to practice social distance within the comfort and safety of our backyards.
Our backyards are quickly becoming the hot new hangout spot for summer 2020, so why not get on the DIY bandwagon to make sure we get the most out of our yards? If we already have a picnic table sitting our in our backyard then this might be the perfect time to give it a cool-yet-functional facelift.
A brilliant tutorial from "Today's Homeowner with Danny Lipford" actually shows you how to upgrade your picnic table to a classy drinks holder where you can keep your drinks nice and cold while enjoying a backyard barbecue. And it looks pretty sweet! The best part about this DIY project is that it only takes an hour or two to complete. The necessary tools and materials are pretty simple to get a hold of, such as screws, cleats, a drill, a rain gutter, and a saw.
"Today's Homeowner with Danny Lipford" shows a step-by-step construction video on YouTube to show how to get the perfect picnic table.
The finished product shows how much it can actually hold, which can be several bottles and cans – all depending on how big the table is that you're working with.
Of course, not everyone is a DIY prodigy. But there is no need to worry since you can always buy a picnic table that already comes with built-in storage. Montogmery Ward has one particular table that was originally $229.99 and has been priced at $199.99.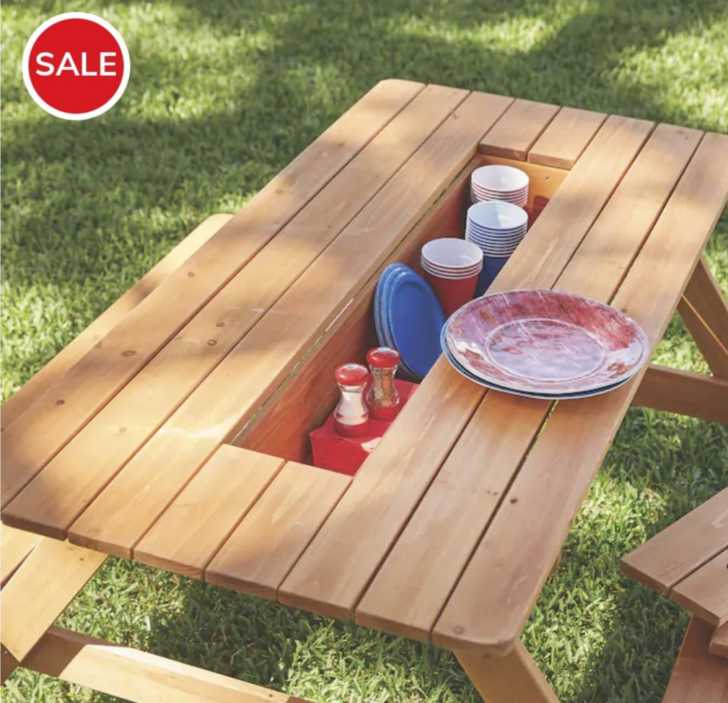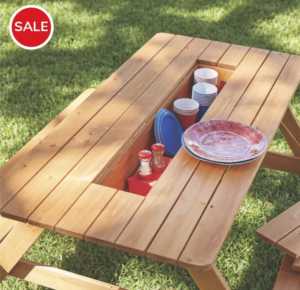 The picnic table cubbies don't just need to hold drinks. They can also be used to store condiments, paper plates, plastic cups, and other items essential to eating outdoors.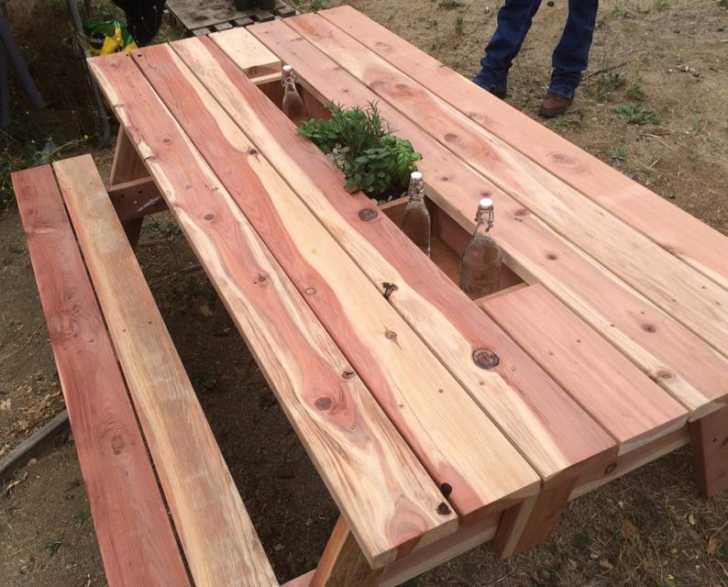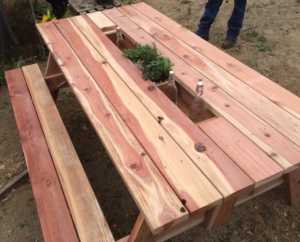 Another picnic table that is being sold on Etsy has a built-in storage area that can also double as a planter. This means that you can turn your picnic table into a beautiful mini garden. It would definitely bring a sense of romance to a picnic. The product description also states that the table is "impervious to weather," as well as "bugs do not like it" – all promising features. The table is handcrafted and gets shipped within one to two weeks.
So what do you think of these picnic tables? Will you be attempting a DIY one of your own? Or will you be ordering one? Let us know!
SKM: below-content placeholder
Whizzco for 12T