They're hoagies in Philly, heroes in New York, grinders in New England, subs around much of the US — but down south, they're po-boys. Topped with rémoulade, tomatoes, and pickles — and hot sauce, if you're like us — these jam-packed sandwiches are irresistible.
For this one, it's ideal if you have a thermometer for the frying oil so you can keep it at the perfect temperature. The cornmeal and flour combo creates the perfect crunch on the shrimp, while the spices underneath add tons of flavor.
Nothing quite compares to the real deal down south, but you can try to come close with this tasty recipe.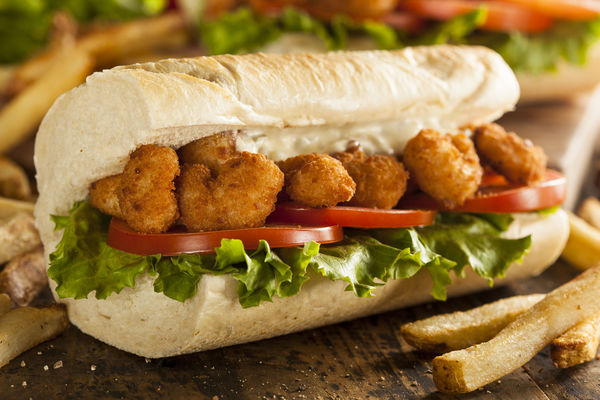 Shrimp Po-Boys
(makes 4 sandwiches)
Ingredients:
For the shrimp:
2 1/2 teaspoons salt
1 teaspoon cayenne pepper
1 teaspoon garlic powder
1 teaspoon paprika
1/2 teaspoon dried oregano
1/2 teaspoon dried thyme
1/2teaspoon pepper
1/2 teaspoon onion powder
1/2 teaspoon lemon zest
Vegetable oil for frying
1 1/2 pounds medium shrimp (about 36), peeled and deveined
1 cup buttermilk
1 1/2 cups all-purpose flour
1 cup cornmeal
For the rémoulade:
1/2 cup mayonnaise
2 teaspoons fresh lemon juice
2 teaspoons Worcestershire sauce
1 teaspoonDijon mustard
1 teaspoon prepared horseradish
1/2 teaspoonTabasco sauce (if you like spice, add a little more)
2 garlic cloves, minced
For the sandwich:
48-inch-long French rolls, cut horizontally
Sliced tomatoes
Dill pickles
Lettuce
Directions:
Prep the rémoulade by mixing the ingredients well, and then cover and refrigerate.
For the shrimp, whisk together the salt, cayenne pepper, garlic powder, paprika, oregano, thyme, pepper, onion powder, and lemon zest until well blended.
Fill a large pot with about 2 inches of oil and heat over medium heat to about 350 degrees.
Put about 2 tablespoons of the spice mix into a medium bowl and coat the shrimp evenly with the spices. Pour the buttermilk into a separate medium bowl, and whisk the cornmeal and flour together in another medium bowl.
Working in batches, dip the shrimp into the buttermilk and then the flour/cornmeal before putting into the oil for frying. Cook the shrimp in batches so the potisnít too crowded, for about four minutes per batch until the shrimp are golden-brown.
Let the shrimp drain on a paper towel before adding to the sandwiches. Spread the top of the bread with rÈmoulade; line the bread with lettuce, tomatoes, and pickles (if desired); and then add your shrimp. If you want it spicy, definitely dab some hot sauce on there, too.
Enjoy!
Poí boy recipe adapted from Bon AppÈtit
RÈmoulade recipe adapted from My Recipes
SKM: below-content placeholder
Whizzco for 12T