There's something about desserts involving nuts that just feel more holiday-oriented to us. Maybe we're alone in that, but this maple walnut shortbread tart feels perfect for the end of the year! We love a good pecan pie, but we prefer this yummy treat because of the balance between the sweetness of the nut filling and the lightness of the crust. It's not too cloying that way, and we get a more well-rounded flavor!
This recipe is also a great make-ahead dessert if you're one of the people with tons on your plate this time of year; when you have a free moment, you can make the dough a few days in advance (or a month or two, if frozen) and just keep it in the freezer! The filling comes together in a matter of minutes, so once you get the more time-consuming dough over with, the rest is a breeze!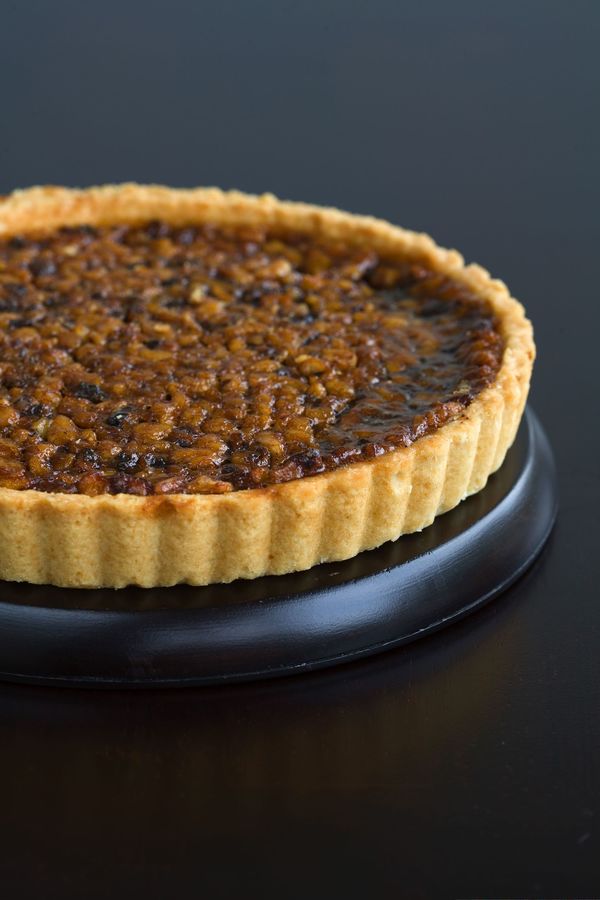 Maple Walnut Tart
Serves 10
Ingredients
Crust:
2 cups all-purpose flour, plus more for dusting
1 cup (2 sticks) unsalted butter, cold, cubed
1/3-1/2 cup ice water
2 egg yolks
2 tablespoons sugar
3/4 teaspoon kosher salt
Filling:
2 1/4 cups toasted walnuts, chopped
1 1/4 cup pure maple syrup
1 cup sugar
1/2 cup (1 stick) unsalted butter
3 eggs
4 egg yolks
1 1/2 teaspoons maple extract
3/4 teaspoon vanilla extract
1/2 teaspoon kosher salt
Directions
For the crust: Combine flour, sugar and salt in a food processor and pulse for 5 seconds to combine.
Add cold, cubed butter and pulse until mixture is coarse and crumbly. Butter should be the size of small pebbles or peas.
Whisk together yolks and 1-2 tablespoons ice water in a small bowl and pour mixture into food processor. Pulse to combine and moisten dough".

Note: if mixture doesn't stick together, add remaining ice water, 1-2 teaspoons at a time.

Turn mixture out onto a piece of plastic wrap and form into a ball. Press dough into a flattened disc and wrap it tightly in plastic wrap.
Refrigerate for at least 30 minutes, or until thoroughly chilled. Dough will keep in fridge for up to 2 days.
Remove dough from fridge and let it rest 10 minutes. Lightly spray a 9-10-inch, fluted springform pan with non-stick spray.
Roll dough out on a lightly floured surface to a 12-inch circle, about 1/4-inch thick.
Carefully transfer dough to pan and press it into the bottom and sides of the pan. Trim excess.
Refrigerate pie shell until chilled. 30-45 minutes.
Preheat oven to 425 F and line pie shell with aluminum foil. Weight crust down with beans.
Bake shell for 15-17 minutes, or until edges of crust are lightly browned. Remove foil and beans and continue cooking for another 5 minutes.
Let cool on a wire rack. Reduce oven temperature to 350 F.
For the filling: in a medium bowl, beat together the eggs and yolks, extracts and salt, and set aside.
Place sugar and maple syrup in a large saucepan and cook over medium-high heat.
Stir constantly until sugar is completely dissolved and mixture begins to boil. 2-4 minutes.
Turn heat down to low and stir in butter until melted. Remove from heat and let cool 1 minute.
Whisking vigorously, gradually stir syrup into egg mixture, continuing to stir until both are well combined.
Once pie shell is completely cooled, fill with chopped walnuts and spread out evenly.
Pour maple mixture evenly over the top of nuts, but don't over fill. It's okay if there's leftover syrup.
Place tart in oven and bake for 35 minutes, or until center is just set. Cover with foil if crust browns too quickly, or move oven rack to lower position.
Let cool completely, then run a sharp knife between the edge of the crust and the pie pan to help loosen it. Remove it from pan, transfer to serving platter and enjoy.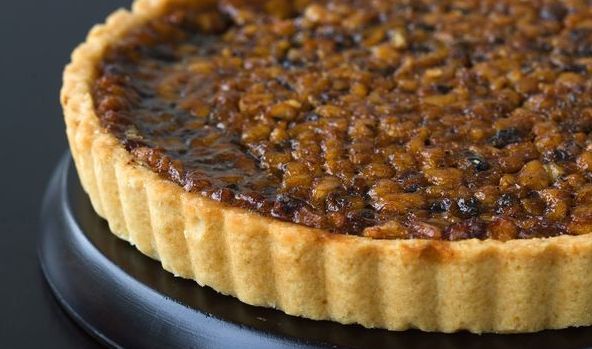 Recipe adapted from Fine Cooking
SKM: below-content placeholder
Whizzco for 12T