This quick and delicious version will have your mouthwatering for dayzz.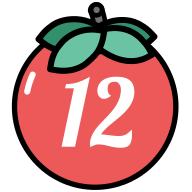 Dom Ruane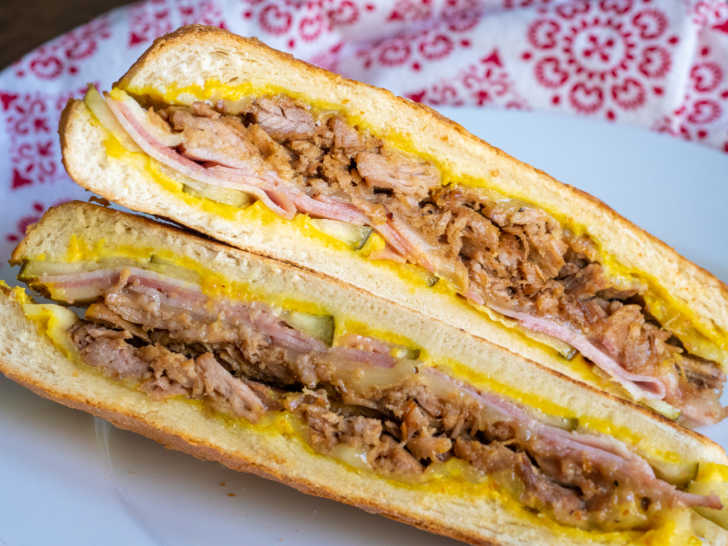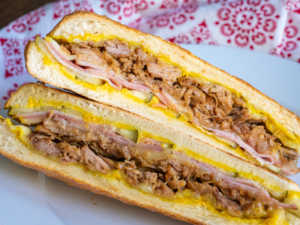 The salty, the creamy, the pickle-y, the tangy; this is a sandwich to be reckoned with. This is the best sandwich the world has to offer, don't you want to try the best sandwich the world has to OFFER ? The star of this sandwich by far is the braised pork, and even though this sandwich works with ANY leftover pork, braising in this recipe has never been quicker. Thirty minutes tops! The magical combination of salty pork with creamy melted provolone, tangy crispy bread and a sour crunchy pickle to cut through it all! It's so marvelous, you might tear up!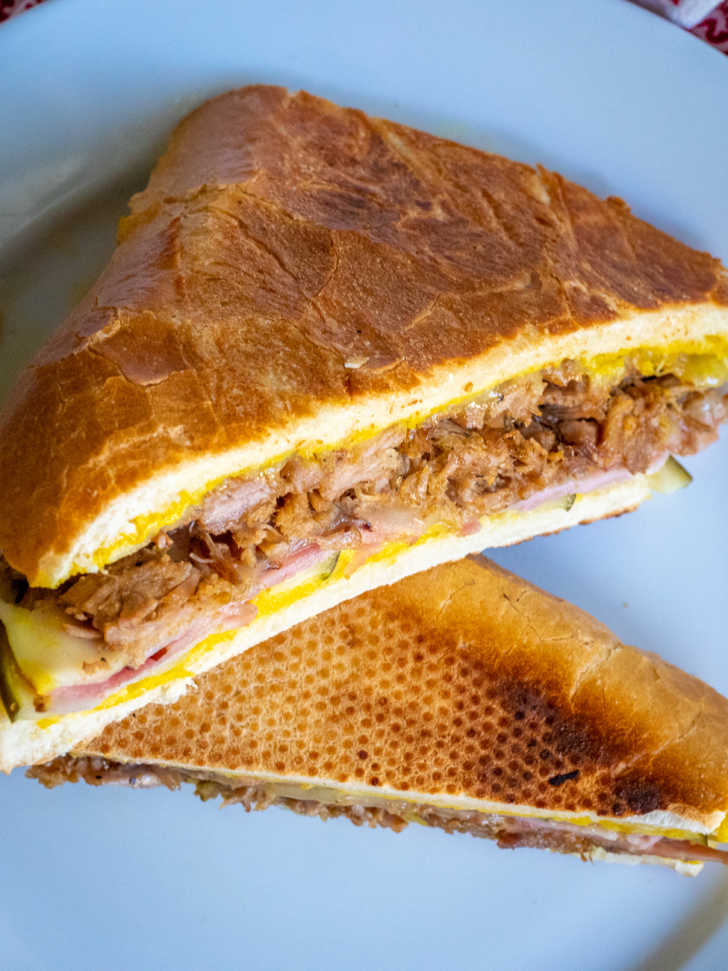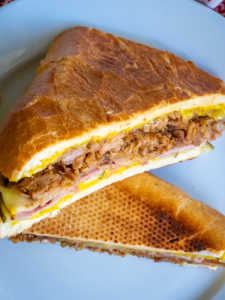 I discovered this sandwich watching "Beat Bobby Flay – Classic vs New Cuban." Even though I thought Bobby Flay's attempt at elevating his Cuban was minimal, this version alleviates of the burden of time. Using pork tenderloin or any leaner cut is going to reduce the time it takes for the pork to shred. This is a blessing and a curse because leaner cuts of pork are easier to overcook, that's why we don't braise over thirty minutes. Other than the pork, assembly is so easy! You choose your favorite deli ham, the crunchiest most dill-iest pickle, make Dijonnaise, grab some funky sliced cheese, and a soft squeeze-able loaf of bread, and toast! It's that simple.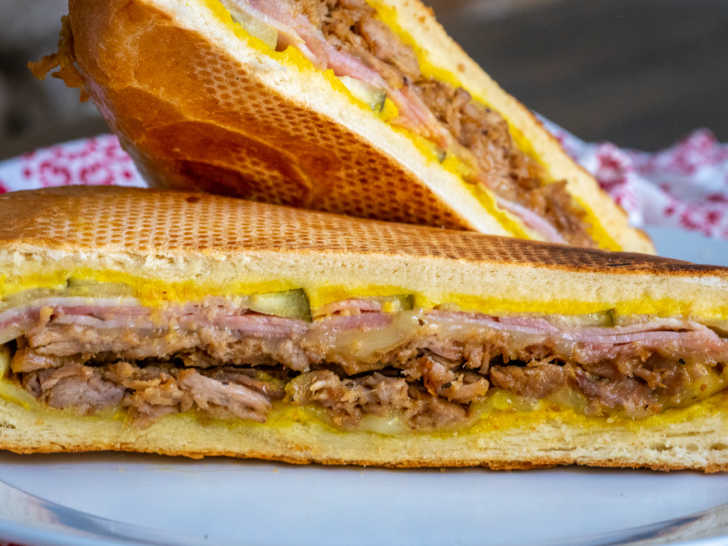 You can totally "from scratch" this whole recipe if you'd like with freshly baked bread, homemade aiolis, and pickles, etc. At the end of the day, it's about your willingness to take the time and effort to make it. My role is to break down the easiest way you can make Cuban sandos at home.
Let's talk about crisping the bread because it's a very important component: Now do we all have George Foreman grills? No, it's no longer 2008, so we got to improvise. Square griddling pans work amazing for this sandwich because you can fit both halves in one pan, and you get amazing grill marks. Find a heavy object to put inside a small skillet that can weigh down the sandwich, use a heavy Dutch oven or another cast iron to weigh the sandwich down, it's kind of a fun balancing game.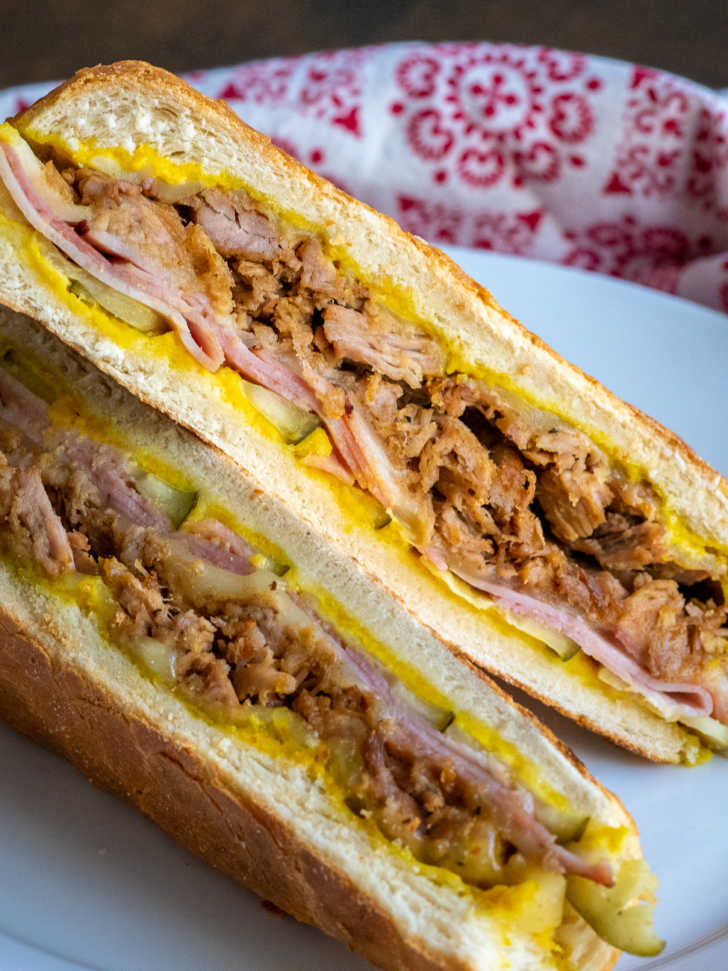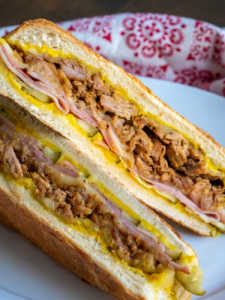 Note:
*I do know the cheese in a Cuban is classically Swiss, but I'm Italian, and this is what we use.*
Cuban Sandwich
Makes 2 Sandwiches
15m prep time
45m cook time
30m inactive
For Sandwich:
1 12-inch loaf French or Italian bakery bread
1/2 cup yellow mustard
1/3 cup mayo
2 large dill pickles, thinly sliced lengthwise
1/4lb deli sliced ham
6oz Provolone cheese, thinly sliced
Braised pork
For pork:
2 tablespoons olive oil
20 oz pork tenderloin or pork loin, cubed
3 garlic cloves, minced
1 teaspoon cumin
1 lime, half zested and juiced
1/2 cup orange juice, freshly squeezed
1 1/2 teaspoons brown sugar
Kosher salt and freshly cracked black pepper, to taste
Directions:
In a large Dutch oven, heat up olive oil on a medium high heat.
Season each pork chop with salt and pepper and sear in the pan for 3 - 4 minutes per side.
When pork is seared, add in garlic and cumin and continue to cook until garlic starts to brown.
Add in lime juice and zest, orange juice, and brown sugar. Reduce heat to low, cover pot, and let cook for 25 - 30 minutes or until pork is fork tender and falling apart.
Combine mustard and mayo in a small bowl, then spread mixture on both sides of the cut bread.
Layer the bottom of the bread with pickles, then ham, then provolone, then braised pork and finished with provolone.
Preheat a wide cast iron skillet on medium low heat and gently press the top half of the bread onto the sandwich, then transfer to a hot skillet.
Using a heavy pot, pan or using a spatula, weigh down the sandwich to squeeze the sandwich tighter, making the sandwich into a panini. Brown bread on both sides gently, while letting the cheese inside melt.
Remove from heat and cut on bias.
Enjoy!
SKM: below-content placeholder
Whizzco for 12T