Get ready for a great meal – these chops are full of flavor!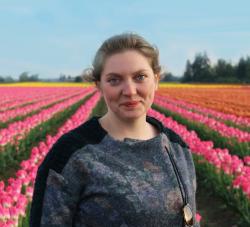 Decatur Macpherson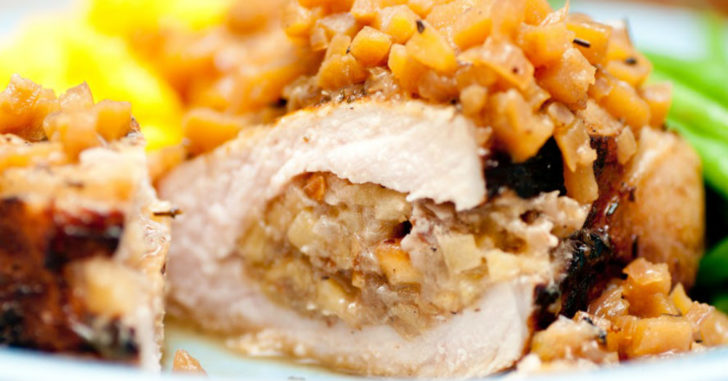 Stuffed pork chops make an amazingly flavorful dish that comes together easily and, by adding fresh herbs and fruits and vegetables to the baking process, will make your kitchen will smell great the entire time it's being prepared.
By stuffing your pork chops, the meat stays tender and moist – nothing tough or hard to chew here – and the blend of flavors you get at the end makes the whole process totally worth it. If your family already likes pork chops, they're sure to love this recipe, and if they don't, this will be the dish that wins them over!
Stuffed Pork Chops
Ingredients
2 cups milk
2 tablespoons salt (for brine)
3 tablespoons butter
1/2 cup onion, finely chopped
1/2 cup celery, finely chopped
1/2 cup apple, finely chopped
1/2 cup mushroom, finely chopped
1 1/2 cups stuffing mix, herb or chicken flavored
1 3/4 cups chicken broth
5 fresh sage leaves, finely chopped
1/3 cup fresh parsley, finely chopped, divided
1 teaspoon salt
1 teaspoon ground black pepper
1/4 teaspoon ground red pepper
6 boneless pork chops
4 tablespoons olive oil, divided
Preparation
Mix milk and 2 tablespoons salt together in a shallow bowl. Place pork chops in brine and soak for 1-2 hours in the refrigerator.
Melt butter in a large skillet over medium-high heat. Add onion, celery, apple and mushroom. Sauté for 10 minutes, until everything turns slightly brown or until the liquid evaporates completely.
Remove from heat, then add stuffing mix and chicken broth. Mix thoroughly and cook until the stuffing absorbs all the liquid.
Mix in sage, ground red pepper, 2 tablespoons parsley, 1/2 teaspoon salt and 1/2 teaspoon ground pepper. Remove from heat and let rest 15 minutes, so flavors blend together.
Preheat oven to 375º F while the stuffing sits. Remove chops from the brine mixture. Trim excess fat from each chop, then cut a large, horizontal slit into each chop. (Make sure to not cut all the way through meat.)
Take 2/3 stuffing mixture and divide into equal amounts. Spoon mixture into each pork chop.
Mix together the remaining amount of parsley, salt and black pepper. Rub 2 tablespoons of olive oil over both sides of the chops, until evenly coated. Rub the spice mixture over the meat.
Heat remaining olive oil in a large skillet over high heat and sear the meat on both sides. Cook for 2 minutes on each side, two chops at a time, until each pork chop is nicely browned on the outside.
Place all six chops on a lightly greased broiler pan. Pour 1 cup of water into the bottom of the pan to ensure proper moisture circulation in the oven. Bake 25-35 minutes, or until internal temperature reaches 160º F. Remove from oven and let rest 5 minutes before serving.
Top pork chops with remaining stuffing, then serve with your choice of vegetables and/or mashed (sweet) potatoes.
Recipe adapted from Food.com
SKM: below-content placeholder
Whizzco for 12T