If your kitchen looks anything like mine, then you'll appreciate these awesome organization hacks! Cleaning out cupboards and drawers is one of my least favorite activities. The mess bothers and frustrates me, but I only think about it when I'm cooking and digging through the cupboards for that one spice that I know is in there…somewhere. There's never a perfect time to organize, but trust me when I say it will be worth it once the task is actually done! It's amazing how de-cluttering your space improves your mood and the entire feel of your home – even if you're the only one who can appreciate the newly organized kitchen. Go ahead and check out these easy ways to organize using things from the dollar store!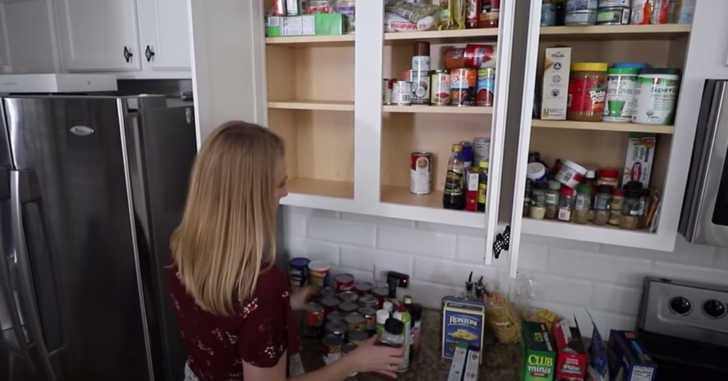 The first step is to remove everything from your drawers and cupboards. I know that can feel overwhelming, especially once all the canned goods, utensils, dry goods, and seasonings are spread out across the countertops, but it's a necessary step if you want to do this right.
You can always work in sections, emptying one cupboard and organizing it, then moving onto the next. However, some of the organizing process might involve regrouping similar items together for max efficiency. Once you have everything emptied, wipe down the inside of the cupboards and drawers. Might as well get that done while you can, right?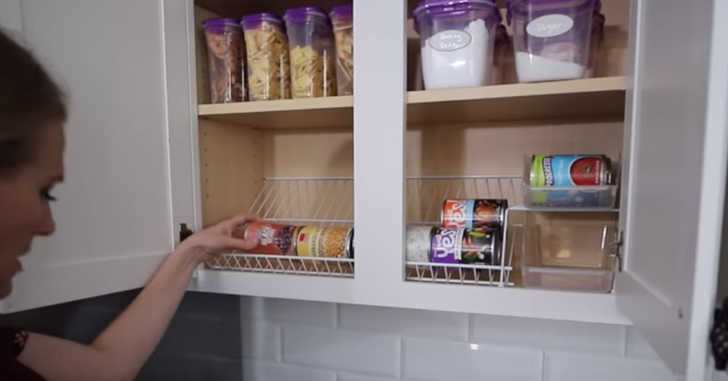 Okay, so you're ready to put things back into the cupboards. As I mentioned before, you may need to regroup things a bit. For example, dried goods like pasta and rice can go together, and spreads like peanut butter and Nutella can be grouped together. After getting everything organized into groups of similar foods, it's container time.
There are your traditional storage containers that can fit cereal, flour, sugar, etc., and then there are more creative ways to store food. I definitely suggest using those traditional containers to replace bags of flour and similar products that can spill and make a mess.
For canned goods, go ahead and pick up one of these wire racks and tilt it so it's resting against the middle board and the back of your cabinet. It's the perfect way to store cans! Plus, you can store excess cans behind the wire rack to free up more cupboard space.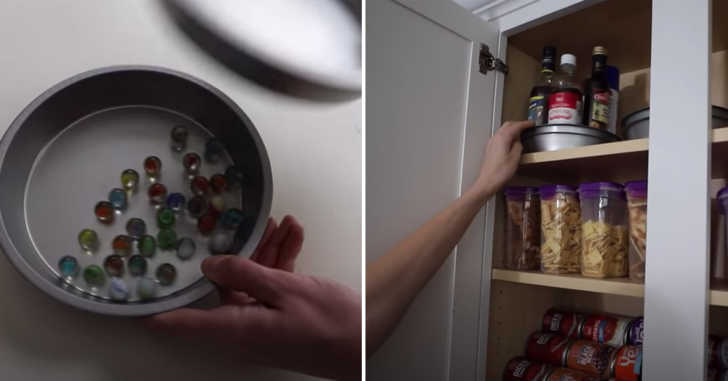 Check out this amazing idea! Tired of reaching up on your tip-toes to reach the back of the top shelf? Make your own lazy Suzan by grabbing two round cake pans from the dollar store, as well as a bag of marbles. Pour the marbles in one pan and then place the second pan on top. That's it! The marbles help the top pan to easily glide around in a circle to help you reach whatever you need.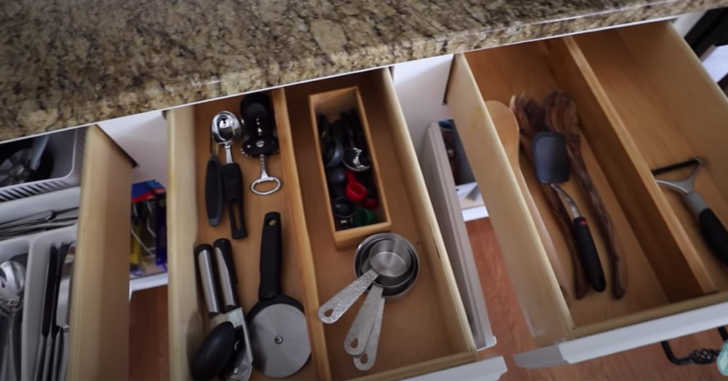 Once you have the cupboards organized, it's time to move onto the drawers. The first thing to consider when reorganizing your kitchen drawers is dividers. Yes, it may seem like a simple and obvious solution…and there's probably good reason behind that!
Next, let's talk about utensils. We all know the pain of getting a spatula stuck and just the right angle in the drawer and having to fight the dang thing just to get it open. Instead of taking up precious real estate in the drawer and causing unnecessary frustration, go ahead and store those utensils in a cup on top of the counter. You'll see that this takes up far less space, and keeps everything handy when you're cooking up a storm!
The last little hack is to use a dish organizer as a way to store those long boxes of plastic wrap, aluminum foil, and parchment paper. I don't know about you, but wrestling those out of the drawer is enough to put me in a bad mood. But not any more!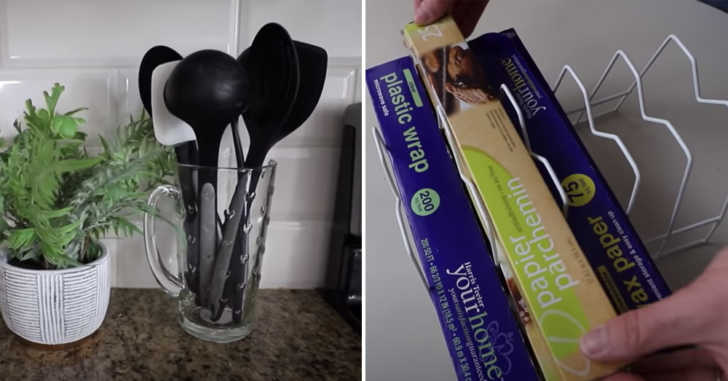 Get more ideas in the video below!
SKM: below-content placeholder
Whizzco for 12T