The creamiest and the poblano-iest pasta sauce you will make this summer.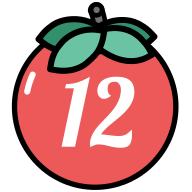 Dom Ruane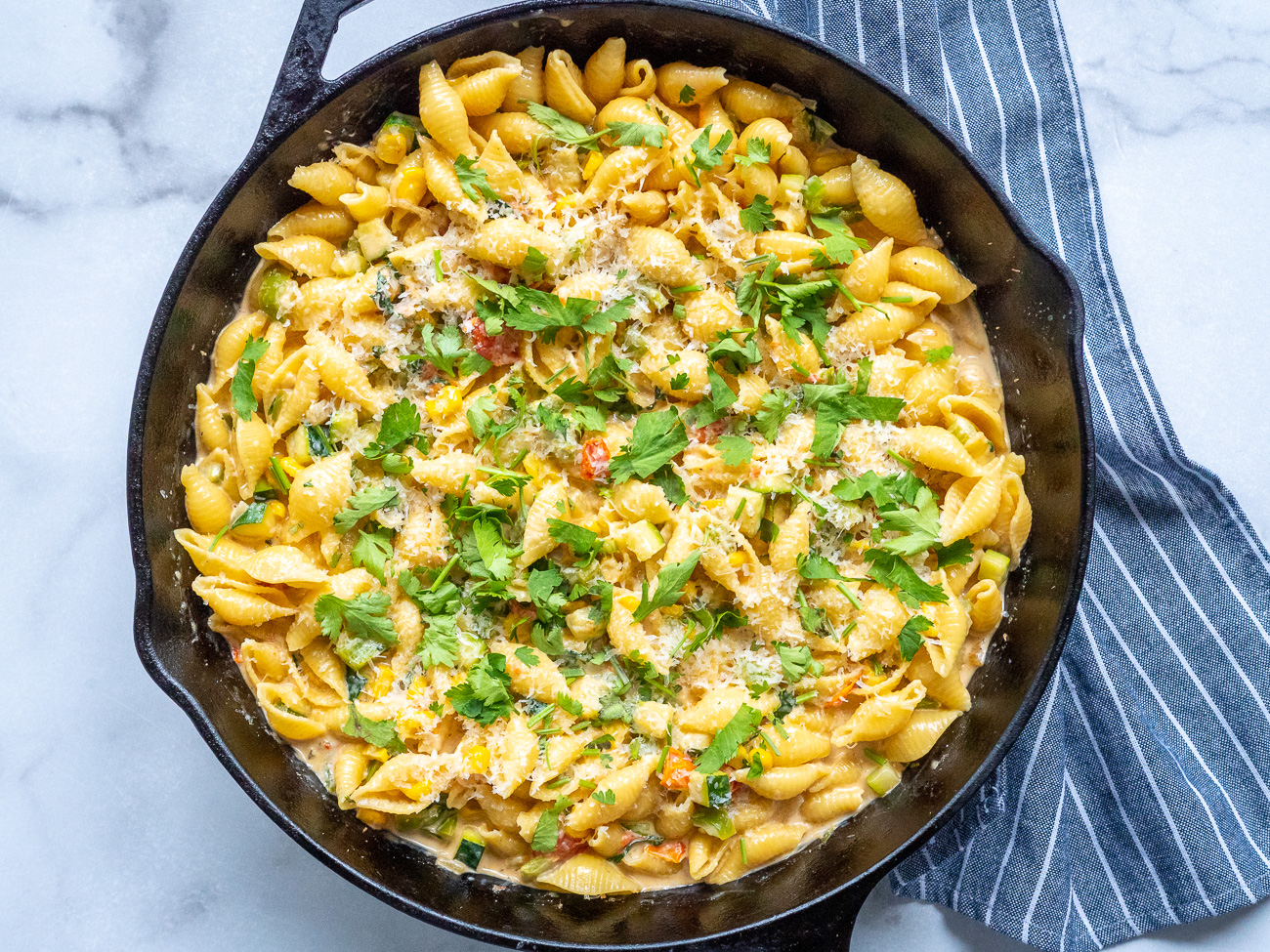 The creamiest and the poblano-iest pasta sauce you will make this summer. This Creamy Poblano Succotash Pasta is inspired by the pepper. I don't know about you guys, but I'm so bored of traditional pasta sauces recently. Alfredo and Bolognese just doesn't excite me the way they used to. So let's create a sauce of our own! The key to this one-pot recipe is all about roasting the veggies. The cream takes it to a whole new level of decadence, but finishing with lemon and cilantro actually lightens up the heaviness of the cream. It's definitely a summer pasta sauce to add to the Rolodex.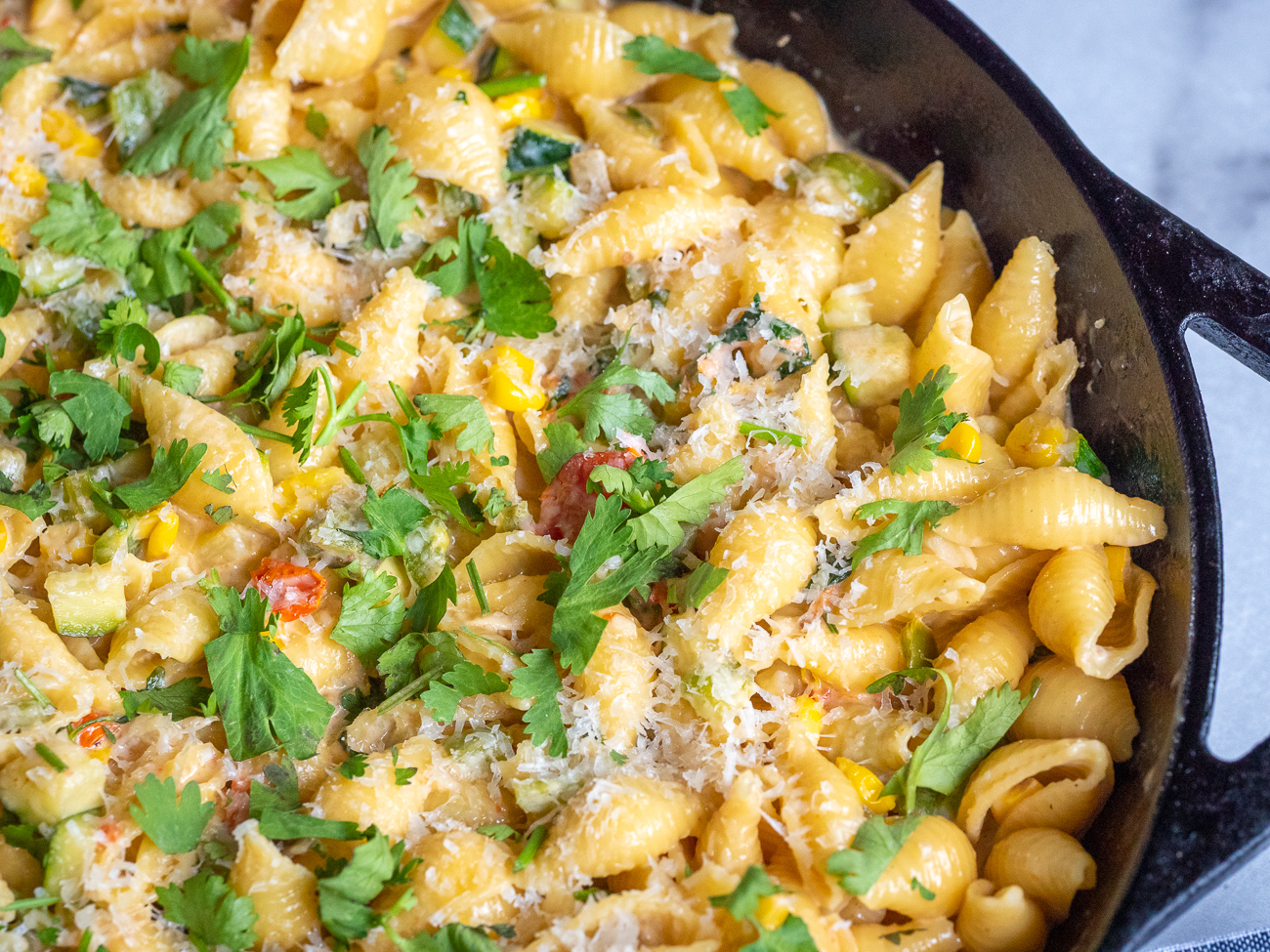 I have to have a couple of core countertop staple vegetables — onions, garlic, tomatoes and the almighty pepper. Usually, it's a jalapeno, but sometimes it's an anaheim pepper or a sweet bell pepper; you know keepin' it casual. Peppers bring more than heat to the table, they also provide body and flavor. Use whatever peppers you got, but note the smaller your pepper, the spicier it will be. However, if you're looking for spicy, chop the whole pepper seeds and all.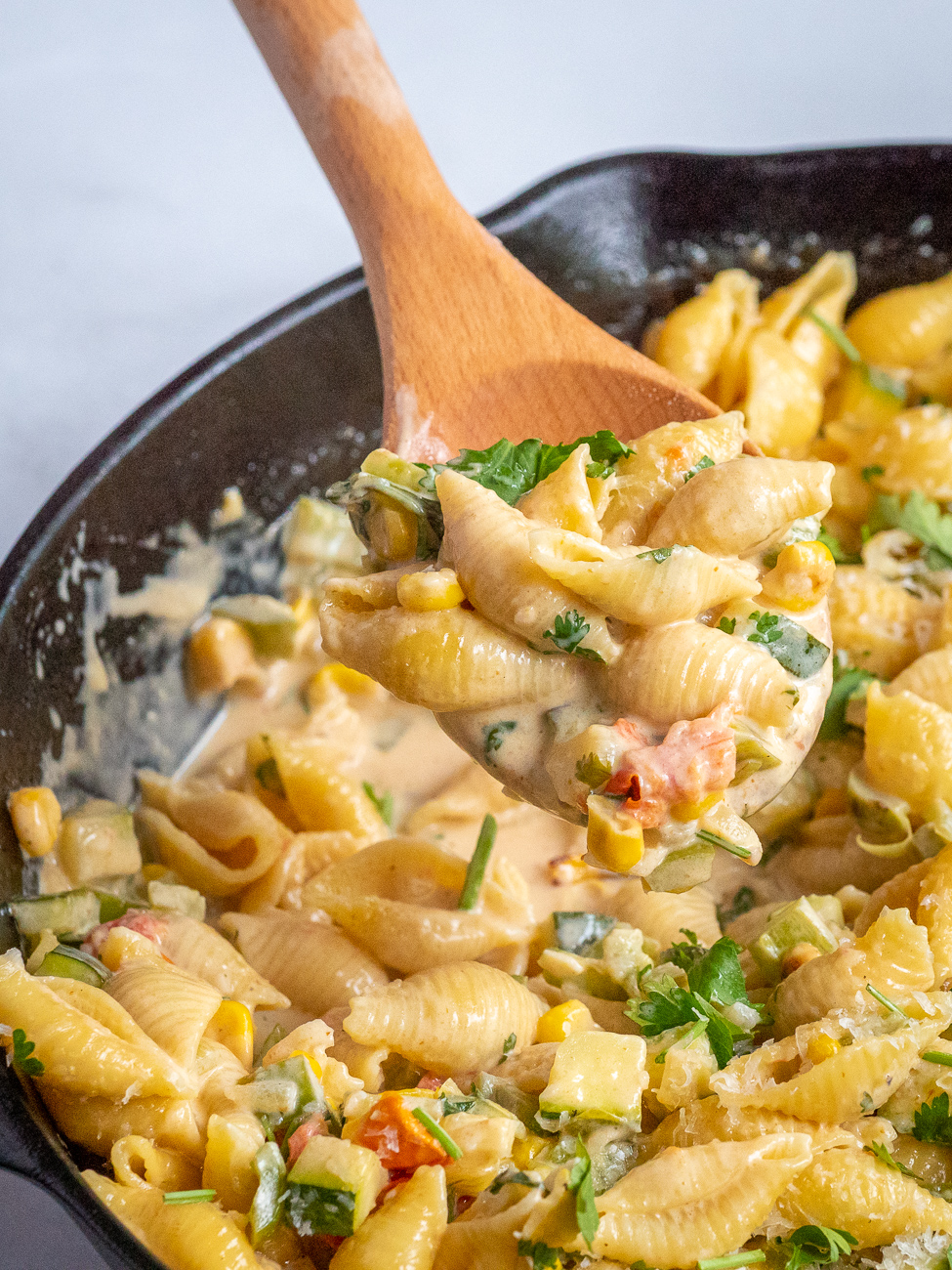 Cream is such an easy way to develop a creamy sauce but an important thing is to reduce your cream before adding in your parmesan. Do not season this sauce early with salt. Once the parmesan has been added, we also have salty pasta water to season the sauce. I've over-salted the mashed potatoes at Thanksgiving ONCE and I'll never hear the end of it till this day! This recipe is a blueprint for whatever you have on hand. The necessary flavors lie in the onion, garlic, pepper, cilantro, and cumin components; the rest is yours to dream up.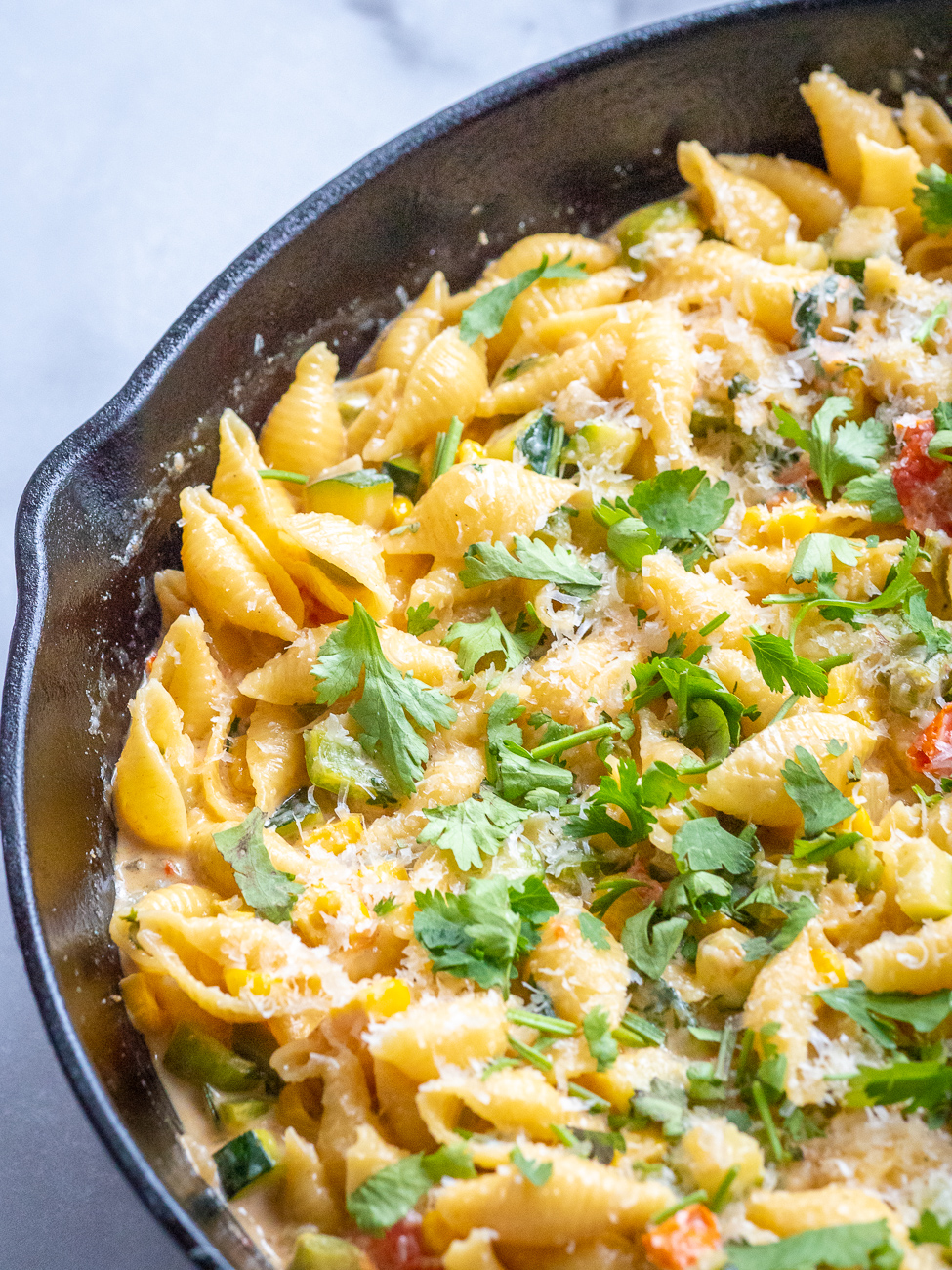 Creamy Poblano Succotash Pasta
Serves 6
15m prep time
20m cook time
Ingredients:
10 oz Orecchiette pasta or other shell pasta
3 tablespoons olive oil
1/2 onion, diced small
2 poblano peppers or spicy green pepper, diced
1 zucchini, diced
1/2 cup frozen corn kernels, thawed
1/2 pint cherry tomatoes, quartered
3 garlic cloves, minced
1/2 teaspoon cumin
2 cup of heavy cream
1 cup parmesan cheese, grated and divided
1/2 cup cilantro, chopped
2 tablespoons freshly squeezed lemon juice
Kosher salt and freshly cracked black pepper, to taste
Directions:
Bring to boil a large pot of salted water to cook orecchiette until cooked through. Drain pasta, reserving 1/2 cup of pasta water. Set aside.
In a large saucepan over medium high heat, add olive oil, onions, and poblanos to the pan.
Cook until onions turn translucent and add in zucchini, corn and tomatoes.
Stirring constantly, cook until tomatoes start to break down and add in garlic and cumin, and stir to combine.
Once garlic smells fragrant, add in cream and bring cream to a boil, then reduce to a light simmer. Add in half parmesan cheese and cilantro to cream.
Cook sauce until mixture starts to thicken, about 3 - 4 minutes. Turn off heat, add lemon and season to taste. Sauce should taste creamy, but lemony and light from the cilantro.
Combine sauce with cooked pasta and rest of parmesan, using a little splash of pasta water as needed, to bring everything together.
Cheers!
Recipe adapted from Cooking For Keeps.
SKM: below-content placeholder
Whizzco for 12T