This method is genius.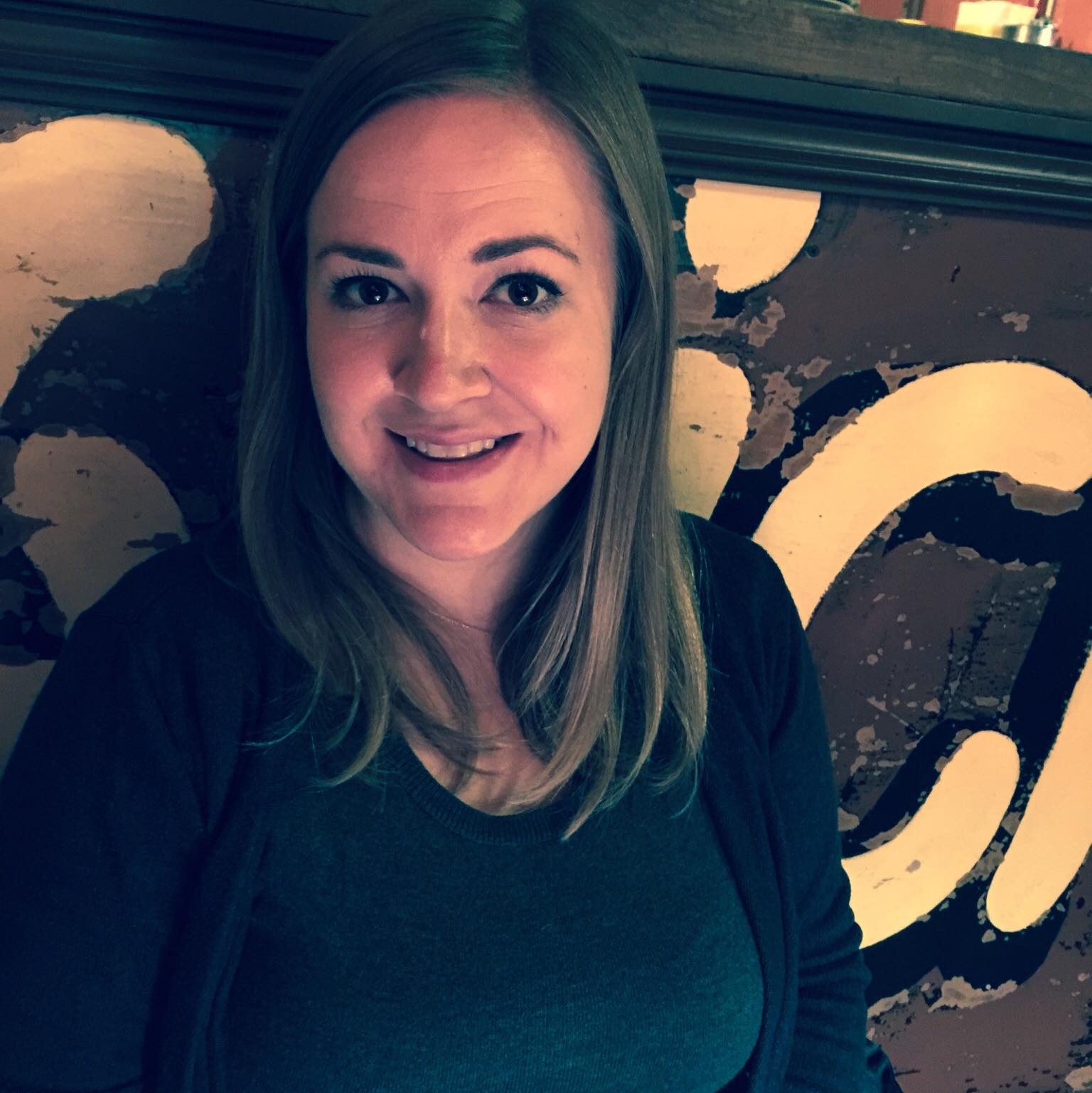 Kristy Norrell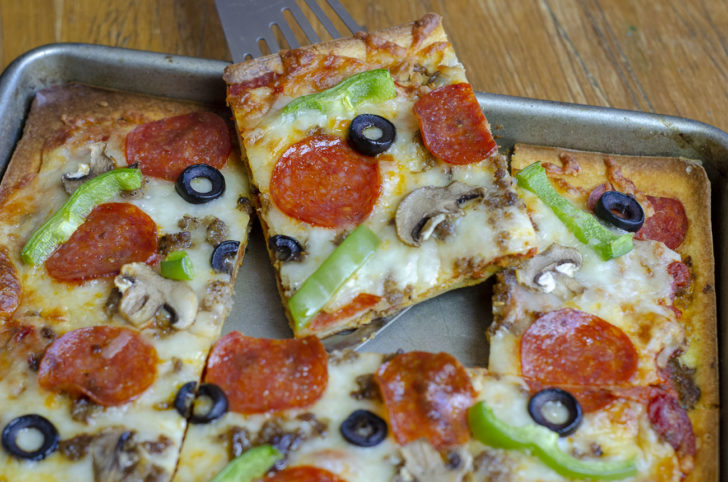 It seems like pizza night is something we always turn to when we're looking for a dinner that's both convenient and delicious. Delivery takes all the dishes and effort out of the dinner equation, but it does tend to leave the pocketbook a little lighter. And homemade pizza, while totally tasty, takes time, forethought, and at least some amount of skill. But we've got the perfect pizza solution – it's homemade, it's economical, and it's just as quick and delicious as delivery. Friends, meet Crazy Crust Pizza.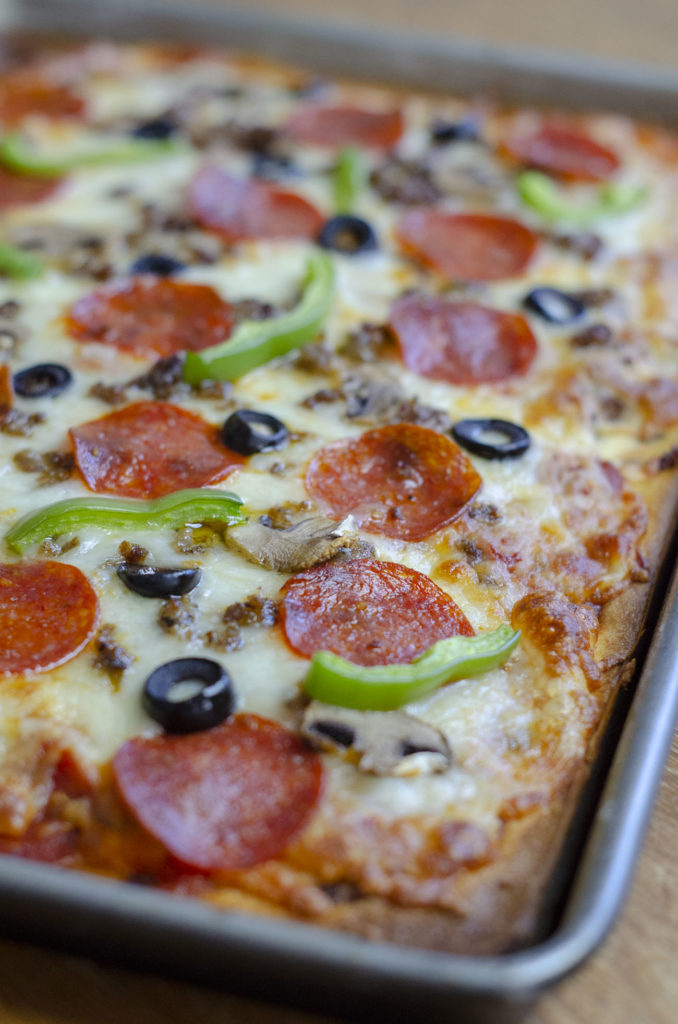 Crazy Crust Pizza lets you make a pizza completely from scratch but it doesn't require any kneading, rising, or rolling out. (In fact, you don't even need any yeast!) This ingenious method gives you a thin crust that's a dependable and tasty base for whatever toppings your heart desires. It's just a matter of following the simple method, which is a little different from what you're probably used to.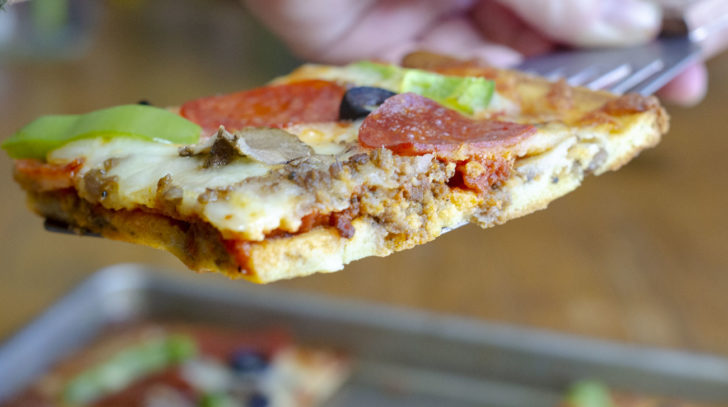 You start by greasing and flouring a 9×13-inch rimmed baking sheet and gathering all your toppings. (We're going with a combination inspired pizza here, but if ham and pineapple is more your style, that works too.)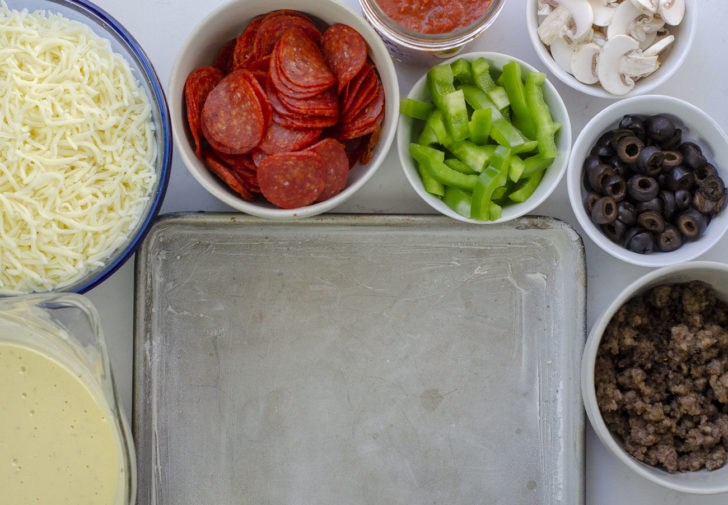 Then you mix up a liquid batter of flour, eggs, milk, and a few seasonings and pour it into the pan.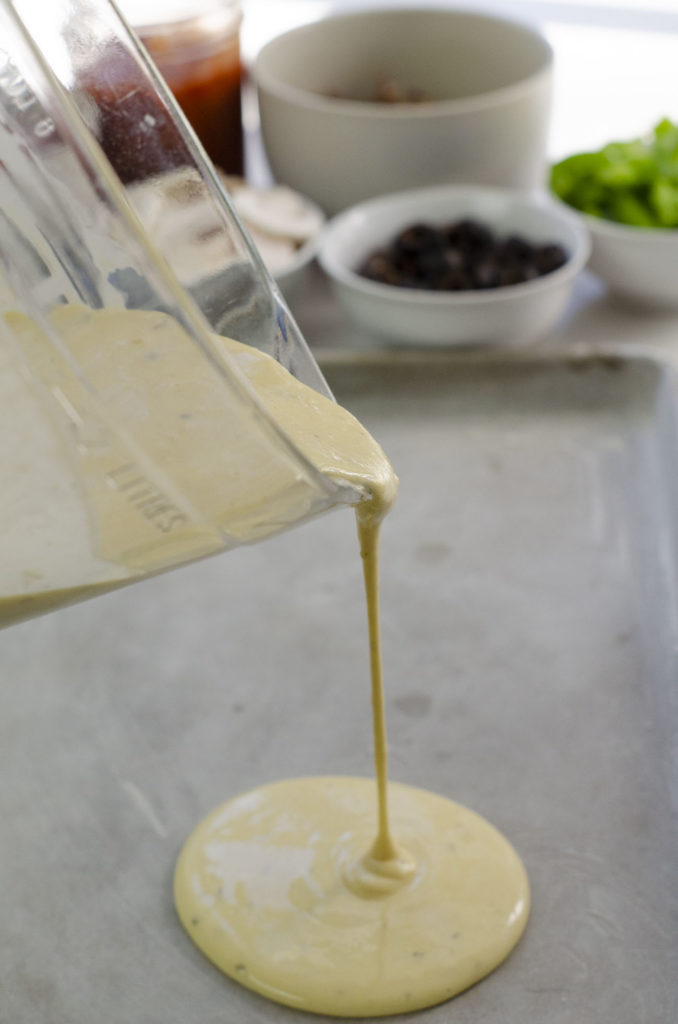 While you can change the toppings out as you wish, don't mess with the main ingredients for the batter or this method won't work.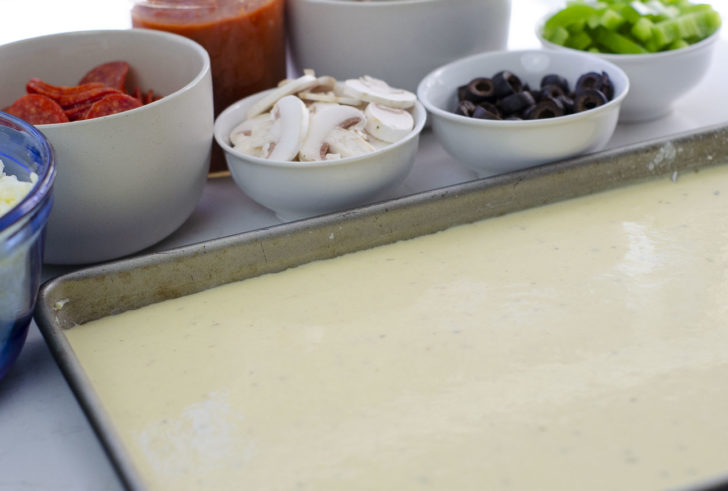 You tilt the pan around until the batter evenly coats the bottom… (and here comes the weird part…)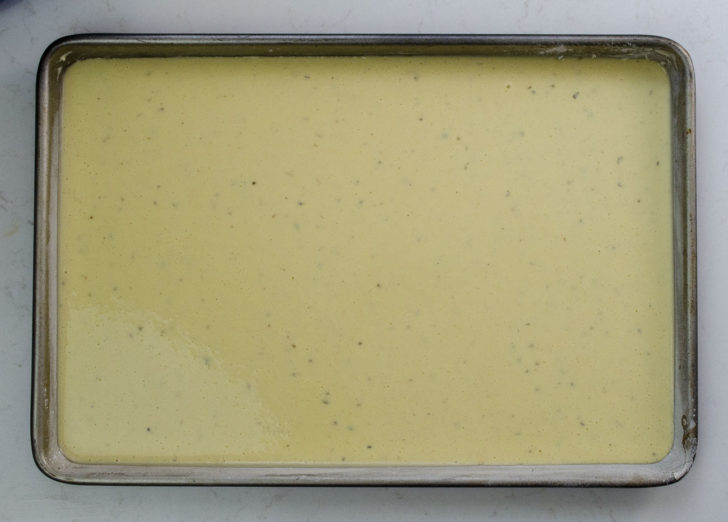 … Then you top the batter with a few of your sturdier toppings, like pepperoni and cooked sausage, and maybe a few mushrooms.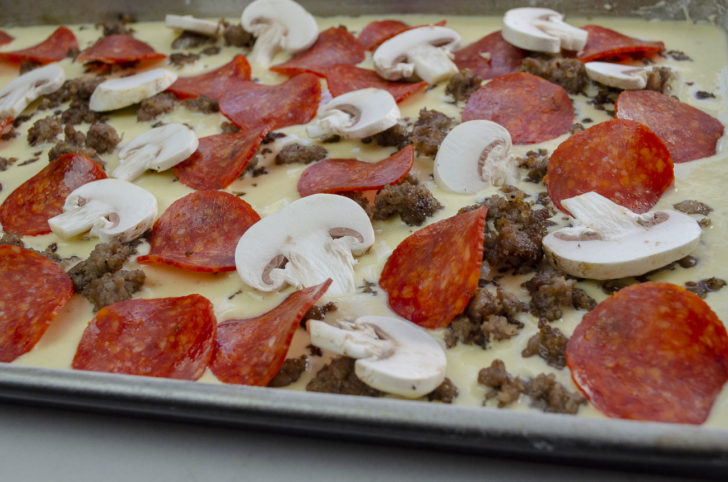 You pop that into the oven for twenty minutes, and the batter rises up to surround the toppings, which creates a sturdy base for the rest of the pizza classics.
You remove it from the oven and spread it with your favorite pizza sauce.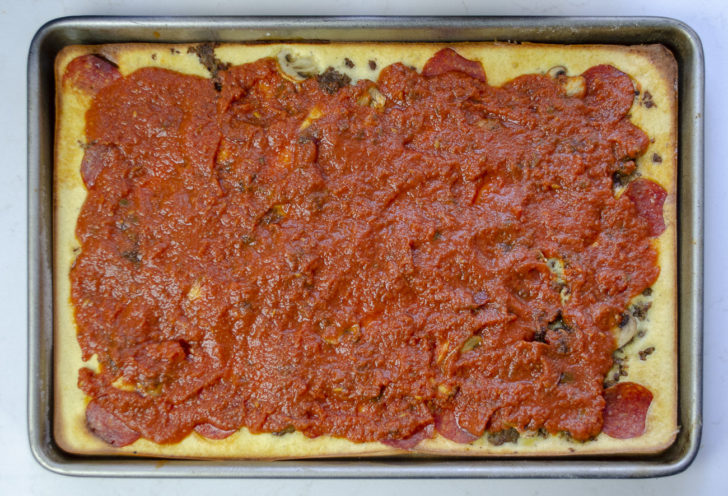 And then sprinkle it with a generous helping of cheese.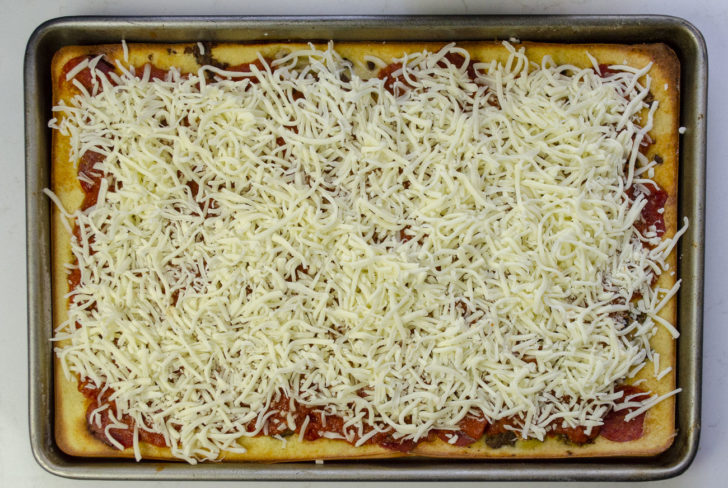 You can top it with even more of your favorite toppings, like some crunchy bell pepper or sliced black olives; just keep in mind that these toppings won't get quite as much oven time as the first layer.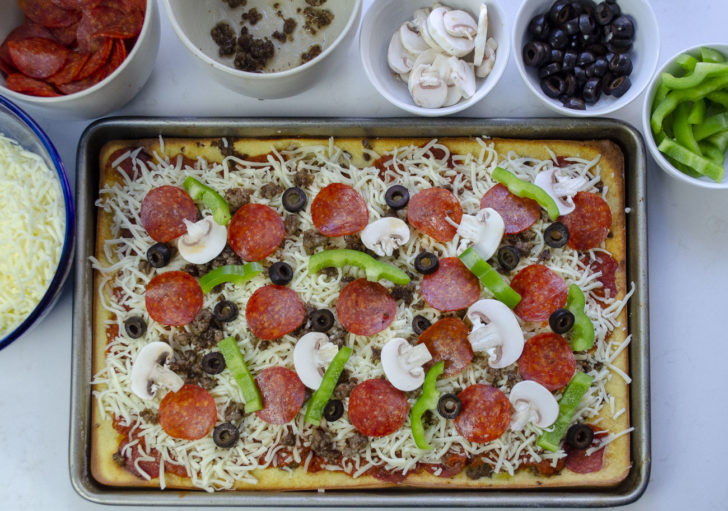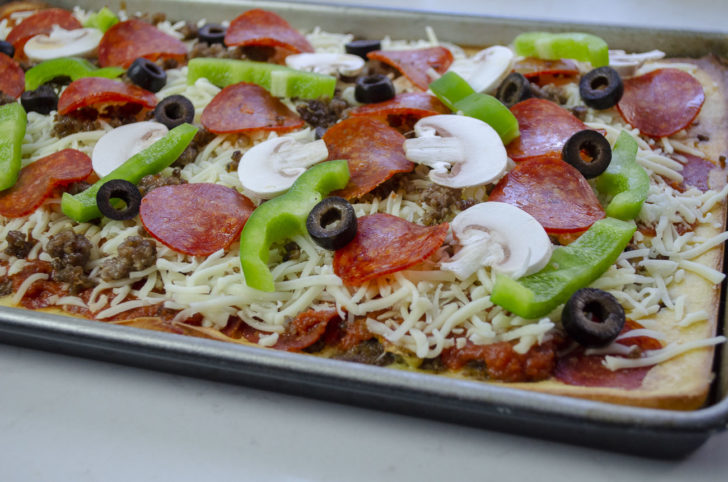 And then you put it back into the oven for just a few more minutes, until the cheese is bubbly and melted and your pepperoni has started to curl and crisp up around the edges.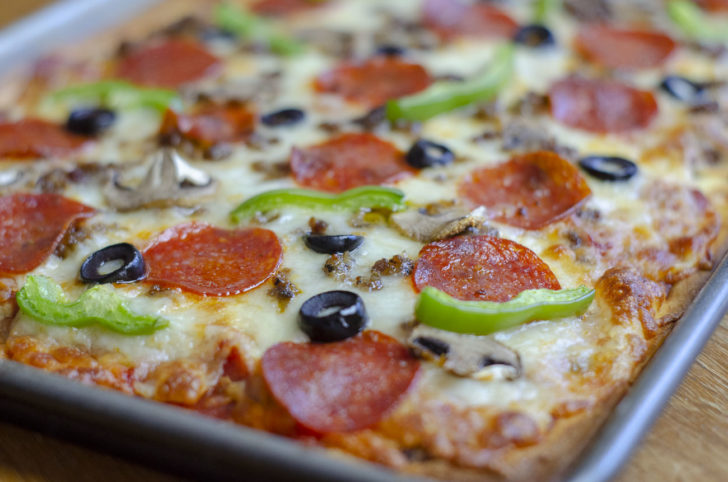 All that's left to do is slice and serve. In just about thirty minutes, you've got a from-scratch homemade pizza on your table. We've always said it doesn't get easier than delivery… but Crazy Crust Pizza just might be!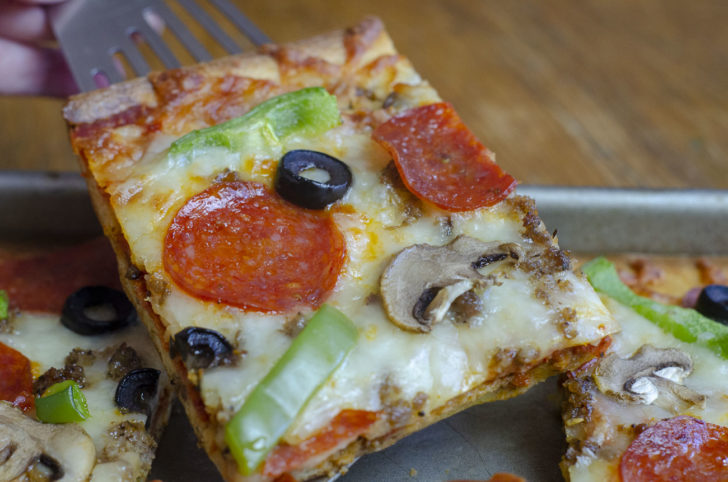 Crazy Crust Pizza
Ingredients
1 cup all-purpose flour
1 teaspoon salt
1 teaspoon dried oregano
1/2 teaspoon garlic powder
1/4 teaspoon pepper
2 eggs
2/3 cup milk
1 cup pepperoni slices
1/2 pound pork sausage, cooked and crumbled
1 1/2 cups pizza sauce
2-4 cups mozzarella cheese, shredded
1/4 cup black olives, sliced
1/4 cup bell pepper, sliced
1/2 cup mushrooms, thinly sliced
Preparation
Preheat oven to 400°F. Grease and flour a 10x15-inch rimmed baking sheet.
In a medium bowl, combine flour, salt, oregano, garlic powder, pepper, eggs, and milk, and mix until thoroughly combined.
Pour batter into prepared pan and tilt pan around until bottom is evenly coated. Sprinkle the cooked meat, pepperoni, and mushrooms over the batter. (Save some toppings for top if desired.) Bake for 20 minutes.
Remove from oven and drizzle with pizza sauce and sprinkle evenly with cheese. Add additional toppings if desired.
Bake until cheese is bubbling, about 5 more minutes. Slice, serve, and enjoy!
Adapted from Plain Chicken.
SKM: below-content placeholder
Whizzco for 12T