It's our new weekend forever favorite.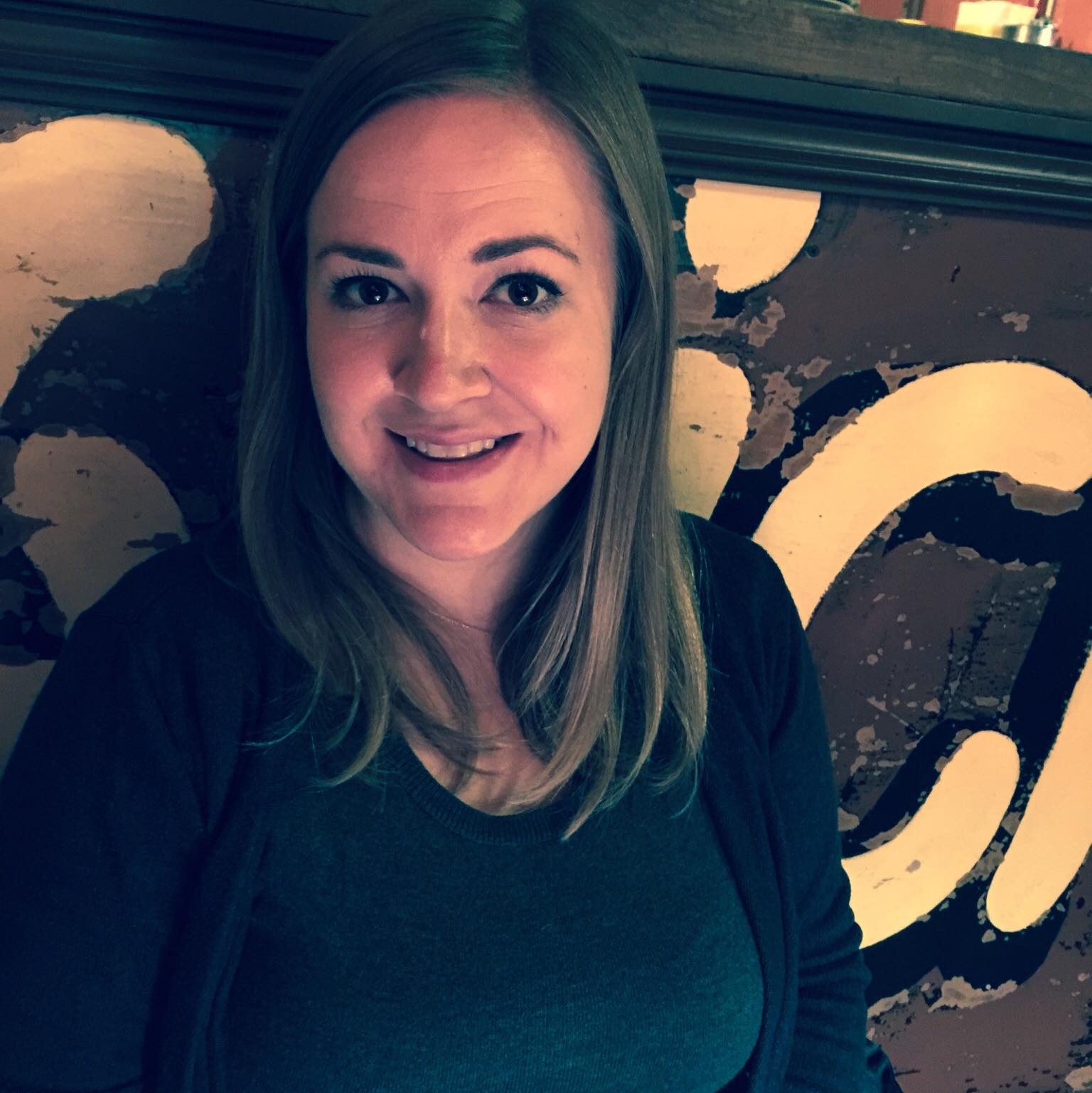 Kristy Norrell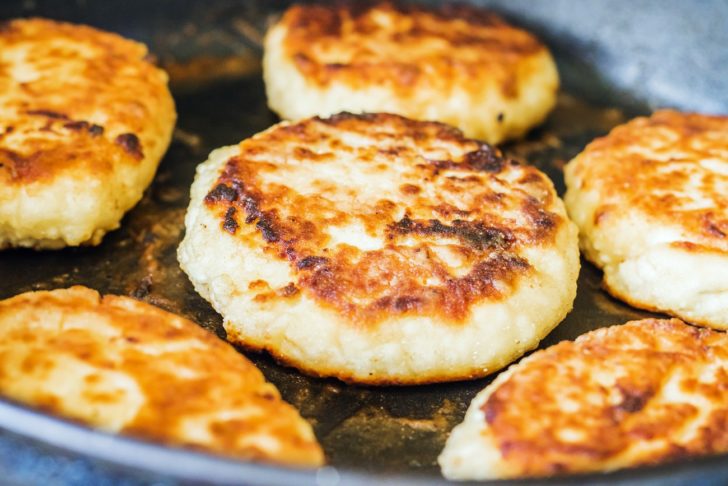 Syrniki are fritter-like pancakes that are popular throughout Eastern Europe. They're traditionally made with quark or farmer's cheese, and they're sweet and simple… and utterly delicious. They're pan-fried quickly, so that the outside becomes wonderfully crispy while the inside remains soft and creamy. They're usually served with a little bit of sour cream, jam, and/or honey and are served for either dessert or breakfast. (We like the idea of that… breakfast for dessert, dessert for breakfast. It all works.) They're a heavenly little pancake, and you can bet that once you try them they'll become a regular part of your Sunday morning rotation. Luckily, they're an easy undertaking.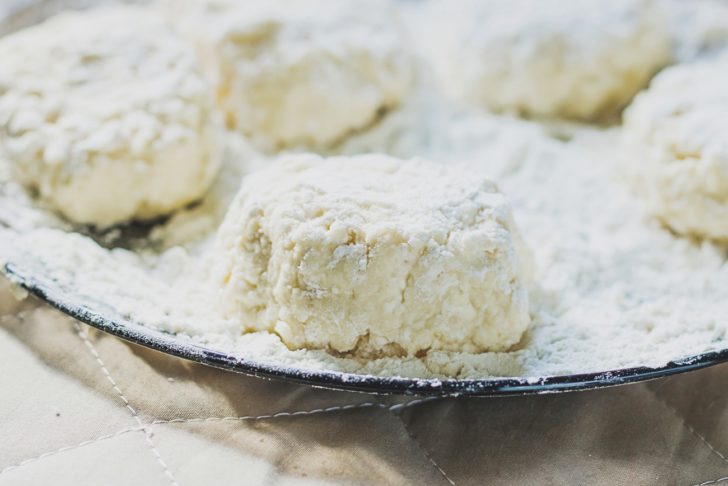 The batter is formed by mixing up some cheese (more on that in a second), eggs, flour, sugar, and salt until well-blended. Some recipes call for vanilla extract, others add raisins. We're in the vanilla extract camp. Now, for the cheese: As mentioned before, these are traditionally made with quark or farmer's cheese, but those can be hard to find in the good ol' U.S. of A. Cottage cheese or ricotta make a great substitute, but they are a little bit wetter than the traditional components. If you use those substitutes, you might find that you need a little bit more flour, up to 1 cup. The dough will be sticky though, so don't fret about that.
Once the batter is made, you spoon heaping tablespoons-full onto a floured surface…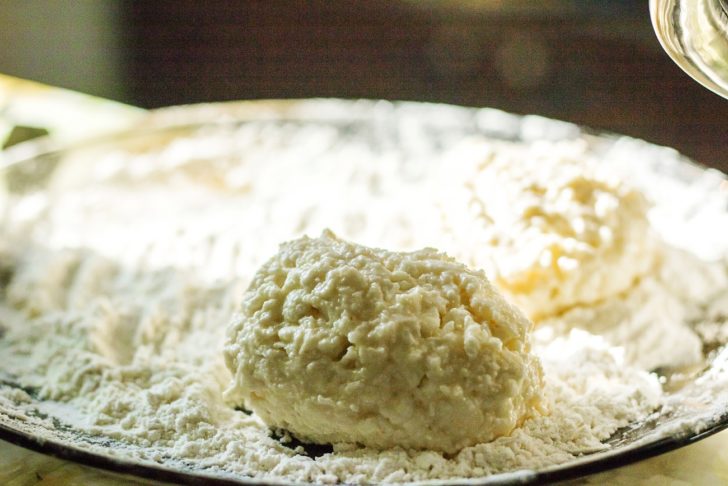 And roll the patties around with (well-floured) hands and/or a fork…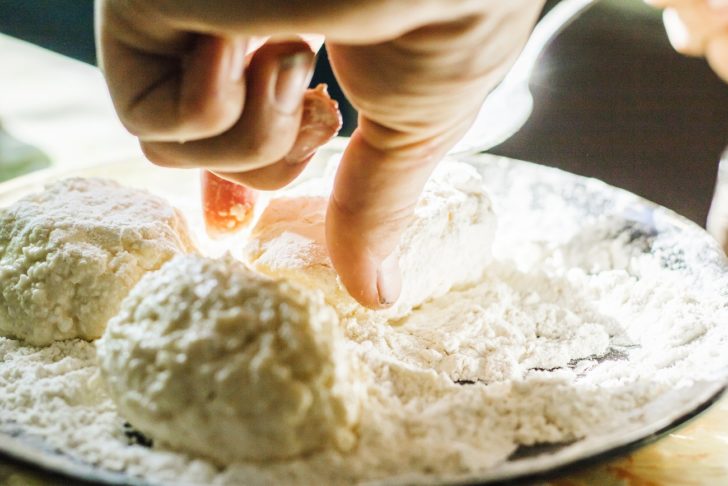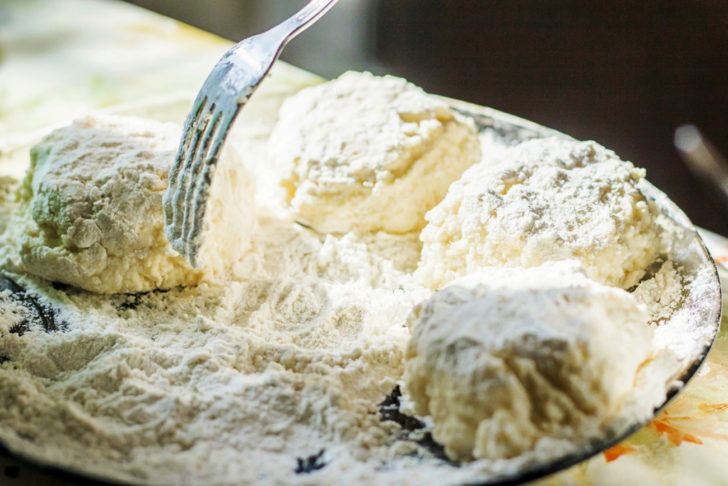 You pat them into pancake-patty shape while you heat up the oil…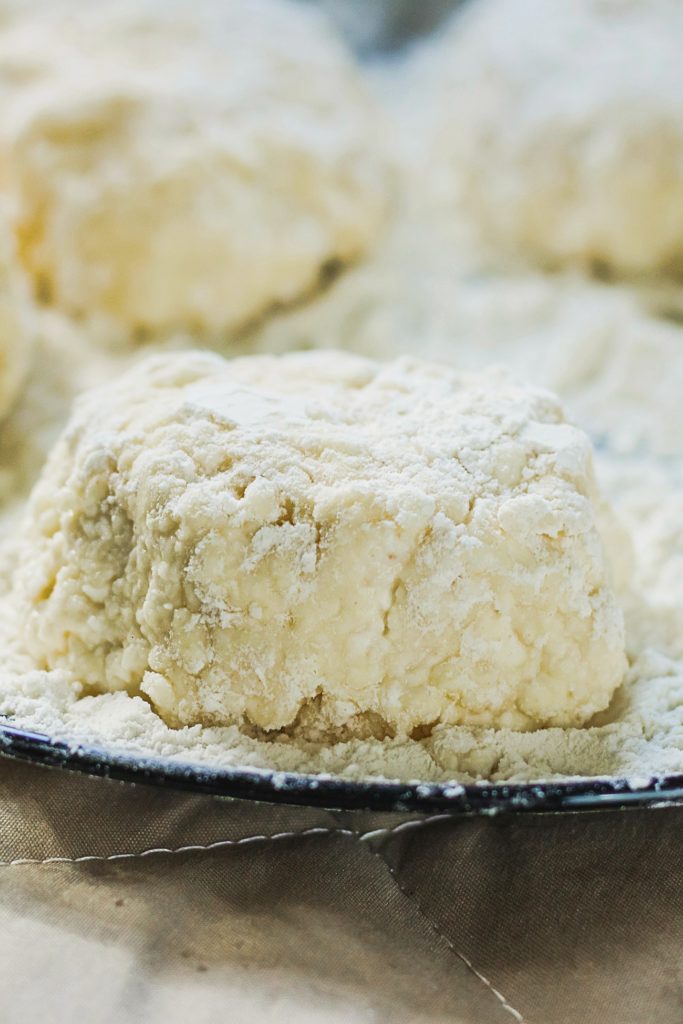 And then pan-fry them until they're deliciously golden brown.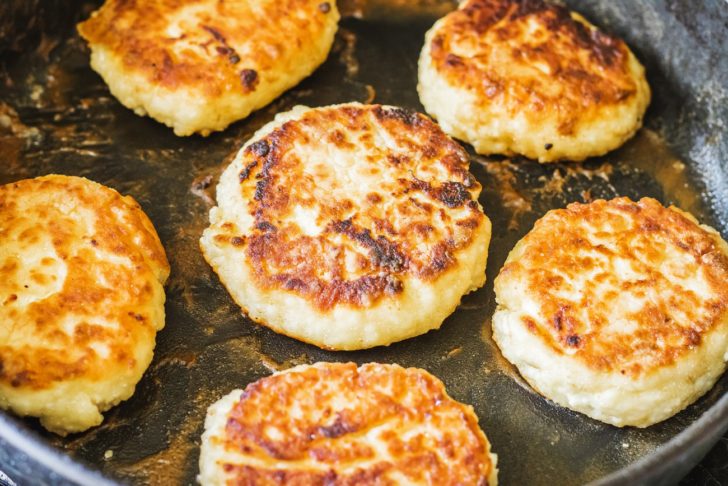 Top them with a little jam and sour cream and breakfast is served. Or dessert. Or breakfast-dessert. Tomato, tahmahto. Enjoy!
Cottage Cheese Pancakes
Ingredients
2 cups (1 lb) cottage cheese, farmer's cheese, or ricotta
3/4 cups all-purpose flour, plus extra for dusting
2 eggs
1/4 cup granulated sugar
1 teaspoon vanilla extract
1/2 teaspoon salt
Vegetable oil, as needed, for frying
Topping suggestions: sour cream, fruit, jam, honey, powdered sugar
Preparation
In a large bowl, combine the cheese, 3/4 cup flour, eggs, sugar, vanilla, and salt, and beat with an electric mixer until uniform in consistency, about 2-3 minutes. (There will still be some cheese clumps and mixture will be very sticky.)
Place a large skillet over medium heat and add 3-4 tablespoons of oil.
Meanwhile, make the patties: Dust a clean work surface liberally with flour. Using a spoon, scoop batter from the bowl onto the floured surface in heaping tablespoons. Using a fork and well-floured hands, roll each patty in the flour, then pat with your palm to form into a patty.
Once oil is hot, place patties into skillet. Cook 3-4 minutes per side, flipping once during cooking, until golden brown.
Serve topped with some combination of fruit, jam, sour cream, powdered sugar, and/or honey.
Adapted from Natasha's Kitchen.
SKM: below-content placeholder
Whizzco for 12T