Vegan-friendly meals based on classic dishes are a hugely popular option in place of your usual preferences.
Being able to incorporate healthy options (they don't have to be vegan) in place of meatier meals or mac and cheese is a quality alternative to options you likely cook all the time.
Cooking the alternatives below sharpens skills, introduces flavor variations, and adds strings to your bow should you entertain guests with different dietary inclinations.
Try these recipes out in your kitchen, you'll be pleasantly surprised with the results!
1. Vegan Mac and Cheese (Serves 2-4)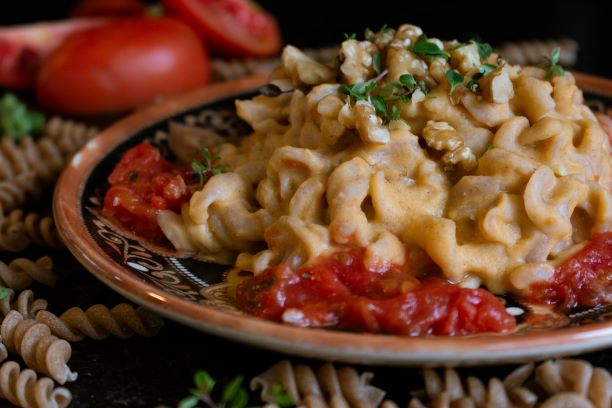 A dairy-free mac and cheese is quite simple and results in a creamy, cheese-like pasta dish that everyone can enjoy. Using nutritional yeast adds more cheesy flavor to the dish, and can be bought from most health food grocers.
Ingredients
8 ounces whole-grain macaroni elbows
1 ½ tablespoons extra-virgin olive oil
1 small finely chopped onion
4 ounces/1 peeled and grated russet potato
3 cloves minced garlic
½ teaspoon garlic powder
½ teaspoon onion powder
½ teaspoon dry mustard powder
½ teaspoon fine sea salt
¼ cup nutritional yeast
1 cup water, more as necessary
2 teaspoons apple cider vinegar to taste
Optional: handful of raw cashews
Instructions
Bring a large pot of salted water to boil for the pasta. Cook according to package directions. If using broccoli, stir it into the pot when just 2 to 3 more minutes remain. Drain, and transfer the contents to a large serving bowl.
Meanwhile, in a medium-to-large saucepan, warm the oil over medium heat. Add the onion and a pinch of salt and cook, stirring often, until the onion is tender and turning translucent, about 5 minutes.
Add the grated potato, garlic, garlic powder, onion powder, mustard powder, salt and red pepper flakes. Stir to combine, and cook, stirring constantly, for about 1 minute to enhance their flavors.
Add the cashews and water, and stir to combine. Let the mixture come to a simmer. Continue simmering, stirring frequently and reducing heat as necessary to avoid a rapid boil, until the potatoes are completely tender and cooked through, about 5 to 8 minutes.
Carefully pour the mixture into a blender. Add the nutritional yeast and 2 teaspoons vinegar. Blend until the mixture is completely smooth, about 2 minutes, stopping to scrape down the sides if necessary. If the mixture won't blend easily or if you would prefer a thinner consistency, add water in ¼ cup increments, blending after each one.
Taste, and blend in additional salt until the sauce is utterly irresistible (I typically add at least another ½ teaspoon). If it needs a little more zip, add the remaining teaspoon of vinegar. Blend again.
Recipe adapted from Cookie and Kate
2. Vegan Steak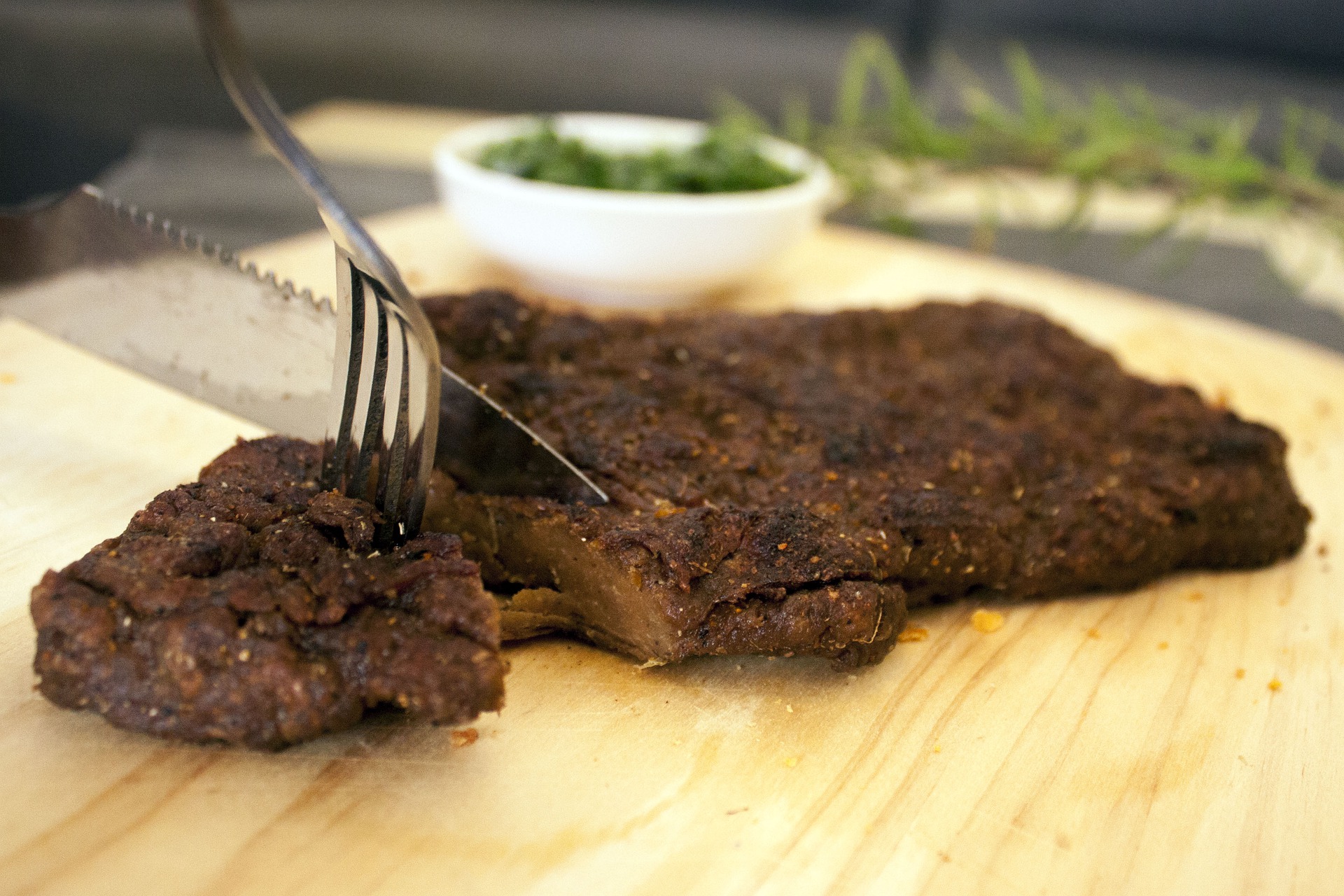 As a proud meat eater I've been leery about vegan steak despite hammering a lot of other foods that are entirely plant-based options with a surprising depth of flavor.
But if you can cook up a brilliant English pub style feed with vegan steak as Gaz does in the clip below, there's going to be me, and plenty of other meat-inclined people willing to take on a new style of food.
3. Vegan Chilli Sin Carne (Serves 4)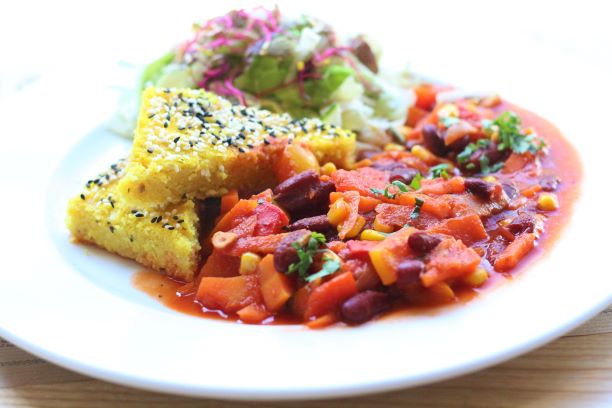 As I put together this article, I got hold of my friends Nick and Wendy, legendary travelers who have been eating vegan as long as I can remember (which, to be fair, is not that long).
Nick steered me towards chilli sin carne, as it does a fantastic job carrying flavors through in the same ways that ground beef would.
Ingredients
4 cloves garlic, minced
2 medium onions, chopped
1 ½ cups vegetable stock
1 finely chopped bell pepper
2 finely chopped medium carrots,
1 finely chopped small zucchini
1 15 oz can diced or crushed tomatoes
6 tbsp tomato paste
1 cup corn kernels, drained
2 cups cooked kidney beans
1 cup cooked chickpeas
3 tbsp light soy sauce
1 tbsp sweet paprika
½ tsp cayenne
Salt to taste
Optional: 1 avocado (mashed), soy based yoghurt, coriander
Instructions
Heat up a large non-stick pot or wok. Sauté the garlic and onion over medium-high heat until soft and aromatic.
Add half a cup of the vegetable stock, bell pepper, carrot and zucchini. Cook for 5-6 minutes while occasionally stirring.
Add remaining chilli ingredients to the saucepan and stir until mixed thoroughly. Simmer the combination uncovered for 15-20 minutes until it looks thick and rich
Add cayenne and salt to taste then serve with rice or spiral pasta.
Recipe adapted from Wallflower Kitchen
4. Vegan Spaghetti Bolognaise
Check out this great vegan spaghetti recipe from twins (or clones?) Dave and Steve. It's simple, tasty, and easy to prepare for anyone looking to change up some of the meat-heavy elements of their diet and enjoy some tasty vegan cuisine.
5. Vegan Bangers and Mash (Serves 4)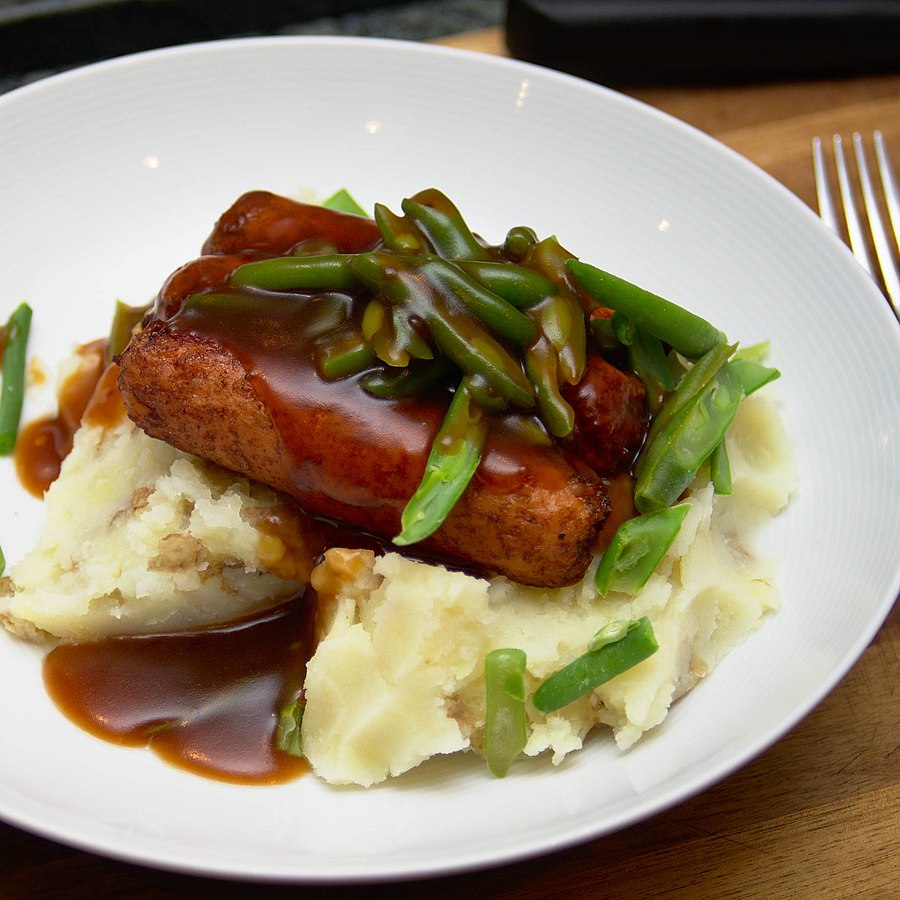 Making plant-based bangers is not really my idea of a good time, so I cut corners and rocked some store bought bangers – there's a range of great tasting options at your supermarket.
I certainly won't hold it against you if you want to make them from scratch, but part of their appeal to me is the convenience of traditional pub food done differently!
Ingredients
Mashed Potatoes
3 pounds mashing potatoes, peeled and cut up into chunks
1/4 cup vegan butter
1/2 cup unsweetened non-dairy milk
1 teaspoon pink himalayan rock salt (ground)
1 teaspoon ground pepper
2 tablespoons finely chopped chives
Gravy
1 small, finely chopped shallot
3 minced garlic cloves
1/4 cup vegan butter
1 1/2 teaspoon dried mixed herbs
1/2 teaspoon ground nutmeg
1/2 teaspoon celery salt
2/3 cup tahini
1/2 cup light soy sauce
1/4 cup maple syrup
¼ -1/2 cup light vegetable stock
2 tablespoons Worcestershire Sauce (vegan friendly)
Instructions
Cook bangers in a medium-high fry pan for approximately 5-10 minutes, turning occasionally until browned all over and almost ready to serve.
While the bangers are cooking, prepare the mashed potatoes. Bring a large pot of cold water with the potatoes to a boil.
Cook until the potatoes are tender (for around 10 minutes) Drain and mash potatoes in the pot with the remaining ingredients, and stir through thoroughly.
Just prior to serving, heat up the gravy in a saucepan (see below), then add about 1/4 cup of the gravy to coat the sausages then cook for 1 more minute.
Spoon mash onto a plate and add sausages. Add 1-2 cups of steamed green beans cut short, then pour gravy and serve immediately.
Adapted from: Exceedingly Vegan
Gravy
In a saucepan, sauté the shallot and garlic in the vegan butter for 2 minutes.
Add mixed herbs, nutmeg, and celery salt and sauté for 1 to 2 more minutes. Stir in the tahini, soy salt, maple syrup, 1/4 cup stock, and Worcestershire and simmer over low heat for 3 to 4 minutes. Add more stock as necessary to desired thickness.
Conclusion
You don't need to be vegan to enjoy vegan food. It's taken me more than a decade to learn that lesson. If you try out some of the options above you'll get to apply some cool kitchen variations and maybe add some options for entertaining fussy eaters.
SKM: below-content placeholder
Whizzco for 12T