The combination of ground coffee with smoked paprika and chili powder makes this dry rub soo perfectly rich to turn out a lovely tender piece of meat!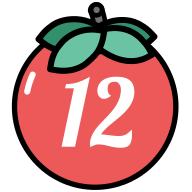 Dom Ruane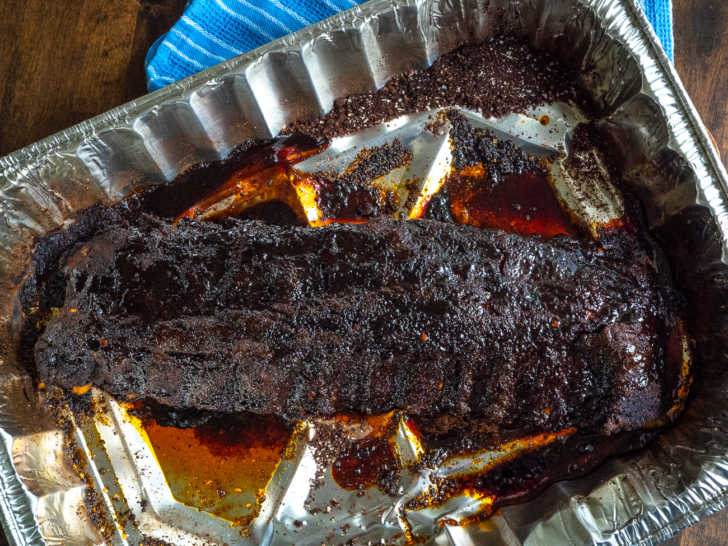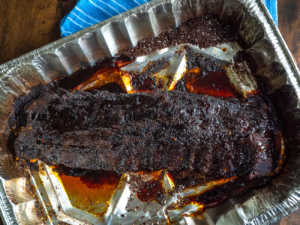 Whether it's summer or winter, I crave coffee-rubbed ANYTHING! Ribs though, somehow ribs manage to make the perfect indoor/outdoor food and… I'm not mad at them for it. I first tasted coffee-rubbed ribs at our annual company BBQ back in Chicago. I almost fell over! I grew up with BBQ sauce ribs and spent my whole life thinking that ribs only went BBQ sauce! Mind Explosion! The problem for me with classic ribs is the sweetness of store-bought BBQ sauce. It's so sweet! My mission here was to curate a rib that wasn't doused in BBQ and elevate the pork flavor. Mission accomplished! These coffee-rubbed ribs are serving smoky, sweet, and spicy, with a juicy pork finish.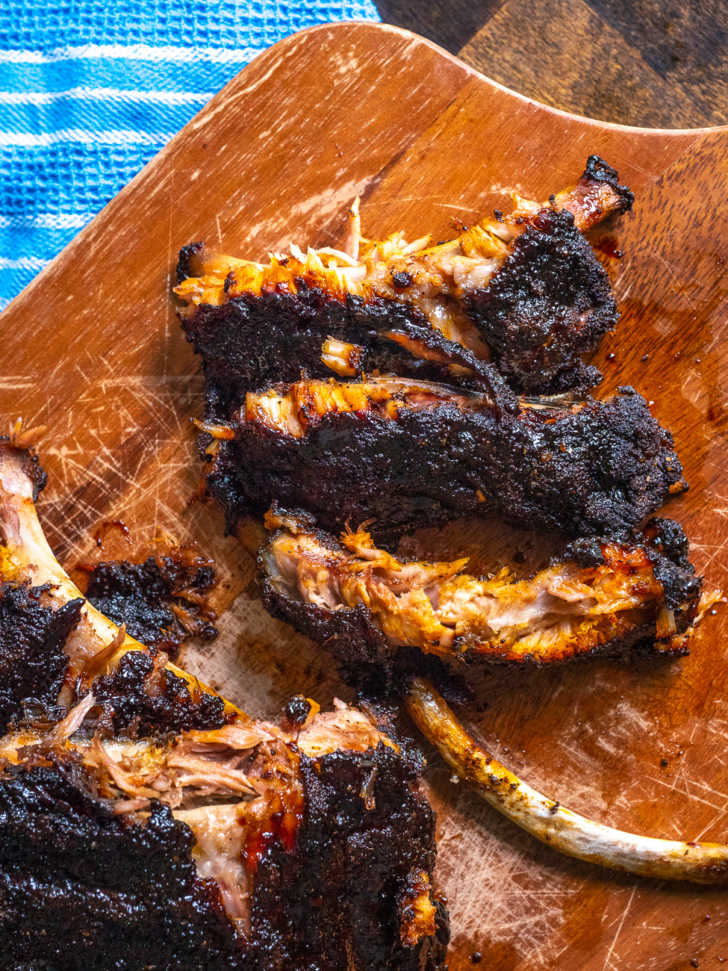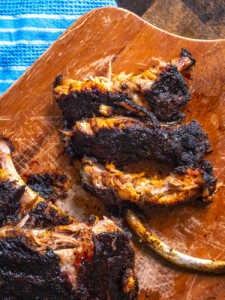 Rib haters are out there! BBQ sauce is a lot sometimes. I chose to open my mind to all the rib possibilities. SERIOUSLY, what other food is as straightforward as ribs? Throw them in a low roasting oven and after three hours, the meat just falls off the bone. Meat on the bone has such a bad PR rep, but the bone is actually a built-in fat distributor. It's why your ribs don't just dry out in the oven after 3 hours. Bone-in chicken, pork, and beef are guaranteed to be less overcooked, juicier, and flavorful than boneless meat. I believe most people avoid bone-in meat because of the extra effort it takes to eat meat off the bone. Think about chicken wings! Tender and juicy, usually coated in some delicious sauce, yet some people still only go boneless.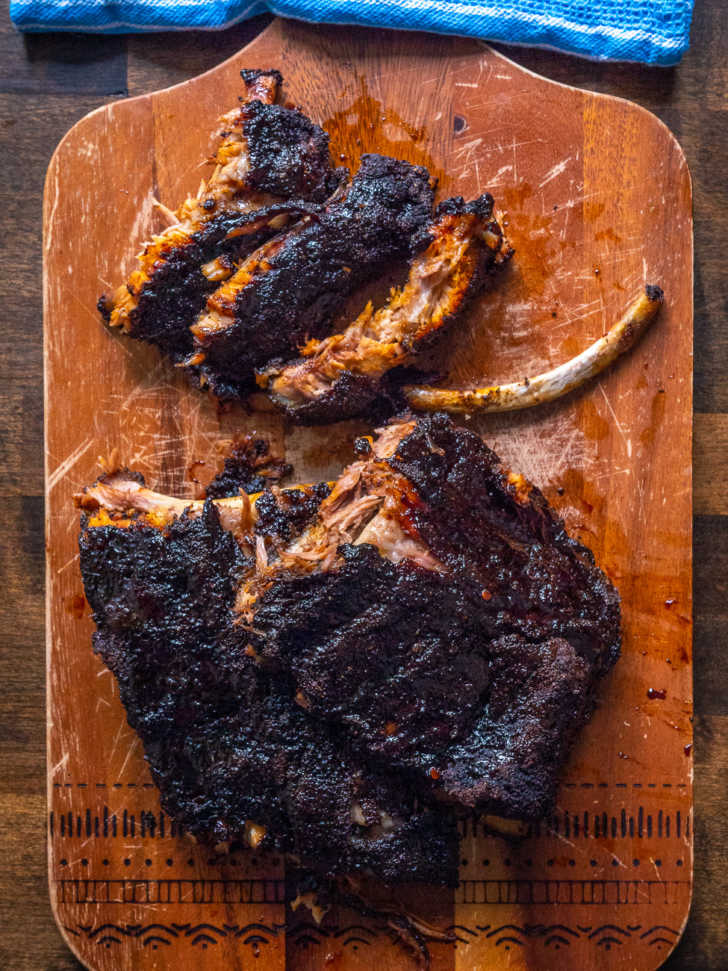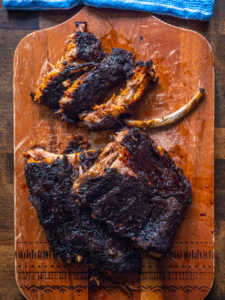 I'm so glad that there are recipes in this world that can help change your mind about food. Coffee-rubbed ribs were mine! What's yours? In a world full of picky eaters, sometimes it takes one recipe to open your eyes to the real reason you dislike a certain food. The next stop on the picky eater train for me is artichokes. YUCK! I know you will love making this recipe for your friends/family. This recipe is for any rib/BBQ sauce haters out there. Try something new, believe me, you won't have leftovers.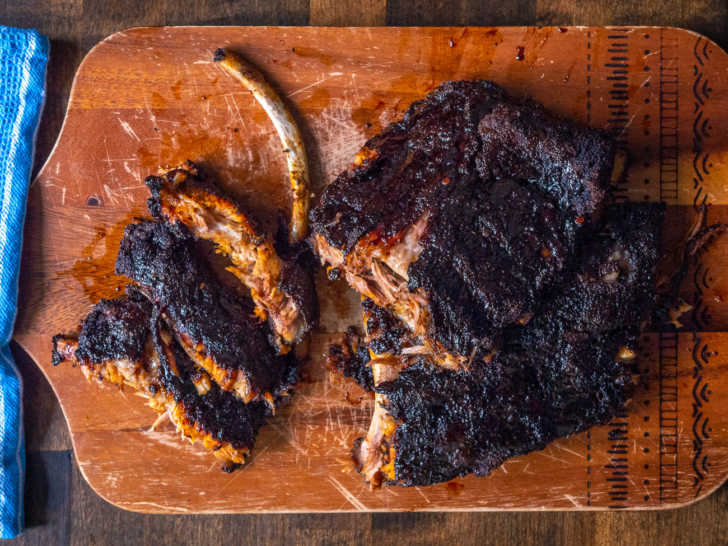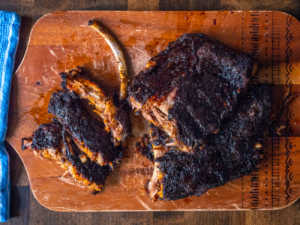 Coffee Rubbed Ribs
Serves 4 - 6
5m prep time
3h cook time
For Ribs:
3 lbs. baby back ribs, trimmed
1/4 cup finely ground coffee
1/4 cup brown sugar
2 tablespoons smoked paprika
2 tablespoons chile powder
2 tablespoons salt
1 tablespoon cumin
2 teaspoons mustard powder
1 teaspoon ground ginger
For the sauce:
1/4 cup honey
3 - 4 garlic cloves, smashed
3 tablespoons soy sauce
3 tablespoons water
2 tablespoon adobo sauce from can of chipotles
Directions:
Preheat oven to 300°
Combine the spice rub in a bowl and rub the ribs all over with the coffee spice, until fully coated. On an aluminum foil lined sheet tray and a wire rack, lay the baby back ribs evenly over the rack and roast until tender. Check around 2 1/2 hours up to 3 hours.
In a saucepan over medium heat, combine all ingredients except the chilis in the pot and bring to a boil. Reduce sauce until bubbles start to pop slowly and sauce is coating a spoon.
Remove from heat and reserve.
When ribs are done, brush ribs with the glaze, broil in the oven for 5 minutes (optional) and serve.
RIB PARTY!
Recipe adapted from Granor Farm.
SKM: below-content placeholder
Whizzco for 12T