Perhaps one of my favorite dishes from Chinese takeout is pork lo mein. Unfortunately, so many times when I've ordered it, the dish is just too greasy and salty, and it ends up tasting like regret. I recently started to wonder if there was a way to make it at home. The answer: Of course there is! It ended up being much more flavorful, and nowhere near as greasy and salty.
To get the recipe just right, we first looked at the meat. We wanted the pork to be tender and delicious, so we seared strips from country-style pork ribs over high heat, and used the meat marinade as the sauce base which we mixed with chicken broth. We also used lo mein noodles, however if you can't find any at your local store, dried linguine will work just as well. Keep reading below for this fantastic recipe…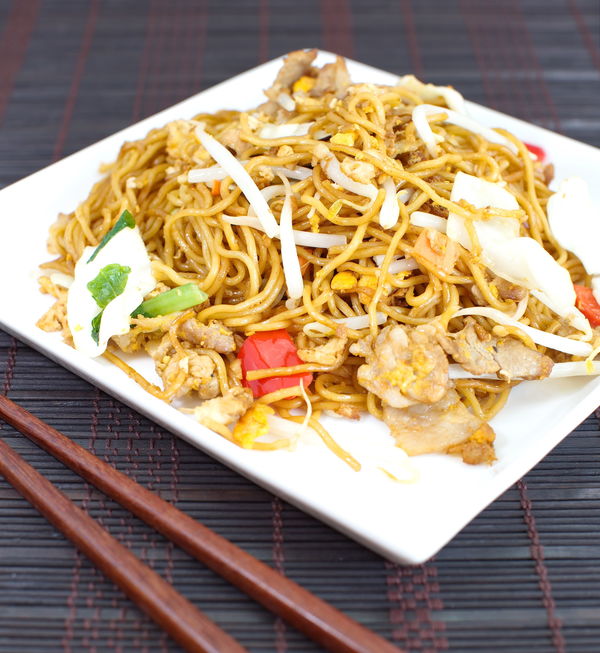 Pork Lo Mein
(makes 4-6 servings)
Ingredients
3 tablespoons soy sauce
2 tablespoons oyster sauce
2 tablespoons hoisin sauce
1 tablespoon toasted sesame oil
1/4 teaspoonfive-spice powder
1lb boneless country-style pork ribs, trimmed of fat and gristle and sliced crosswise into 1/8″ pieces
1/2 cup low-sodium chicken broth
1 teaspoon cornstarch
2 cloves garlic, minced
2 teaspoons fresh grated ginger
4 1/2 teaspoons vegetable oil
4 tablespoons Chinese rice cooking wine (or dry sherry as a replacement)
1/2lb shiitake mushrooms, stems trimmed, and caps cut in halves or thirds
2 bunches scallions, whites thinly sliced and greens cut into 1″ pieces
1 red bell pepper, seeded, de-veined, and chopped roughly
1/2 yellow onion, chopped
1 cup fresh bean sprouts
1 small head Napa or Chinese cabbage, halved, cored, and sliced crosswise into 1/2″ strips
12oz Chinese egg noodles or 8oz dried linguine
1/2 tablespoon Asian chile garlic sauce (or Sriracha sauce, both optional)
Directions
Bring 4 quarts water to boil in a Dutch oven over high heat.
Whisk together soy sauce, oyster sauce, hoisin sauce, sesame oil, and five-spice powder in a medium bowl. Place 3 tablespoons of the mixture in a large, zipper-lock bag, and add the pork. Press out as much air as possible, seal the bag, and marinate at least 15 minutes in the fridge or up to 1 hour.
Whisk the broth and cornstarch into the remaining soy sauce mixture in the medium bowl. In a separate small bowl, mix together garlic and ginger with 1/2 teaspoon vegetable oil. Set aside.
Heat 1 teaspoon vegetable oil in a 12″ skillet over high heat until just smoking. Add half the pork in a single layer, breaking up any clumps with a wooden spoon. cook, without stirring, for 1 minute. continue to cook, stirring occasionally, until browned (about 2 to 3 minutes). Add 2 tablespoons of the Chinese cooking wine or sherry to the skillet and cook, stirring constantly, until the liquid is reduced and the pork is well coated (30 to 60 seconds). Transfer the pork to a medium bowl and repeat with the remaining pork, 1 teaspoon oil, and remaining 2 tablespoons wine. Wipe the skillet clean with paper towels.
Return the skillet to high heat, add 1 teaspoon vegetable oil, and heat until just smoking. Add the mushrooms, peppers, and onion and cook until the mushrooms are a light golden brown (4 to 6 minutes). Add scallions and continue to cook, stirring occasionally, until the scallions are wilted (2 to 3 minutes longer). Transfer the vegetables to the bowl with the pork.
Add the remaining teaspoon vegetable oil, cabbage, and bean sprouts to the skillet and cook, stirring occasionally, until the cabbage is spotty and brown (3 to 5 minutes).
Meanwhile, stir the noodles into the boiling water and cook, stirring occasionally, until the noodles are tender (3 to 4 minutes for fresh Chinese noodles, or 10 minutes for dried linguine). You want the noodles to finish cooking right when the stir fry is finished.
Clear the center of the skillet and add the garlic-ginger mixture and gook, mashing the mixture with a wooden spoon until fragrant (about 30 seconds). Stir the garlic mixture into the cabbage, then return the pork-vegetable mixture and the chicken broth-soy mixture to the skillet. Simmer until thickened and the ingredients are well incorporated (1 to 2 minutes). remove the skillet from the heat.
Drain the noodles, then add back to the Dutch oven and stir in the cooked stir-fry mixture and garlic-chili sauce or Sriracha and toss the noodles until the sauce evenly coats them. Serve immediately.
Enjoy!
Recipe adapted fromShe Knows
SKM: below-content placeholder
Whizzco for 12T