A cherry almond coffee cake that will take you to taste bud heaven. Modeled after a luxurious almond coffee cake my family and I ate on special occasions from Orland Park Bakery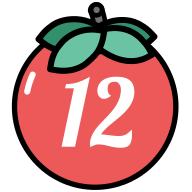 Dom Ruane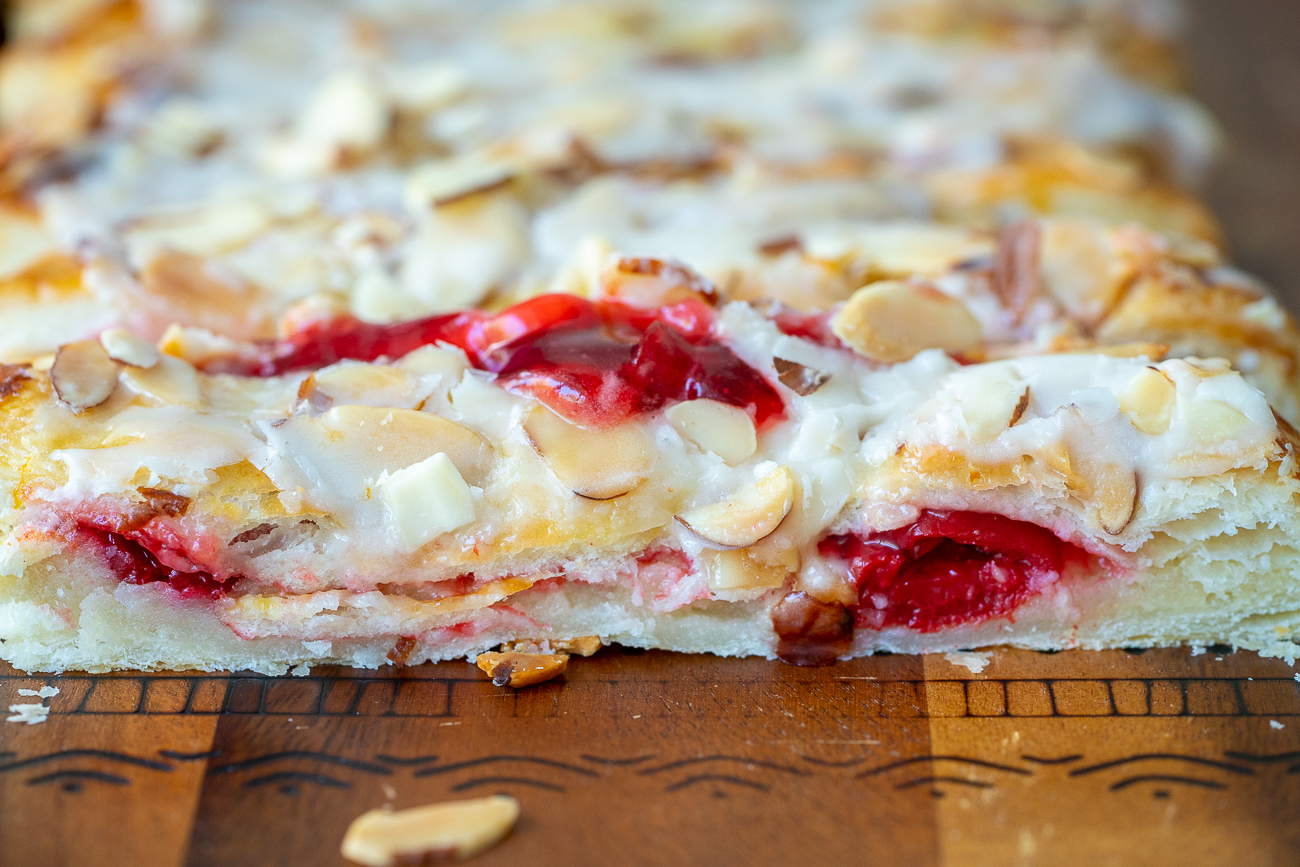 Mmm… Coffee Cake. The ultimate staple of dessert for breakfast in my opinion. A staple dessert on our annual family vacations. This Danish disguised as a coffee cake will blow your mind with its rich almond filling and easy cherry topping.
I grew up most of my life going to a lot of family parties. Celebrations where you spend time with extended family in different environments with food, but lots of food. Always dessert too, even if it's no one's birthday. This coffee cake always made an appearance and we never got tired of it. I especially remember the way my grandma used to dance in her chair with enjoyment when she took a bite. I know she'd be dancing the same way if she took a bite of my coffee cake.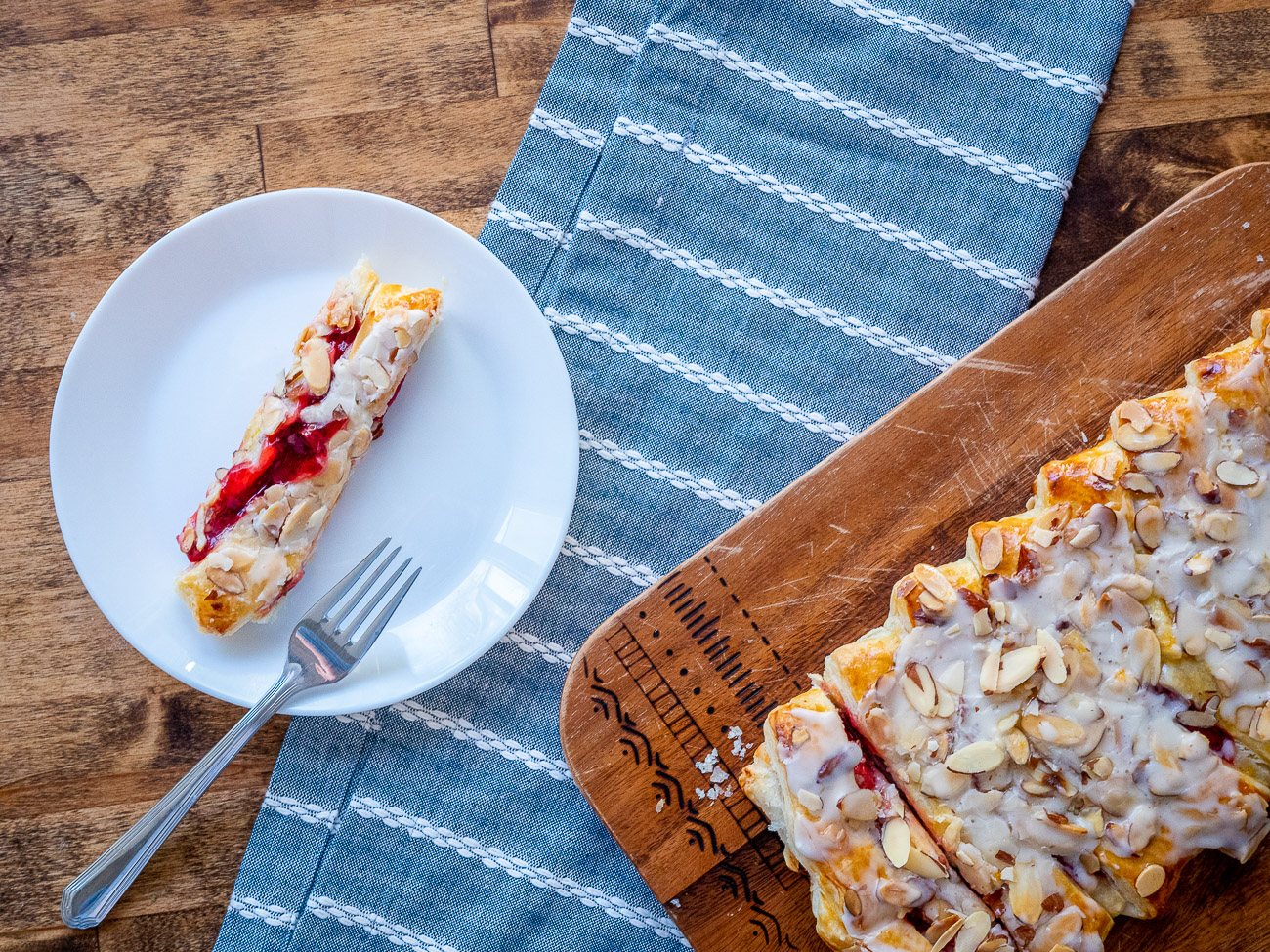 Cherry and almonds are the new peanut butter and jelly. It's a tried and true method, creamy nut butter and fruit just work. For this recipe, the almond filling happens to be the most important part. It had to be chewy and soft, yet dense. I experimented with almond flour and store-bought almond paste. The almond paste had a smoother texture and density, but almond flour does work. Once the filling was done, I wanted to keep it simple for the rest of the pastry by using cherry pie filling and puff pastry for the dough. This is a quick Danish recipe after all. It's quick and convenient, and I don't have to make any dough from scratch.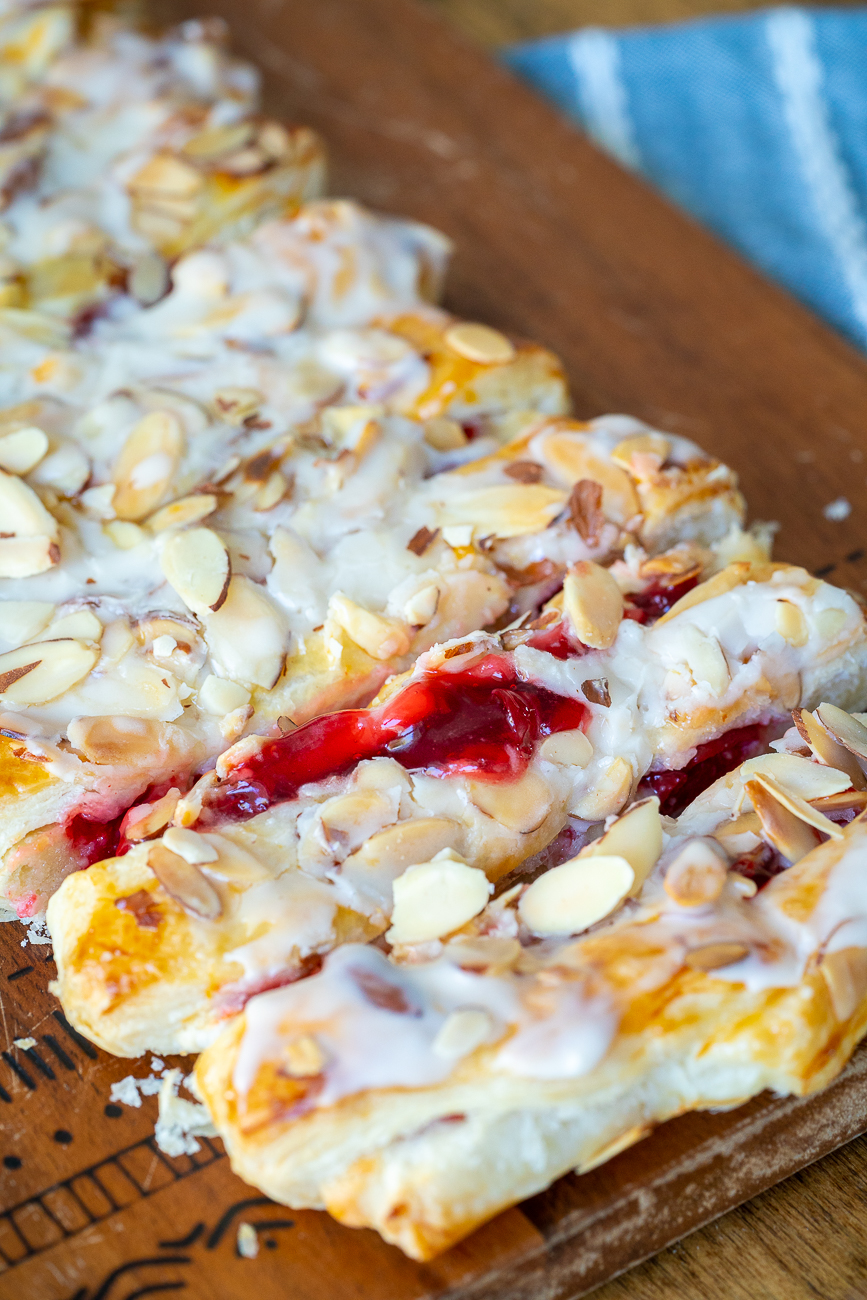 This was such a fun recipe to put together. It's very therapeutic. From making and spreading the filling and topping with cherries, to cutting the puff pastry and braiding the dough. This recipe gives you the freedom of knowing it's going to turn out okay. Just have fun with it! Make a new glaze, or pick a different pie filling to top it with. Baking is challenging when you are trying to be a pastry chef and make everything from scratch. Lots of variables to go wrong. Using a couple of simple store-bought ingredients takes so much suffering away.
Cherry Almond Danish
Serves 8
15m prep time
25m cook time
For filling:
1/2 stick of butter, softened
1/2 cup sugar
7 oz almond paste
2 egg whites
1 teaspoon almond extract
1/3 cup flour
1/2 teaspoon salt
For Danish:
2 sheets puff pastry, connected or one long sheet, thawed
1 jar of cherry pie filling
2 reserved egg yolks
1 tablespoons water
3/4 cup sliced almonds, toasted
1/4 cup apricot jam (optional)
2 tablespoons water (optional)
For glaze:
1 cup powdered sugar
1/2 teaspoon almond extract
1/2 vanilla extract
2 tablespoons heavy cream
Directions:
Preheat an oven to 375°F.
Using a food processor, combine butter, sugar and almond paste. Pulse until mixture comes together.
Add in egg whites and almond extract until a smooth paste forms. Mix in the flour until a sticky smooth filling is formed.
Arrange puff pastry sheet on a parchment lined sheet tray and map out the center of the pastry with the back of knife.
To make the braid: make 45 degree cuts 2 inches apart along each side of the filling. Leave a flap of dough on each end of the filling to close the Danish.
Fill the center, spreading almond filling evenly across the pastry, leaving a little a 2 inch border along the flaps without filling.
Spread cherry pie filling over almond filling focusing on the middle of the pastry, so no cherry filling leaks out. (Use mostly cherries from filling, discard gelatin)
Flip both end flaps up and to braid, make overlapping folds alternating one strip at a time over the filling at a 45 degree angle.
Brush the pastry with egg wash (egg yolk and water whisked together). Top the pastry with sliced almonds.
Bake for 22 - 25 minutes or crust is golden brown.
Make the glaze by whisking together all glaze ingredients until a smooth mixture has formed and reserve. Mix apricot jelly with 2 tablespoons of water until jam has thinned out.
Remove Danish from oven & brush with apricot glaze immediately. (Go over twice for extra sheen)
Drizzle or spread glaze over warm Danish. Let cool until the glaze hardens.
Slice & enjoy!
Recipe adapted from Spruce Eats.
SKM: below-content placeholder
Whizzco for 12T