You only need your broiler, 15 minutes, and an appetite for creamy, cheesy deliciousness for this one.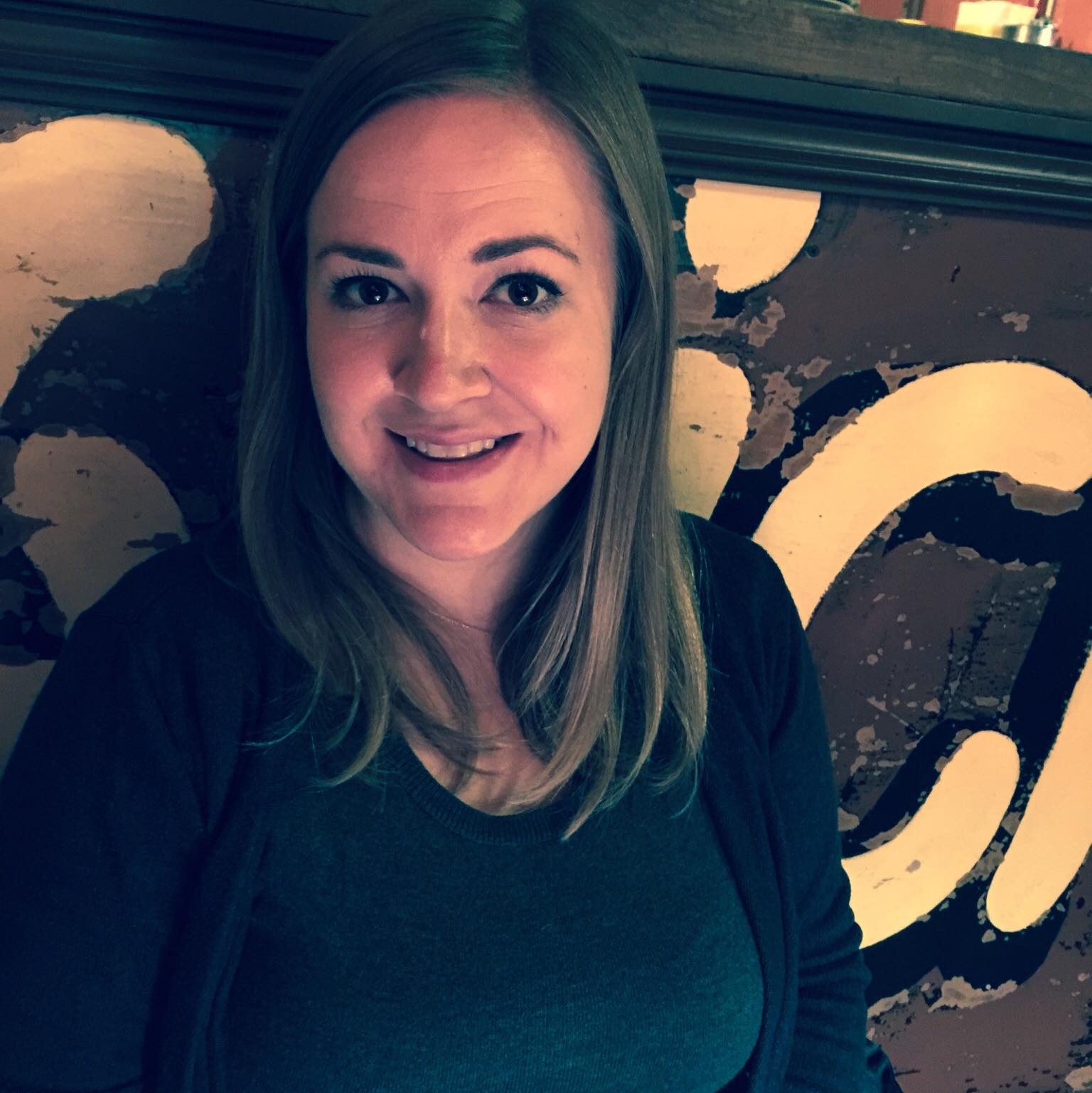 Kristy Norrell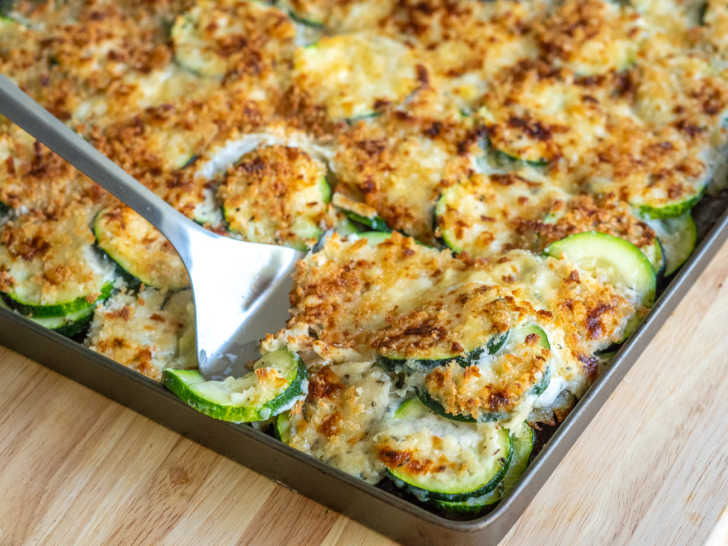 Any dish that's gratinéed or scalloped seems like it's far too much trouble for any given weeknight, but it's time to set aside those assumptions. This Cheesy Scalloped Zucchini is far easier than it looks and far more delicious than it has any right to be. The method is genius — a shallow sheet pan, a little broiling, a sauce that needs no stovetop, and you have a side dish that'll induce cravings. And it will take you fifteen minutes. Yes, fifteen! What do you have to lose?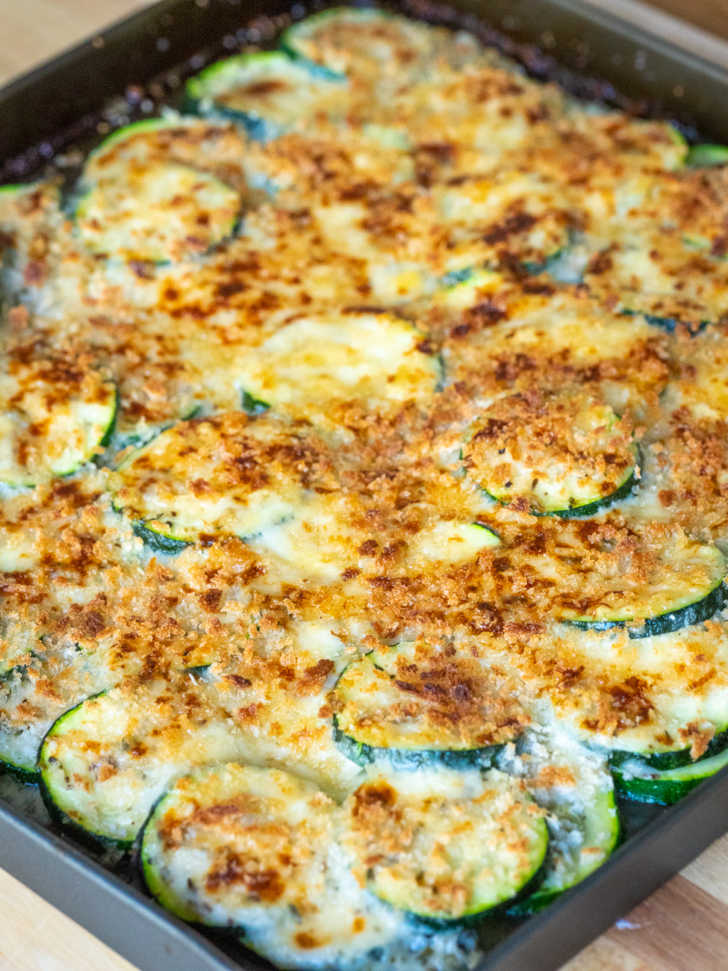 When I think "scalloped," I think of either a) Grandma's lace curtains, or b) Scalloped Potatoes. But Scalloped Potatoes — at least in my life experience — have mostly been reserved for Thanksgiving or company or Easter dinner. They're not everyday food. But this scalloped veg most certainly is fit for the everyday. It's SO fast and so much more interesting than your basic roasted or steamed veggie side. (Of course, a cheesy cream sauce certainly helps that cause along.)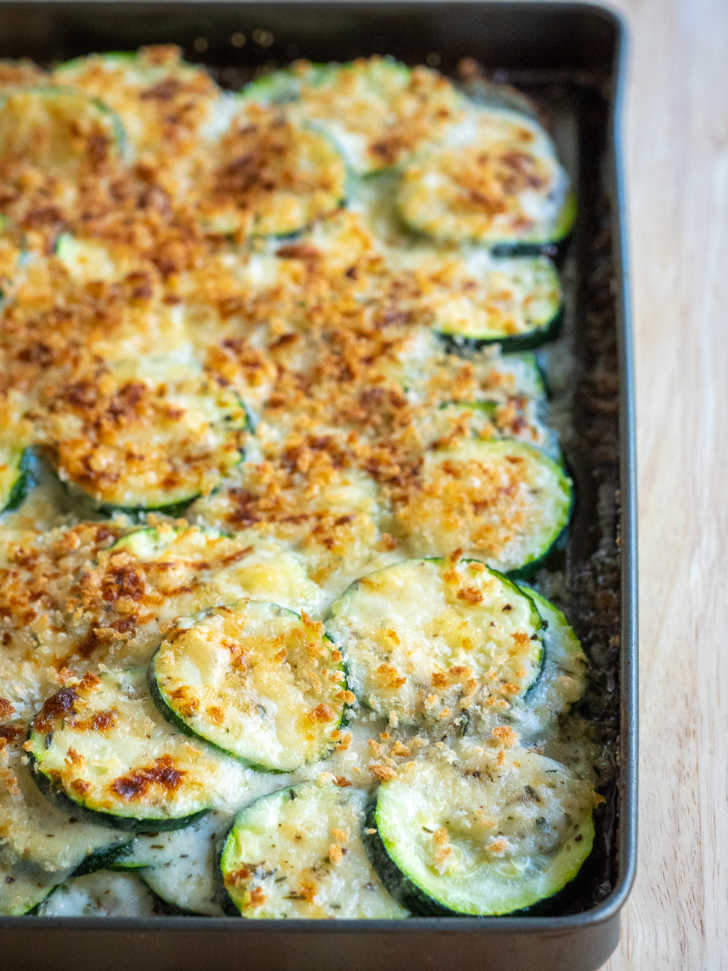 Here's what you do:
You're going to heat your oven broiler on high. You don't even need an oven temperature, just the broiler for this. You're going to slice your zucchini thin since it needs to cook quickly, and then you're going to arrange it on a rimmed baking sheet or a shallow baking pan that's been greased with butter. Season it up with some salt and pepper and pop it under that broiler for literally four minutes.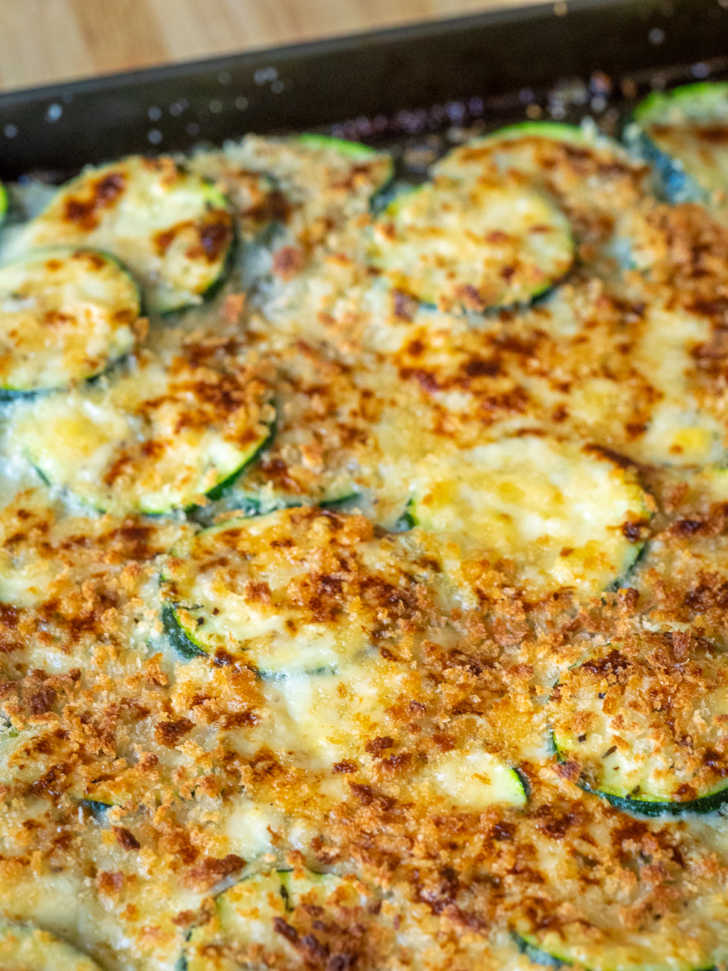 But where's the cheese?! Where's the sauce? I didn't forget. I would never forget cheese or a cream sauce. Here's the deal — you don't even need to get out a saucepan for this. You're going to make the entire sauce while the zucchini is broiling for four minutes. Ready? Get a bowl. Put some cream, some thyme, a little bit of flour, some parm, and a touch of garlic powder in it and stir it together. There, that's your sauce.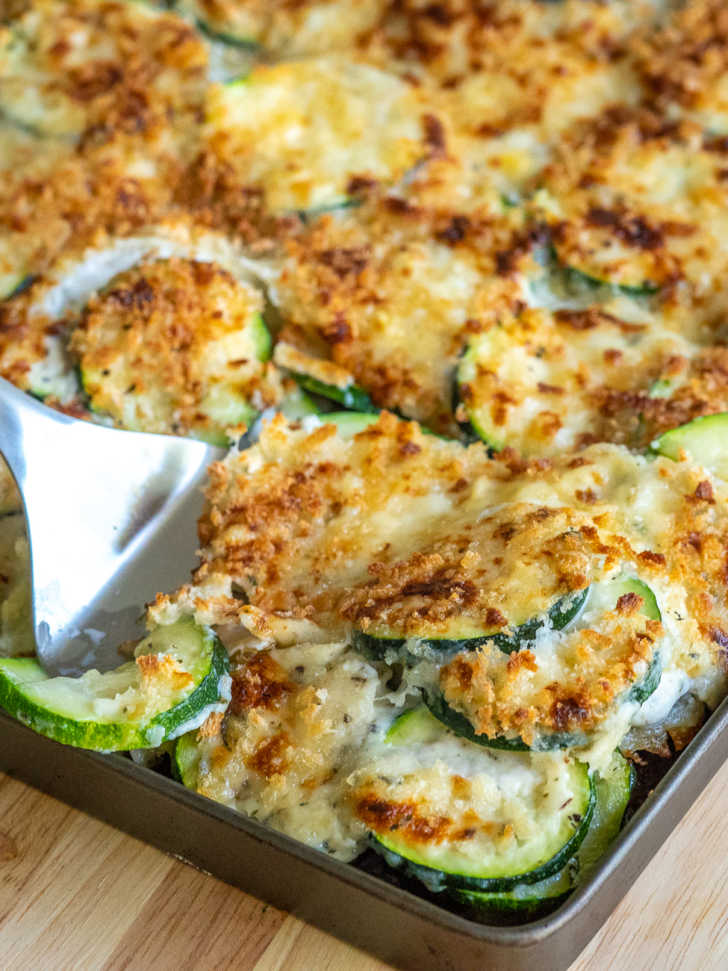 Pour it over the zuke, top it with gruyere and breadcrumbs and broil it for another four minutes. Mayyybe five. (Yes, you can use provolone or mozzarella or even cheddar if you'd rather.) Can you believe how easy that is? It's a dream come true as far as delicious side dishes go!
Cheesy Scalloped Zucchini
Serves 4
5m prep time
10m cook time
Ingredients
Unsalted butter, softened, as needed
1 lb zucchini, thinly sliced
2/3 cup heavy cream
1 teaspoon dried thyme
1/2 teaspoon garlic powder
1/2 cup Parmigiano-Reggiano, freshly grated
1 1/2 tablespoons all-purpose flour
1/2 cup Gruyere cheese, freshly grated
1/3 cup panko breadcrumbs
Kosher salt and freshly ground black pepper, to taste
Preparation
Position a rack in your oven 6 inches from the broiler and heat broiler on high.
Grease a shallow 9x13-inch baking dish or rimmed sheet pan with softened butter.
Season zucchini with salt and pepper and arrange on baking pan. Broil just until squash is beginning to soften, about 4 minutes.
While squash bakes, whisk together cream, thyme, garlic powder, parmesan cheese, and flour in a small bowl. Pour mixture evenly over squash, then top with Gruyere cheese and panko breadcrumbs.
Return to oven and broil until golden brown and bubbly, 4-5 minutes. Enjoy!
Recipe adapted from Fine Cooking.
SKM: below-content placeholder
Whizzco for 12T