Pasta is a great choice for meals because of their delicious flavors and versatility, but so frequently we get stuck in a rut of making the same dish over and over again. We revert to the easiest, most simple recipe that gets made so frequently, people start muttering under their breath when they hear it's pasta night. This is a great recipe that is simple enough to use after a long, busy day, that won't leave you feeling burnt out, but will give you amazing flavor that everyone will love.
The key is introducing some more vegetables into the mix: frozen spinach is easy (but feel free to use fresh!) and we added onions, tomatoes and bell pepper to add some visual contrast, along with it's great taste. Plus, the addition of basil leaves really rounds out the yummy flavor and boosts the freshness of the meal. If you think people are tired of pasta in your household, try this dish and see them backtrack after seeing how tasty it is!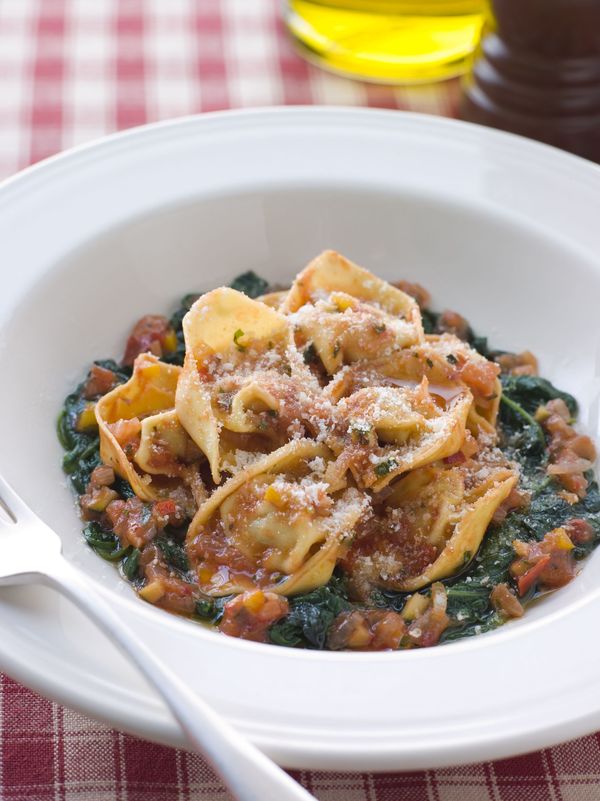 Spinach Tomato Tortellini
Serves 4-6
Ingredients
1 pound cheese or spinach tortellini pasta
1 (14.5 oz.) can diced tomatoes, with juices
1 (10 oz.) package frozen spinach
8 leaves basil, roughly chopped
3 sun-dried tomato halves
1 white onion, diced
1 yellow bell pepper, diced
1 clove garlic, minced
1/2 cup Parmesan cheese, plus extra for garnish
1-2 tablespoons extra-virgin olive oil
1/2 teaspoon red pepper flakes
kosher salt and freshly ground pepper, to taste
Directions
In a large pan, heat olive oil over medium-high heat and saute bell peppers and onion until softened. 8-10 minutes.
In the last 2 minutes of cooking the peppers and onion, add garlic and cook until toasted and fragrant.
Add diced tomatoes and juices, along with sun-dried tomatoes, basil, red pepper flakes, salt and pepper. Stir well, bring up to a boil, then reduce heat to low and cook until reduced and thickened. 15-20 minutes.
Bring a large pot of salted water to boil and cook pasta according to packaging directions, or until al dente. Be careful not to overcook, as tortellini will fall apart more easily. Drain, reserving 1/4 cup pasta water, and set aside.
Cook spinach according to packaging directions.
Transfer sauce to blender or food processor, add reserved pasta water and pulse until mixture is semi-smooth, with some remaining chunks of veggies.
Divide spinach among plates and top with tortellini. Spoon sauce over the top and garnish with more Parmesan.
Serve immediately.

Optional: stir spinach into the sauce if you want a more integrated dish, or let everyone stir it in once they've been served.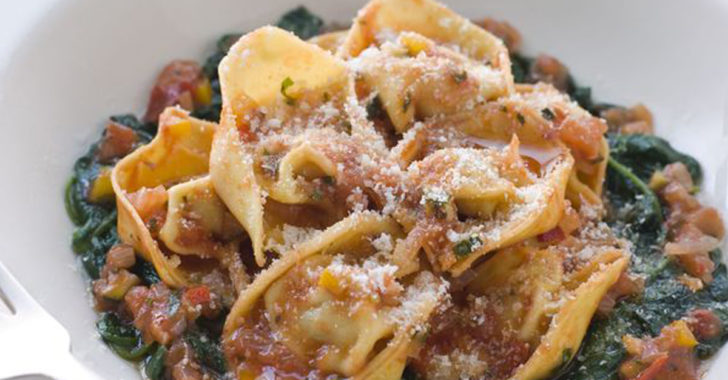 SKM: below-content placeholder
Whizzco for 12T