Keeping the pantry neat has always been difficult but now that we are stuck at home due to the coronavirus pandemic, the possibilities of it staying in order are drastically reduced. It is especially true if you are a parent and your kids love crackers and cereal. Even adults can find themselves in trouble, but there is a solution that can make your world much better.
Many kids will pour themselves a snack of cereal or crackers and the box will be left wide open. It doesn't take long before the snacks go stale, and we just can't eat them quickly enough in many cases to keep them fresh until they are completely gone. Imagine the scenario of heading to the pantry to grab some Cap'n Crunch for your late-night snack and suddenly, your world has come crumbling down because the box is open and the cereal is stale.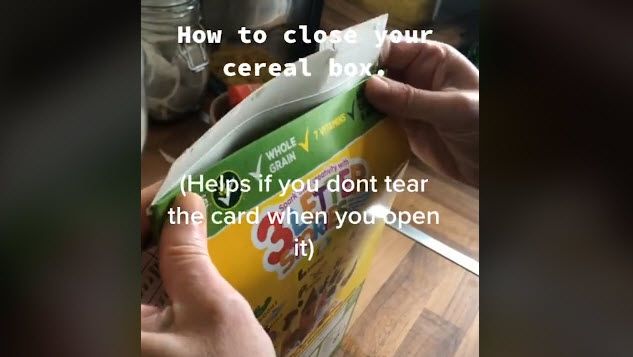 Of course, we like to blame these issues on children but let's face it, even adults can have a difficult time keeping those boxes closed up, nice and neat. We tend to go through a spout of laziness when we hit our teenage years and then as adults, it just tends to follow us for reasons that we can't explain.
Take a look in your pantry right now and I'm sure that you will see boxes that have tabs standing at attention rather than being folded up neatly. We do our best to eat the stale cereal and crackers that are left behind but let's be truthful, it makes life stale and tasteless.
If you are on the verge of losing hope, there is a new TikTok video that shows you how to close a cereal box. Admittedly, many of us have been closing cereal boxes for years but this is a life hack that is going to blow your mind.
Katy Bee went on TikTok to share a video that is changing all of our worlds. Who knew that there was actually a right way and a wrong way to close a box?
Perhaps we have just been teaching our family the wrong way to seal a box and they are popping open in the middle of the night on their own? We've been playing the blame game far too long!
We always thought that the flap was there to insert the tab but it seems as if we were wrong.
SKM: below-content placeholder
Whizzco for 12T