Corned beef hash is a scrumptious breakfast dish–that could just as easily be eaten at lunch or dinner–consisting of cooked corned beef and potatoes, along with a smattering of other things. You might be familiar with the corned beef variety that comes in a can and heats up on the stove, but what we didn 't realize until recently is how amazing this stuff is when you make it yourself!
We love corned beef hash on its own, but adding eggs to the recipe makes it perfect for a filling breakfast or brunch, and making it this way means you can serve it to a group of friends or family with pride. We love the crispy bits in this and we know you 'll love making it and serving it .who doesn 't love mashing things together and leaving them to cook and work their magic?!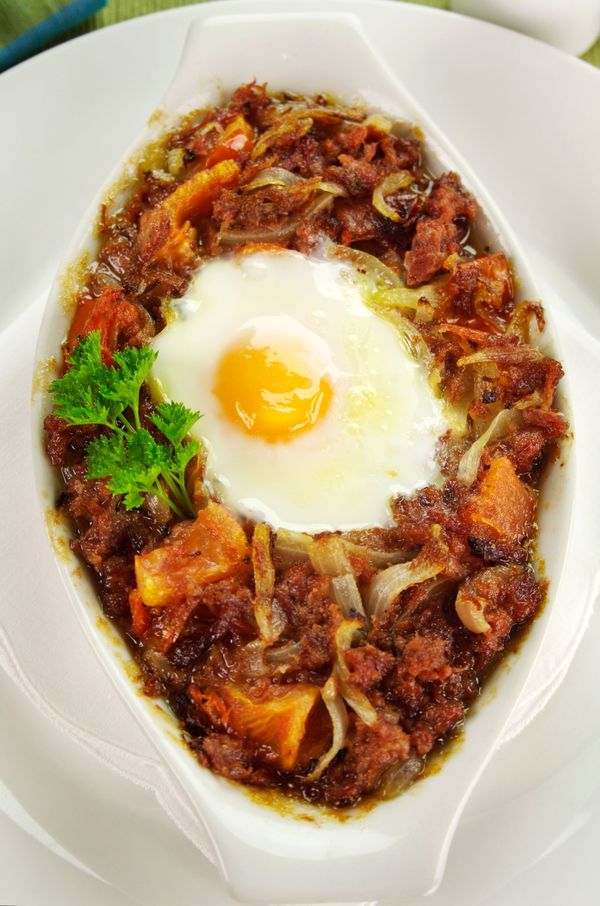 Baked Corned Beef Hash
Serves 4
Ingredients
2 pounds Yukon Gold potatoes, peeled and diced
8 oz. cooked corned beef, shredded
4 large eggs
1 large white onion
1 poblano chile, seeded and diced
4 tablespoons unsalted butter
2 tablespoons ketchup
kosher salt and freshly ground pepper, to taste
Directions
Melt butter in a large, heavy-bottomed skilled over medium-high heat and add diced potatoes. Cook, stirring frequently, until tender and golden brown. 10-12 minutes.
To the potatoes, add the corned beef, onion and chile, seasoned with salt and pepper, and cook until softened. 4-6 minutes.
Stir in ketchup and mix well. Taste and adjust seasoning, if necessary.
Use your spoon to pack hash down into the pan and turn heat up to high. Cook fo 3 minutes, or until bottom is browned and crispy.
Carefully flip browned bits so they are now on the top and undercooked pieces are on the bottom. Pack hash down again and cook for another 3 minutes, until bottom is equally browned and crispy.
Continue with remaining hash until it 's all browned. Turn heat back down to low.
Make 4 indentation(s) in the hash with your spoon or spatula and break an egg into each one. Season again and cover the pan.
Cook until the eggs are set, 5-7 minutes, then transfer to serving platters and serve immediately.
Recipe adapted from Serious Eats
SKM: below-content placeholder
Whizzco for 12T