Today we're posting a great, hearty meal that's perfect for serving the whole family. Like most egg meals, this is something that's great and easy to customize for even the picky eaters in the family. And it's versatile enough to work as breakfast, lunch, or dinner!
A great quiche should have a tender crust with a velvety, custard-like texture to it while also blending in with all of the amazing flavors of the meat and cheese. For the crust, we decided to use a shortcut and rolled out some store-bought dough (sacrilege, I know, but it was the morning!) pre-baked, and we decided to focus our time on finding just the right combination of ingredients for the filling. We decided to use whole eggs plus extra yolks to achieve that perfect custard-like texture. For the meat, we stuck with a classic bacon, and the cheese we used a gruyere cheese. Keep reading below for this great recipe…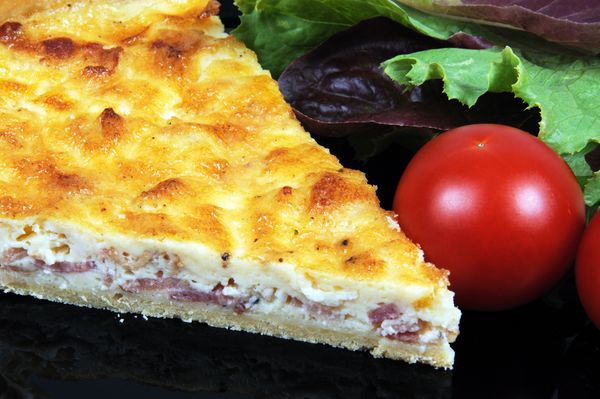 Quiche Lorraine Recipe
(makes 6 servings)
Ingredients
1 frozen pie crust (If you want to go the homemade route and make your own pie crust,check this one out)
8 slices bacon cut into 1/2″ pieces and cooked
2 large eggs
2 large egg yolks
1 cup whole milk
1 cup heavy cream
1/2 teaspoon salt
1/2 teaspoon white pepper
a pinch of nutmeg
1/2 cup gruyere cheese
Directions
Preheat the oven to 350F. Place the frozen crust in a pie pan and line with aluminum foil, allowing for a few inches to extend beyond the sides of the pan. Fill two-thirds with pie weights (dry beans work as well). Bake for 20 minutes, then remove from the oven. Remove the pie weight and foil, then use a fork to poke small holes around the base of the crust. Bake for another 10 minutes, or until lightly browned all over.
Whisk together eggs, yolks, milk, heavy cream, salt, pepper, and nutmeg in a medium bowl.
Spread the cheese and bacon evenly over the bottom of the warm pie shell and set the shell on the oven rack. Pour the egg mixture to 1/2″ below the crust rim and bake for 32 to 35 minutes, or until a knife blade inserted about one inch from the edge comes out clean. The center should feel set but like gelatin. It will finish cooking as it cools.
Transfer the quiche to a wire rack to cool and serve at room temperature.
Enjoy!
Recipe adapted from Simply Recipes
SKM: below-content placeholder
Whizzco for 12T