As simple as it is stunning.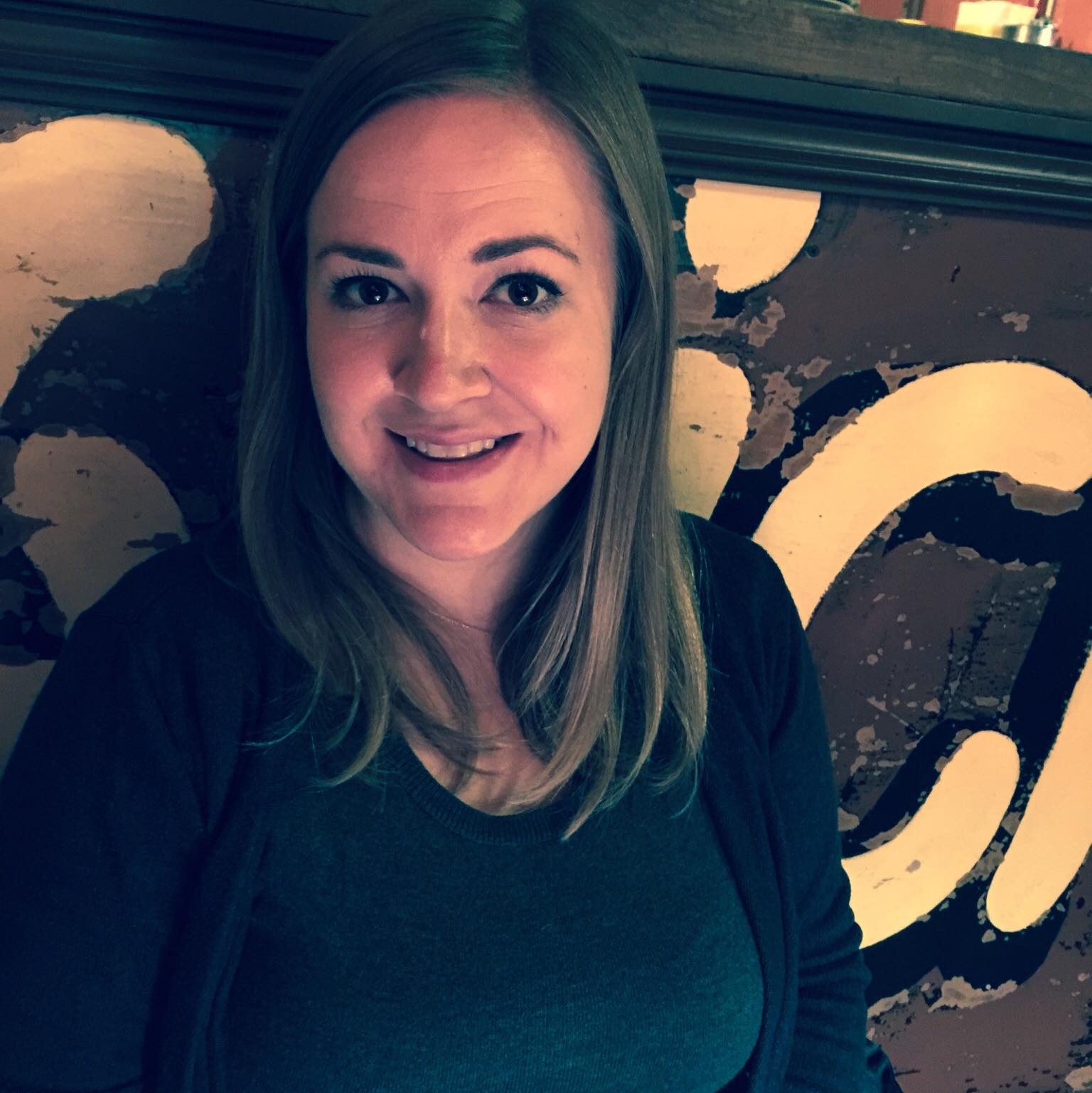 Kristy Norrell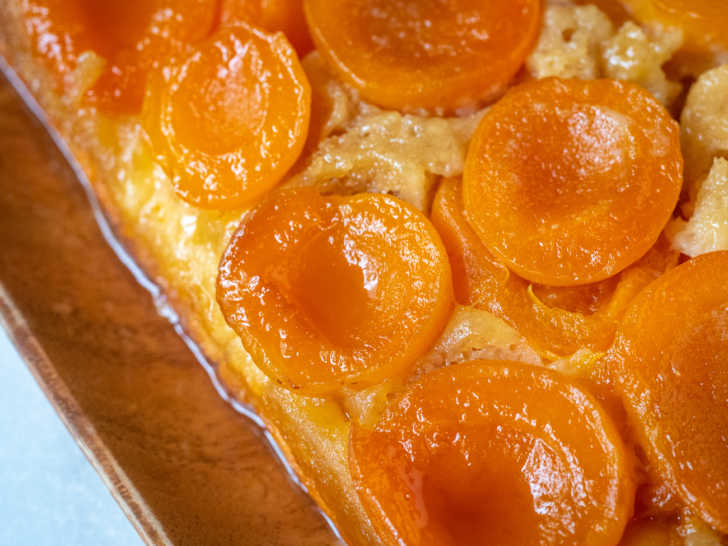 My favorite kind of cake is not one that has multiple layers and fillings and fancy piped frosting. A fancy cake is great every once in a while, but still, my favorite kind of cake is one that you can steal a wedge or square of right out of the pan and snack on it without even bothering to sit down somewhere. I like my cake casual. I like my cake unpretentious. I like it just like this Apricot Upside Down Cake, which borrows the genius move of putting fruit and sugar in the bottom of the pan so it forms a sweet lovely little saucy topping when the pan gets inverted. After all, if you have soft and sweet syrupy fruit, you won't even be thinking about frosting.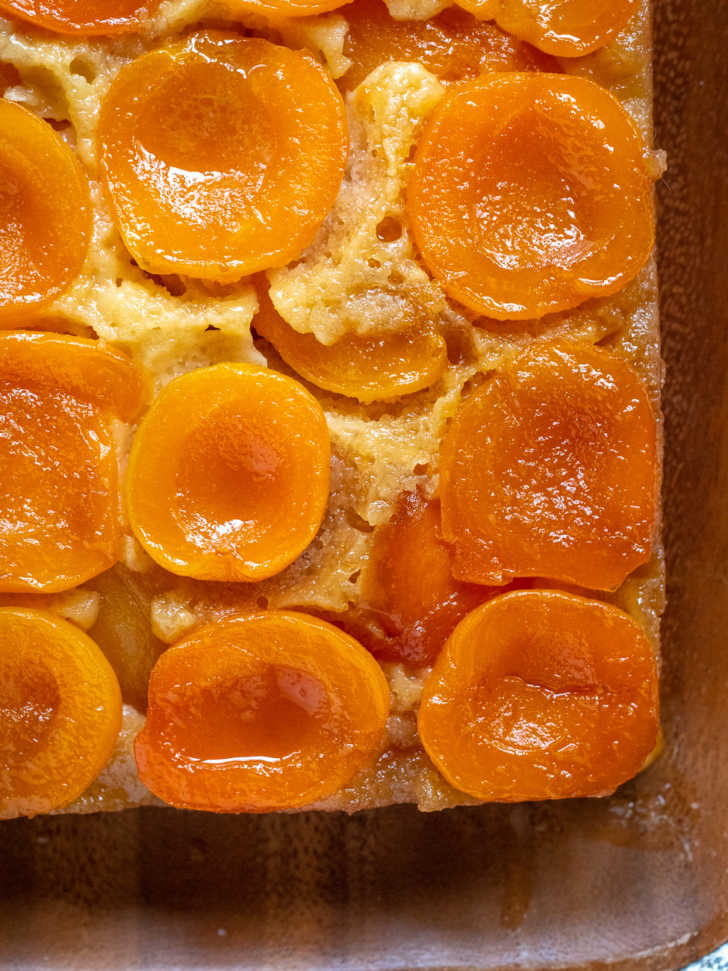 Growing up, I lived most of my summers with my family in the Rhone-Alps region of France and it's where my fondest food memories were formed. One such memory is this: it seemed that every friend we visited, every extended family member we called upon, had a cake at the ready to greet us, always simple and unfussy and studded with fresh fruit. Oftentimes it was a gâteau au yaourt (a simple yogurt cake you use the yogurt tub for measurements) topped with pears or cherries or peaches or whatever happened to be in season. This cake takes its inspiration from those rustic, understated cakes and marries it with the saucy topping of a classic pineapple upside-down cake. It's simple, and it's delicious, as all my favorite cakes are.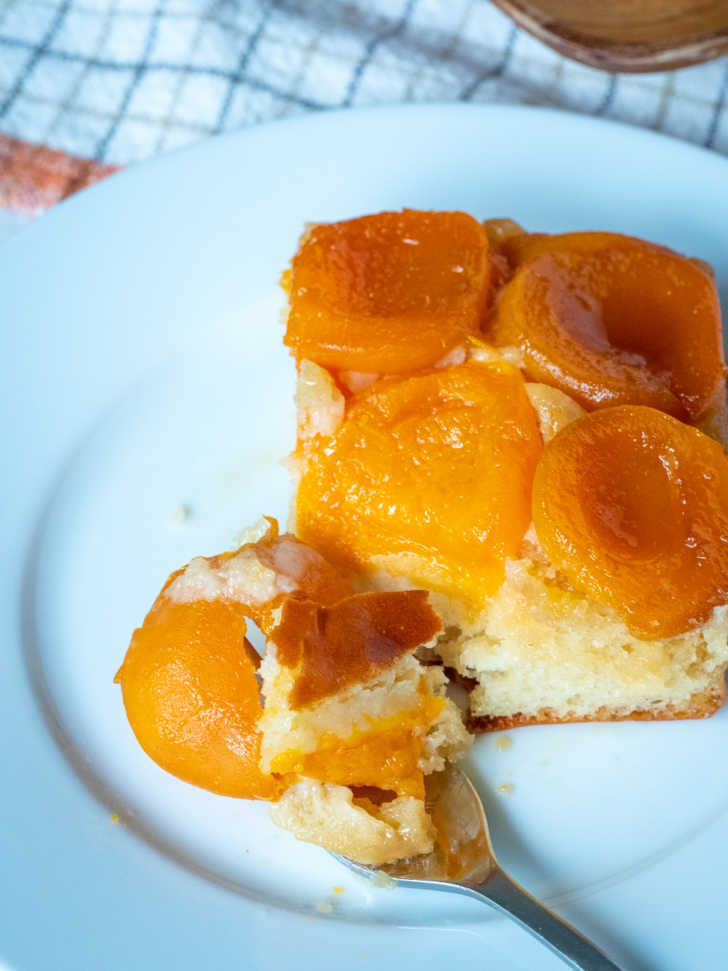 Canned apricots work beautifully here, and they settle into a mixture of butter and brown sugar that you melt right in the oven before lining up all the fruit in the pan. The batter is simple — inspired by the yogurt cakes of my youth — and makes for a perfect ratio of sweet and tender fruit to buttery crumb. I love a dessert that impresses but took hardly any work, and that's precisely the kind of cake this is.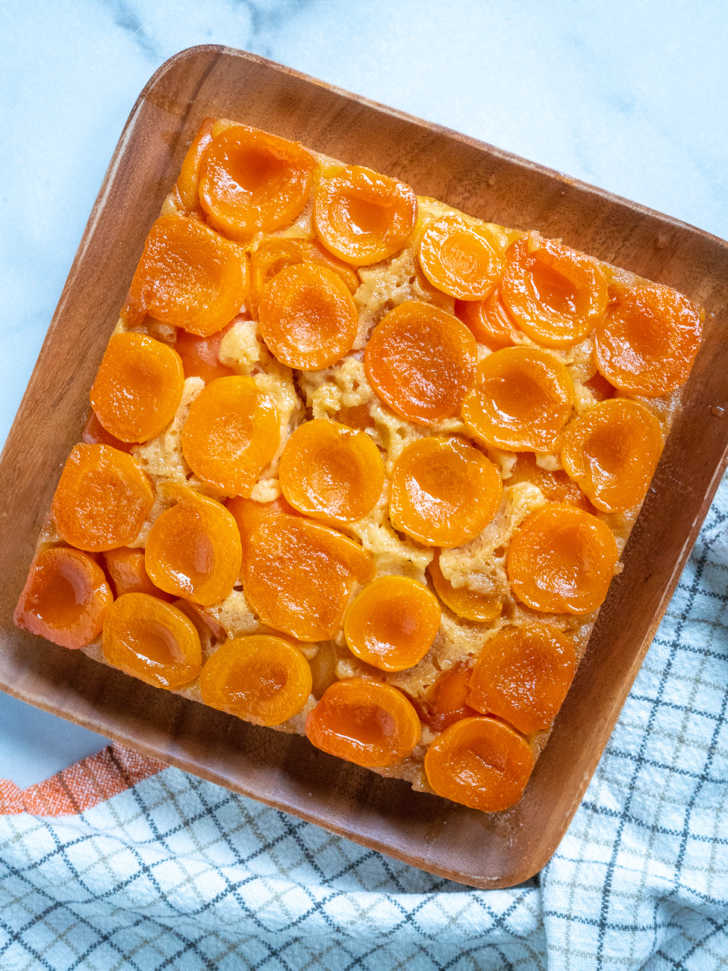 Apricot Upside Down Cake
Serves 9
15m prep time
35m cook time
Ingredients
1/4 cup unsalted butter
1/2 cup brown sugar, firmly packed
2 (15 oz each) cans apricot halves, drained and syrup reserved
1 cup all-purpose flour
1 teaspoon baking powder
1/2 teaspoon baking soda
1/4 teaspoon salt
1/3 cup granulated sugar
2/3 cup plain yogurt
1 large egg
1 teaspoon vanilla extract
Preparation
Preheat oven to 350°F.
To a 9-inch square pan, add the butter. Place in oven to melt; once melted, swirl pan to coat evenly.
Remove from oven and sprinkle brown sugar evenly over the butter. Arrange apricot halves in a single layer over the butter and sugar, cut side down. Set aside.
In a large bowl, combine the flour, baking powder, baking soda, and salt and stir to combine.
Add the granulated sugar, yogurt, vanilla extract, egg, and 2 tablespoons of the reserved apricot syrup. Beat with an electric mixer on low until just combined, then increase speed to medium and beat for 2 minutes.
Pour batter gently over apricot slices and bake until a toothpick inserted into the center comes out clean, 35-40 minutes.
Let cool 10 minutes, then run a knife around the sides of the cake pan and invert onto a serving plater. Serve warm and enjoy!
SKM: below-content placeholder
Whizzco for 12T