Perfect for a celebratory brunch.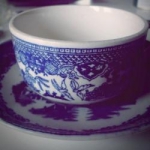 Rose Heichelbech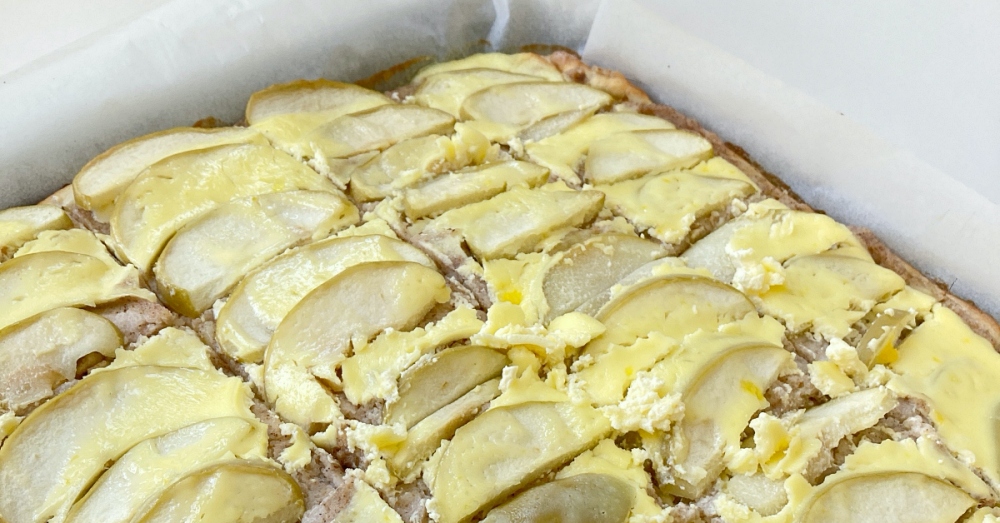 Across parts of Germany, Romania, and other areas of German immigration this sweet bread, topped with fruit and custard, is a favorite at holidays and celebrations. Sometimes it's also spelled hancklich or hanklich, but this mildly-sweet pastry lends itself well to family breakfasts, too. Once you try a square of this incredible pastry you, too, will understand why generations of folks have loved it.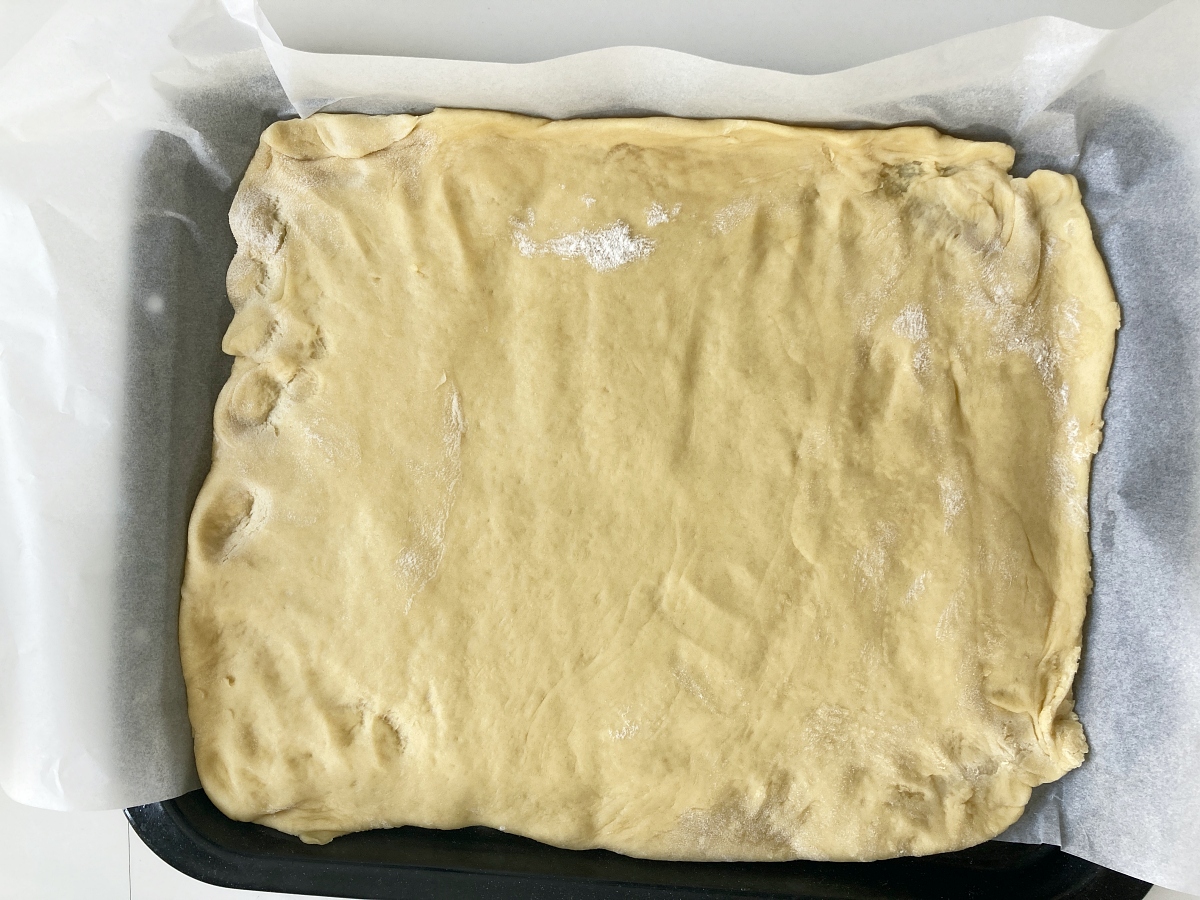 The base of this dish is a tender yeast dough, which you'll need to let rise once before punching the dough down and letting it rise again. Then roll the dough out and place it in a jelly roll pan and give it a final rise of 15 minutes. Doing this ensures that it will be just the right texture for the toppings.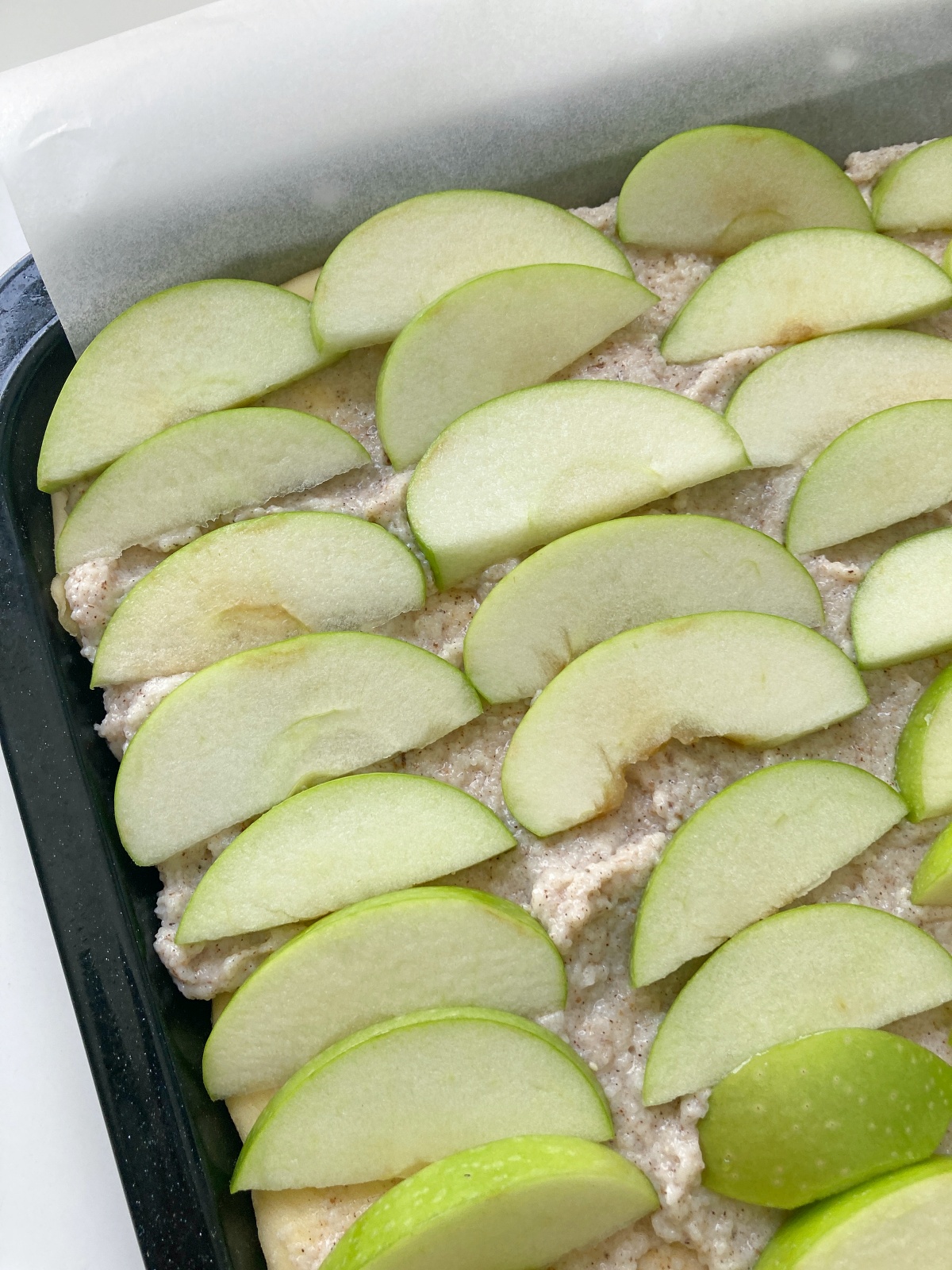 This recipe calls for apples, but you could use other fruit if you wish. Cherry, pear, peach, and plum are all good fruits to bake in hunklich. The taste of the apples is enhanced with some lemon juice and a sprinkle of sugar.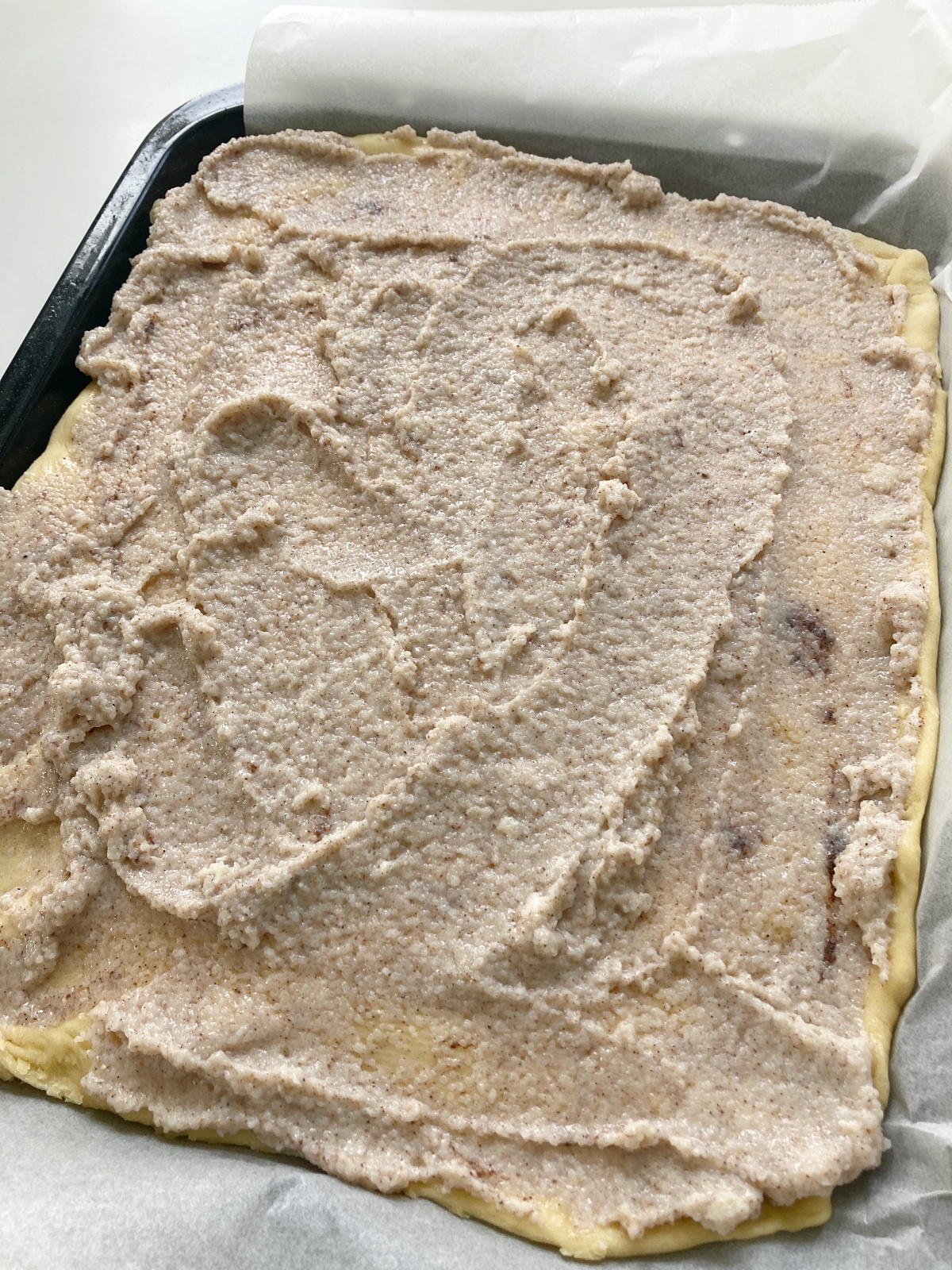 There's also a creamy farina and cinnamon layer under the apples as well, to give a wonderful taste to the whole affair. I don't usually use farina, but it makes a surprisingly nice filling and really goes well with the spices.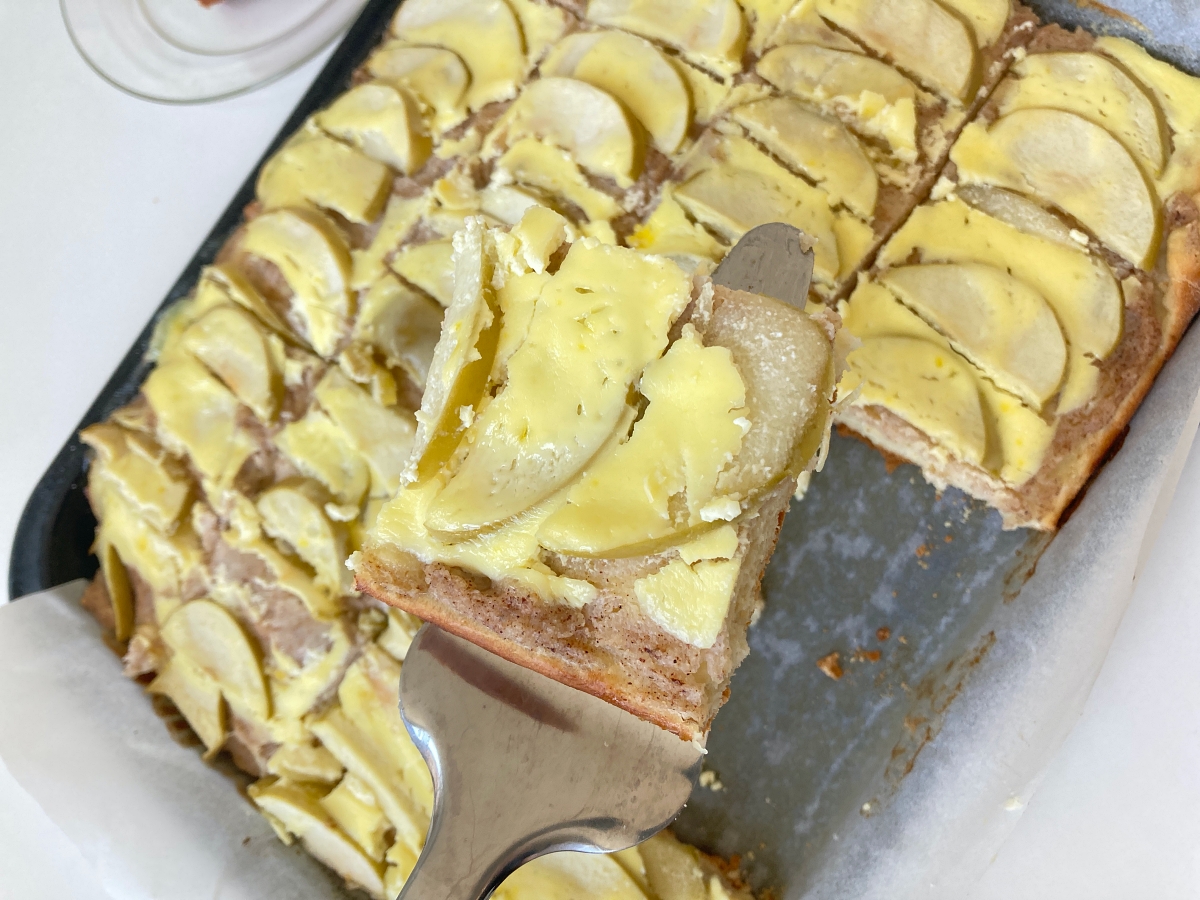 Once the first 3 layers have been added, you're ready for the last layer, which is a simple custard of egg yolk and sour cream. Then bake until the edges of the dough are golden and you've got a satisfying, never-too-sweet pastry that really feeds a crowd.
Apple Hunklich
Makes 24 squares
3h prep time
40m cook time
2h 20m inactive
123 calories
For the dough:
1 (.25 oz) packet dry, active yeast
1/2 cup whole milk, warmed and divided
1/4 cup granulated sugar, divided
1 egg
3 tablespoons butter, melted
1/2 teaspoon salt
2 cups all-purpose flour, as needed, plus extra for dusting
For the topping:
1 cup whole milk
1/2 cup water
1/4 cup dry farina
2 Granny Smith apples
1 tablespoon lemon juice
6 tablespoons granulated sugar, divided
1 egg
1 teaspoon vanilla extract
1/2 teaspoon cinnamon
1/4 teaspoon cardamom
1 (8 oz) tub sour cream
1 egg yolk
Powdered sugar for dusting (optional)
For the dough:
In a small bowl combine yeast with 2 tablespoons each warm milk and sugar. Allow to become bubbly as the yeast activates. Set aside for 5-10 minutes.
In a large bowl combine remaining sugar and milk along with egg, butter, and salt. Mix until ingredients and mix until just combined. Stir in yeast mixture after it has developed lots of bubbles. Sift in flour 1 cup at a time, stirring between each addition. Stop adding flour as soon as dough forms into a ball easily.
Dust a clean table or worktop with flour. Knead until dough becomes elastic, about 5-10 minutes. Place in a large, greased bowl and cover with plastic. Place into proofing drawer to rise. Or place into oven with just the light bulb on until doubled, about 1 hour.
When risen punch down the dough and allow to rise again for another hour. When ready roll out to 1/4" thickness to size of 10"x13" jelly roll pan. Transfer to a lined jelly roll pan and allow to rise again for 15 minutes.
For the topping and assembly:
In a small sauce pan combine farina, milk, and water. Cook for 2-3 minutes past the point when mixture bubbles. Transfer to metal or ceramic bowl to cool to chill in refrigerator for 10 minutes.
Preheat oven to 350˚F. While dough is on final rise and farina is cooling peel and core apples then thinly slice them. Toss with lemon juice in a small bowl and set aside. Add egg, vanilla, cinnamon, and cardamom to cooled farina and mix well. Spread over risen dough. Lay out apples over the farina mixture in a thin layer. Sprinkle with 2 tablespoons of sugar.
In a medium bowl combine remaining ingredients and gently spread this mixture over apples. Bake for 25-30 minutes or until edges of dough begin to turn golden brown. Allow to cool for 30 minutes before dusting with powdered sugar (if using). Then slice into 24 squares to serve.
Recipe adapted from Food.
SKM: below-content placeholder
Whizzco for 12T