Healthy air fryer cooking offers a delicious combination of crunch and flavor.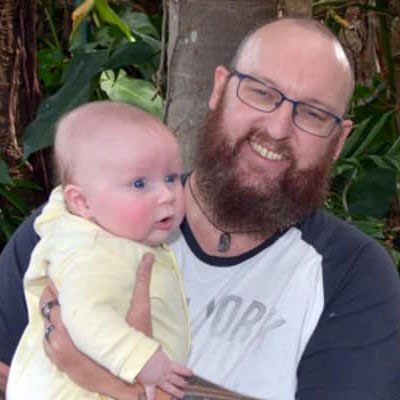 Jono Elderton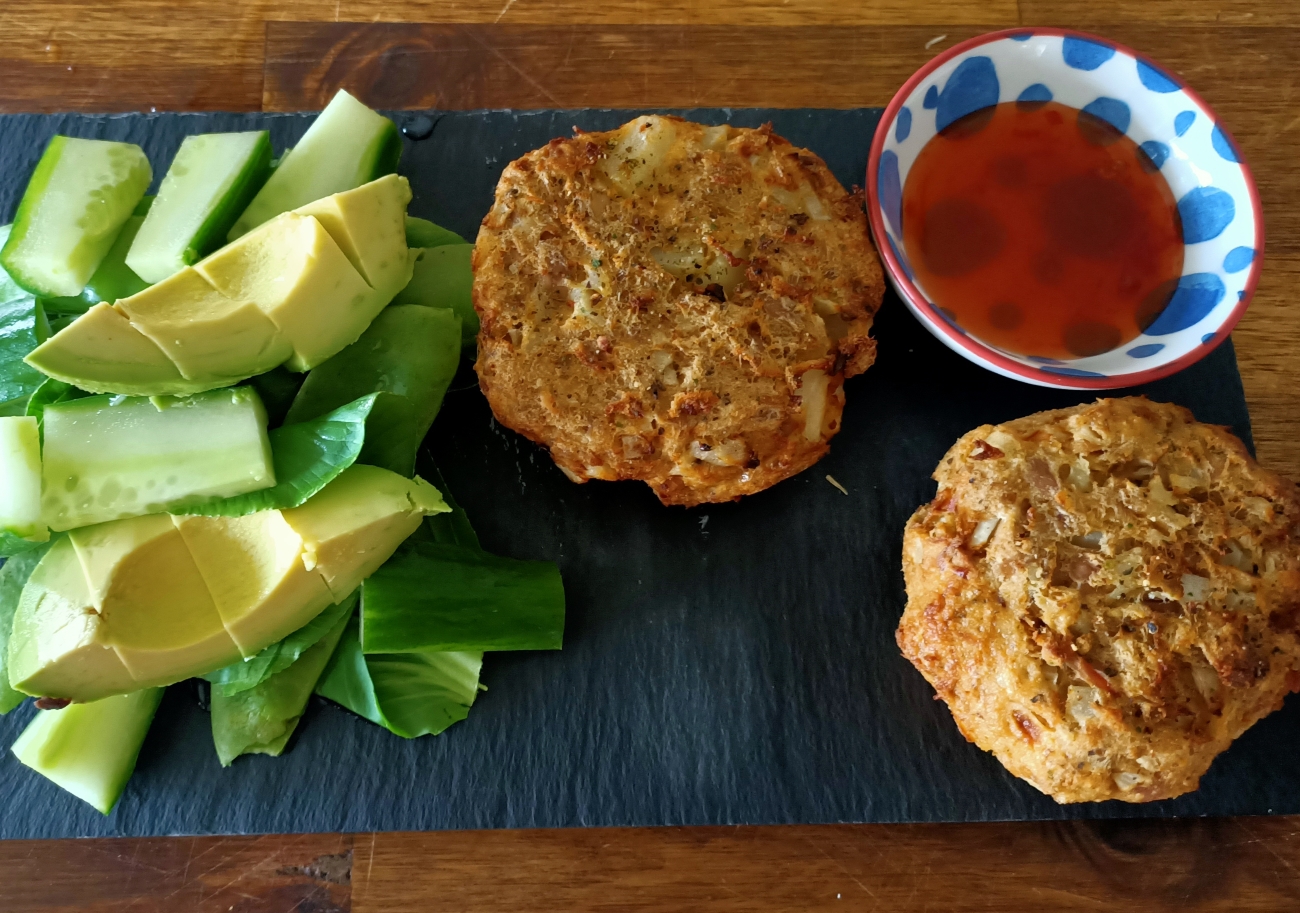 Tuna patties are a low carb (even lower without using potatoes), high protein meal that's terrific for use with salads in spring and summer. Tuna and potato patties cooked in the air fryer are and exceptionally tasty, with the process allowing you to lock in the natural savory flavors of the patties while using a lot less oil than baking or deep frying.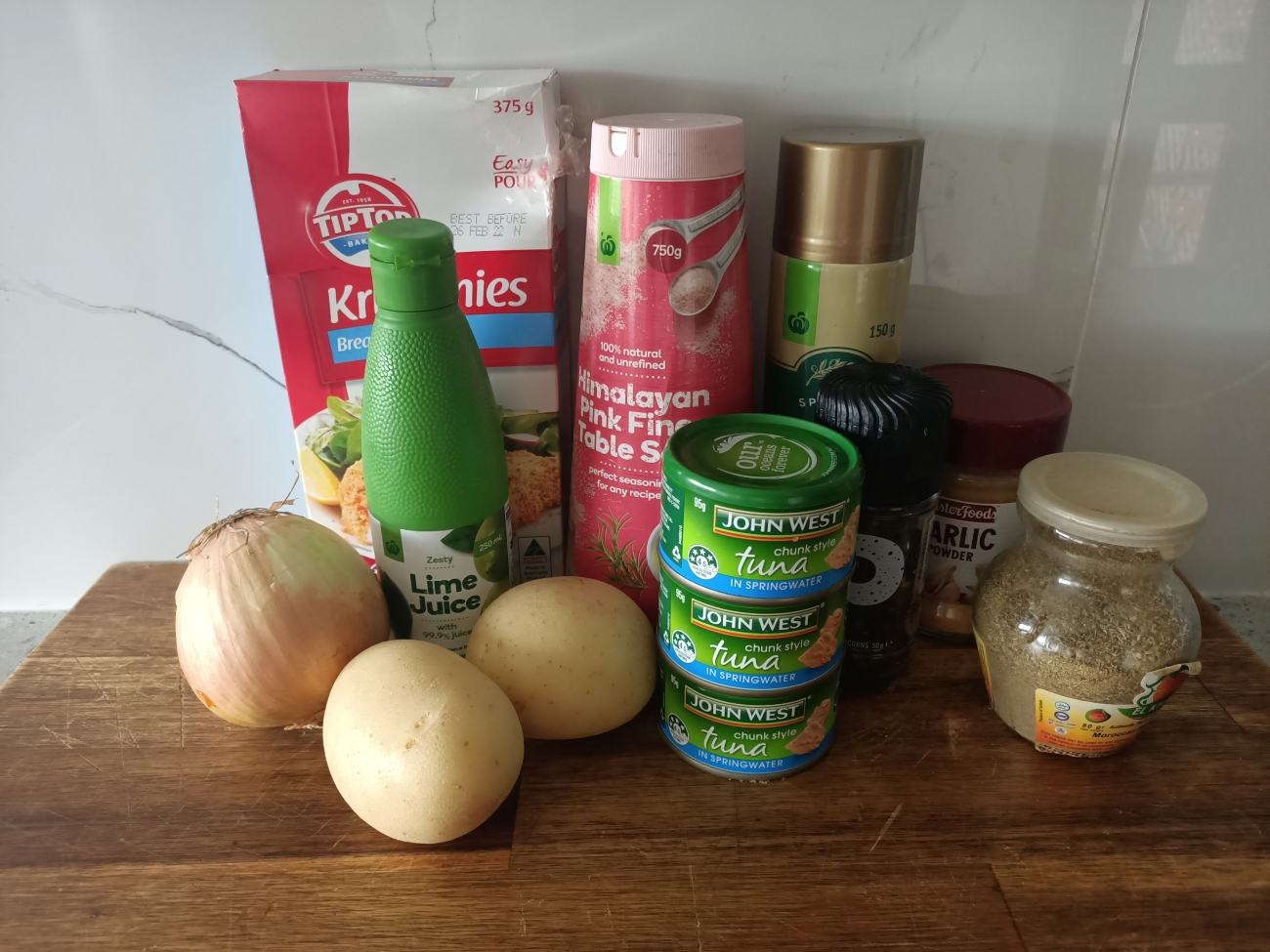 If you're looking for a healthy, inexpensive dinner protein with exquisite balance, these air fryer tuna and potato patties taste delicious. While the recipe below makes six patties, you can make can convert them to snack or appetizer size by making each patty a little bit smaller (ideally with an ice cream scoop or salad spoon).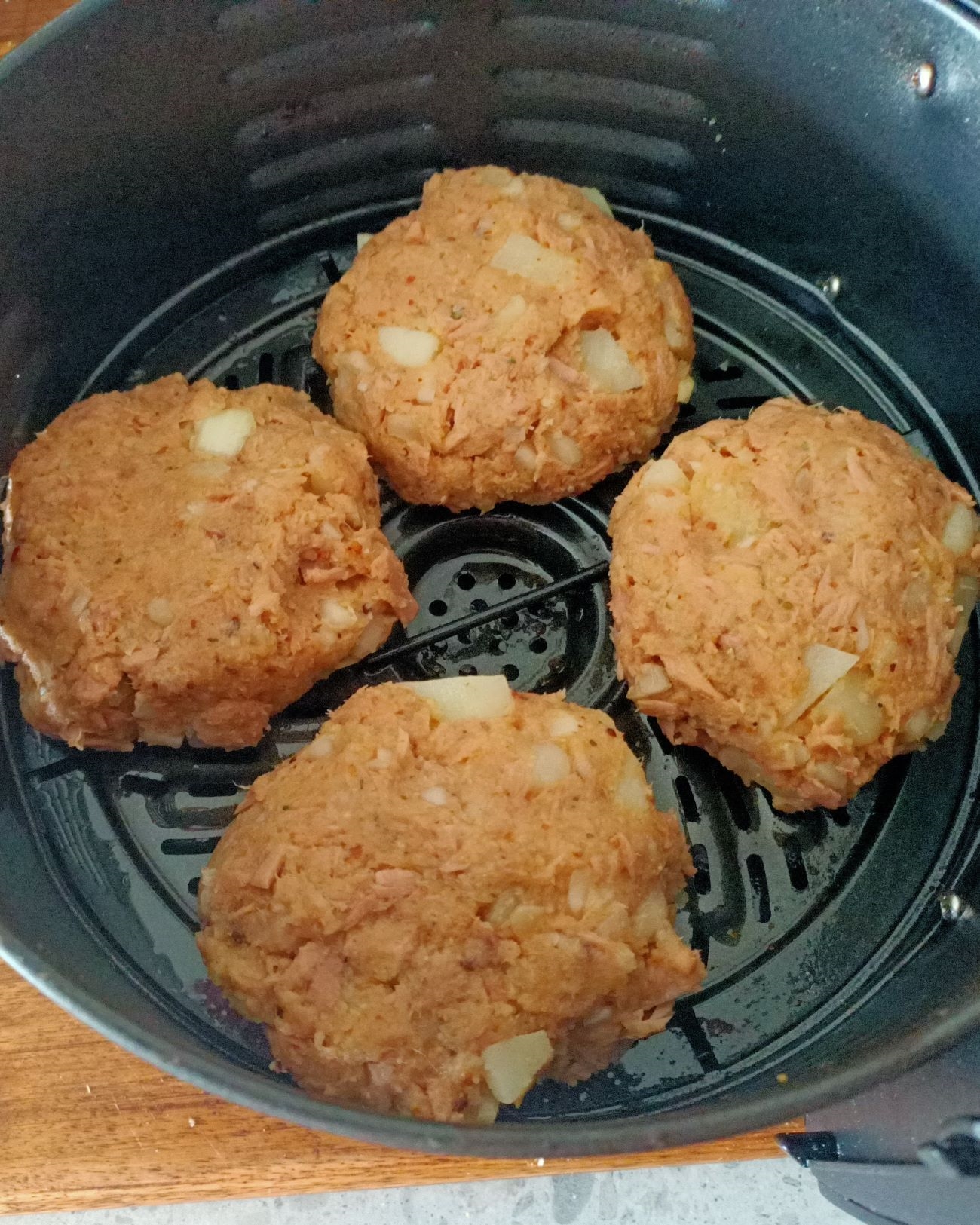 You can make these patties with different spices reflecting your palate and personal taste, however, a simple herb mix of basil, oregano, and thyme, is all you really need to make a mouthwatering seasoning base that appeals to just about everyone.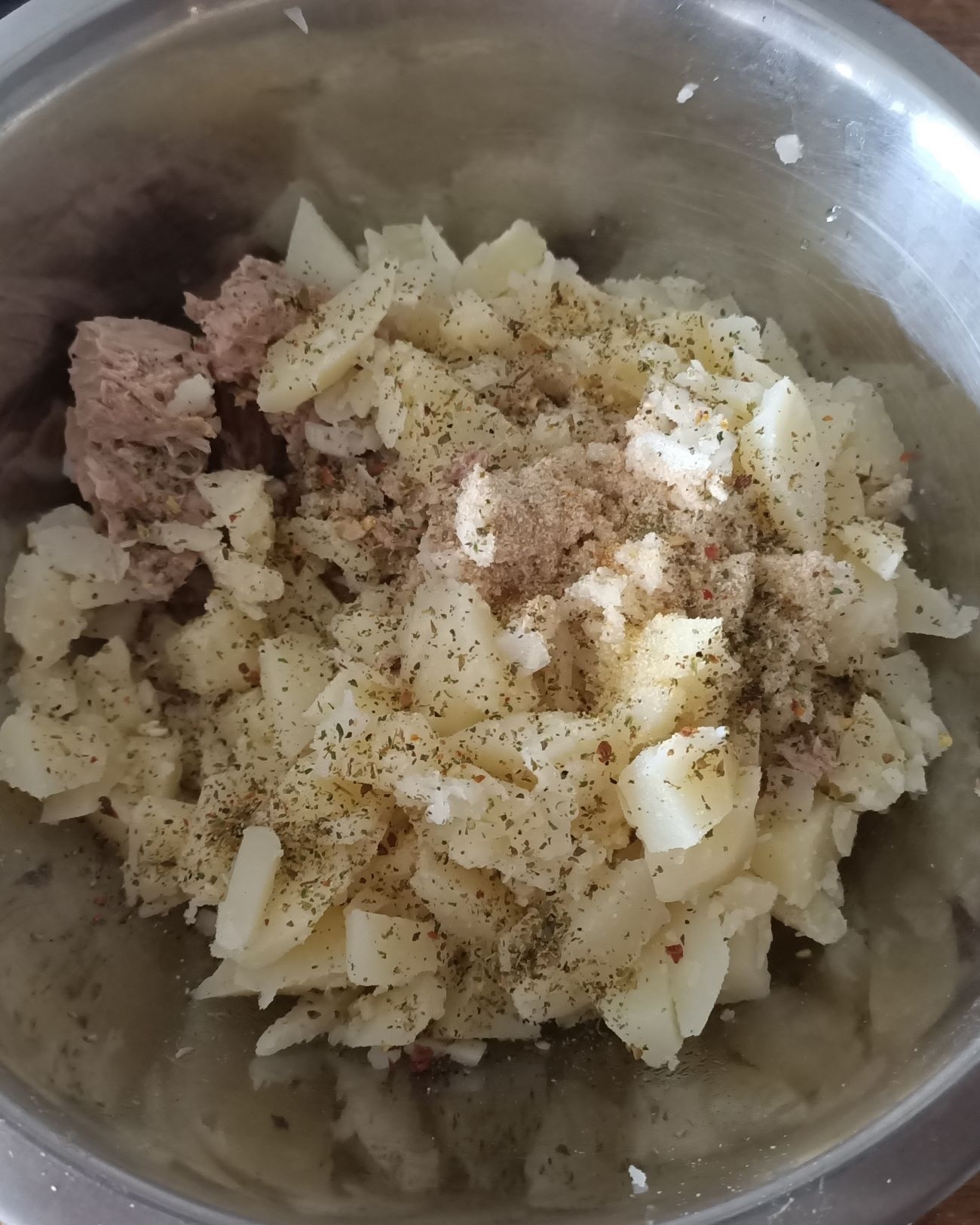 Despite being a simple patty recipe to execute, it is important to mix all of your ingredients thoroughly, to retain an even flavor throughout and ensure all ingredients gets the right amount of cooking. Make sure you add the eggs last in your mixing, as they are your primary binding agent to capitalize on binding things together perfectly.
Some home cooks prefer a shorter air fryer cooking time, while others (like me) will prefer a more crunchy, golden texture. If you can place all of the patties into your air fryer at once then go for it, otherwise two separate batches will suffice. Take note that batch cooking is likely to extend your cooking time by 10-15 minutes, but is worth the satisfying trade-off.
I love serving the air fryer tuna and potato patties with a crisp green salad and sweet and sour sauce for a healthy high protein meal, however a creamy polenta or mash are also outstanding side options.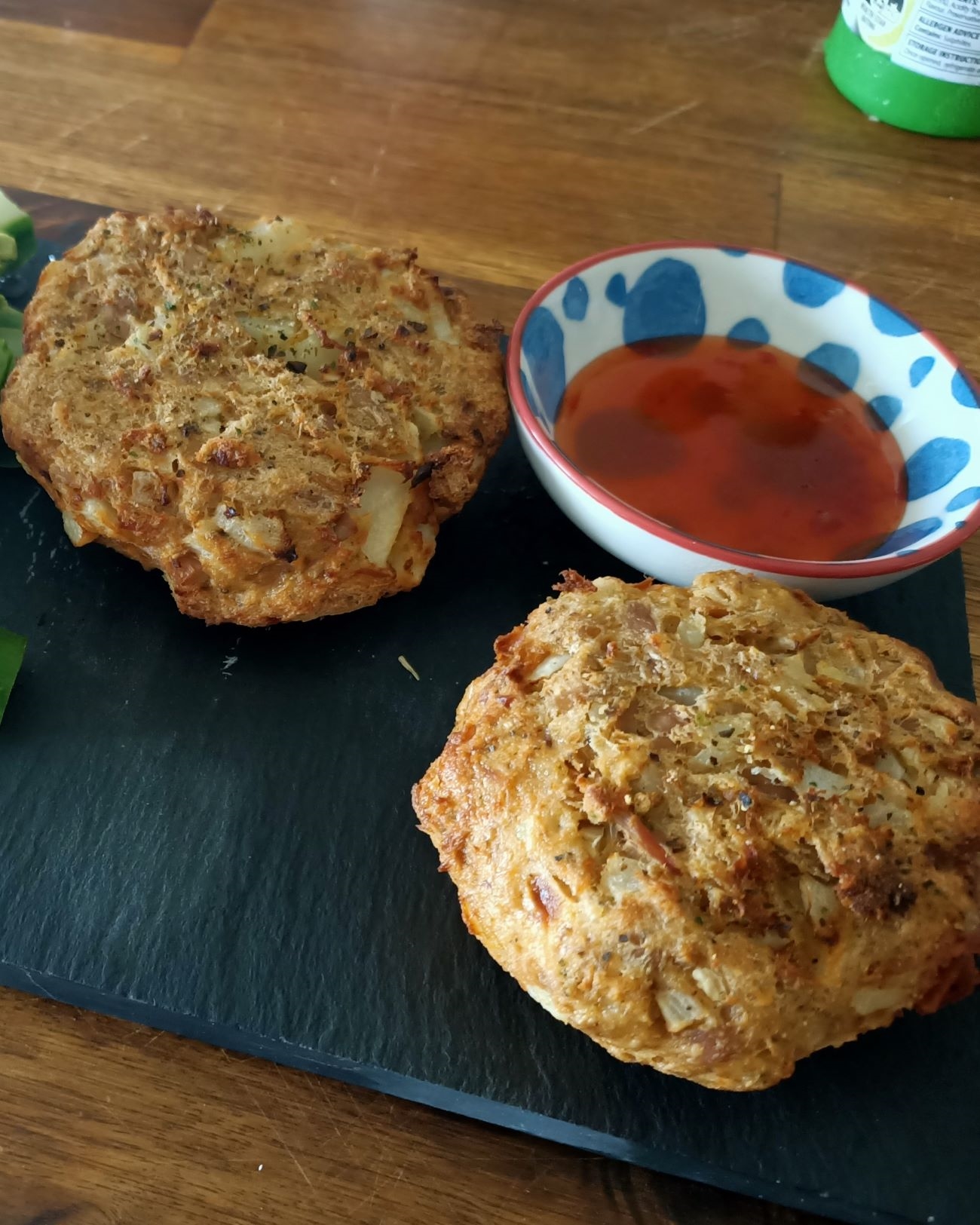 Air Fryer Tuna and Potato Patties
Makes 6 patties
20m prep time
15m cook time
Ingredients
2 Russet potatoes, peeled and chopped
4 (3 oz each) chunky tuna tins, drained
1/2 yellow onion, finely chopped
1 oz lime juice
2-3 tablespoons plain bread crumbs
2-3 tablespoons mixed herbs
2 teaspoons cumin
2 teaspoons garlic powder
3 eggs, lightly beaten
Cooking oil spray
Kosher salt and black pepper, to taste
Preparation
Peel and cut up potatoes into quarters, then boil for approximately 10 minutes until semi soft.
While the potatoes are boiling, drain tins of chunky tuna and place into a mixing bowl. Add lime juice, chopped onion, herbs and spices.
Roughly smash or chop up the potato quadrants and add to the bowl. Mix the ingredients to combine.
Add the lightly beaten eggs, then mix again. Make ingredients into patties by balling together by hand.
Spray the air fryer tray with oil then place half the patties into air fryer. Add salt and pepper to taste.
Cook patties on 350°F for 8 minutes. Turn them, then cook again for a further 5 minutes to ensure an even crispness.
Repeat steps 6-7 with remaining patties. Serve with a green salad and sweet and sour sauce.
Recipe adapted from Best Recipe Box
SKM: below-content placeholder
Whizzco for 12T