There's nothing quite like a warm cinnamon roll with perfectly soft bread, brown sugar and cinnamon filling, and of course, loads of delicious icing! While you can't go wrong with a classic, it can be fun to switch things up a bit and broaden your cinnamon roll horizon! Below, you'll find some unique and delicious takes on the cinnamon roll. I can't decide which one is my favorite!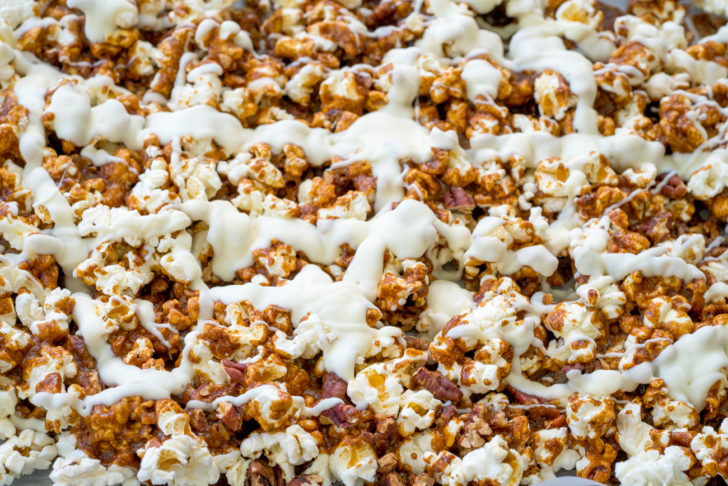 This cinnamon roll caramel corn is ridiculously good. It's got the ooey gooey cinnamon component – that dries into deliciously crackly bites of popcorn – and is glazed with a tasty almond bark drizzle that ties the whole thing together. Once this stuff sets you can break it up into chunks of cinnamon roll goodness that are perfect for sharing at parties. People might not know that they've been missing cinnamon roll caramel corn in their lives, but they'll never forget it once they take that first bite! Get the recipe here!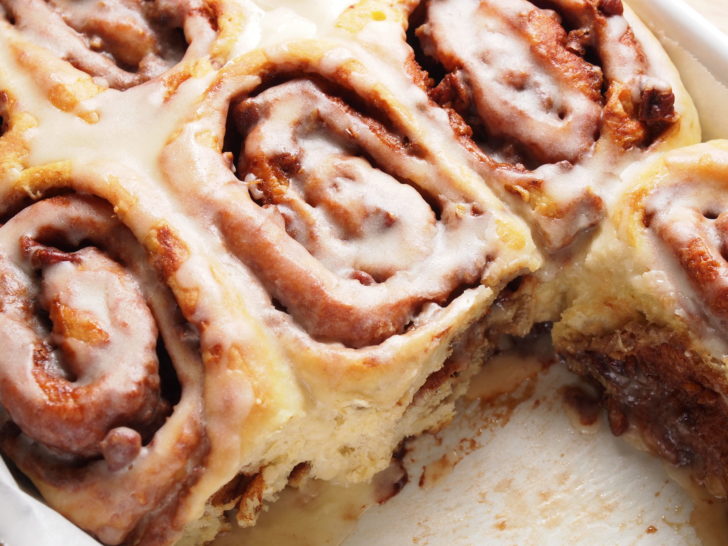 Any day that starts with cinnamon rolls is bound to be a great day, but these maple cinnamon rolls make the beginning of our day truly exceptional. You wouldn't think the addition of maple syrup to the filling and icing of the rolls would make such a big difference, but it does! It adds a rich depth of flavor that you didn't realize was lacking, and we might not ever go back to the original. Seriously, these are perfect year-round, but when it starts to get colder and the leaves start to change…these really can't be beat! Get the recipe here!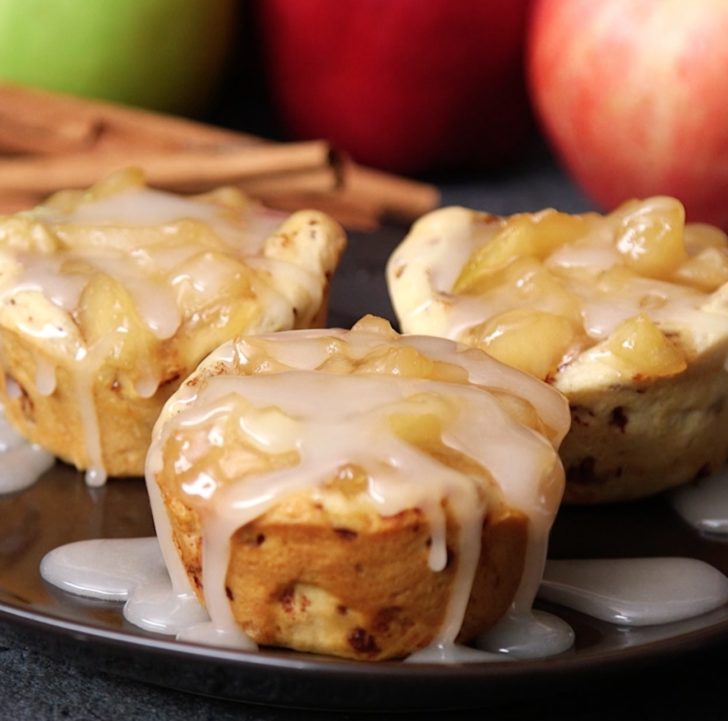 We love that these treats come out of the oven in convenient individual servings because it means we get one little apple pie all to ourselves. But here's the best part… the dough? It's made out of refrigerated cinnamon rolls, you guys. You simply press the dough into the muffin tins, no rolling pin required, and it lends this treat a lovely cinnamon spice flavor. We use premade apple pie filling to keep things simple and the end result is a soft and tender personal treat that satisfies any apple pie craving. And that little drizzle of sweet icing doesn't hurt matters either. They're quick, they're cute, and they're totally hard to resist. Get the recipe here!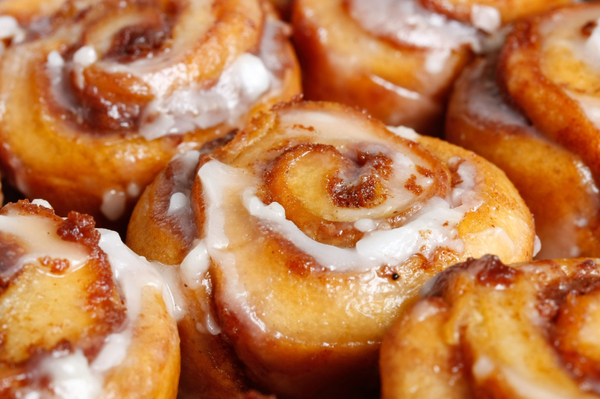 Aside from taste, this recipe is also perfect for entertaining because the different components can be prepared separately. It's fantastic for a brunch, when you can make the dough and caramel sauce at least a day ahead of time and not have to worry about it the morning of. Pop it in the oven and then you can spend more time with friends and family. While delicious at any time of the year, these cinnamon rolls feel especially fitting during the fall, when the caramel adds a warm touch and the fleur de sel makes them special…you won't be sorry you tried them, but don't blame us if you can't eat only one! Get the recipe here!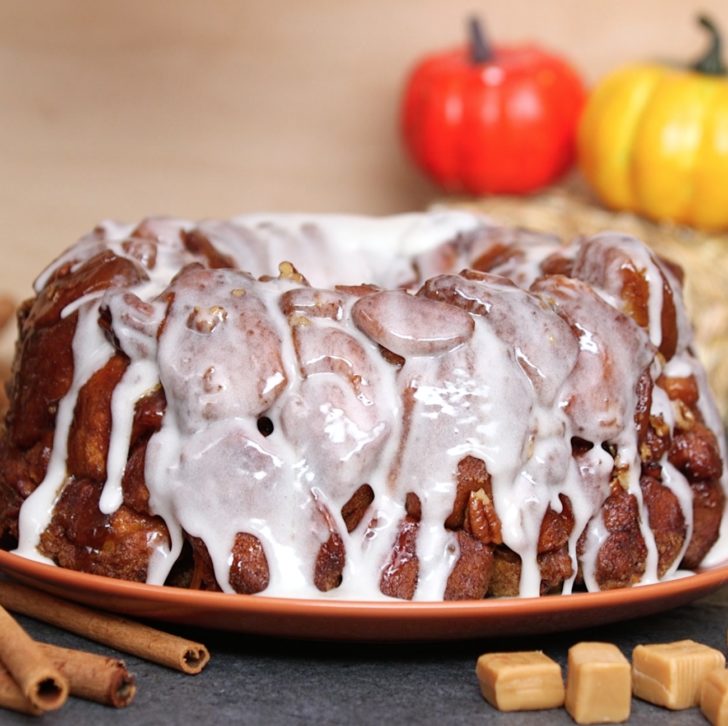 Fragrant and cinnamon-y, it just has a way of making you feel toasty warm. We love the flavor of that spice so much that we didn't even bother with the pumpkin in this recipe. That cinnamon spice flavor is what it's all about anyway! This Spiced Cinnamon Roll Monkey Bread is so good, it will please even your pickiest guest. This one is always gone before we know it; good thing it's so easy to make! Get the recipe here!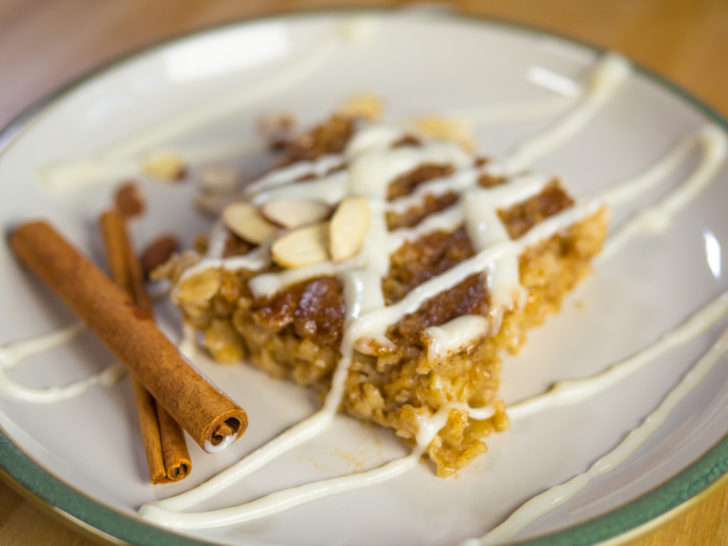 Cinnamon rolls are our Achilles Heel, and that can end up being a problem for our waistlines when we can't put down the pastries… that's why this breakfast is so good! It's decadent without being too over the top since it's deliciously baked oatmeal that tastes just like our favorite cinnamon rolls, drizzled with a cinnamon and cream cheese icing. We love whipping up a big batch on Saturday morning, and we really love being able to go back for seconds without feeling guilty. Trust us and put down the cinnamon roll, this oatmeal's got you covered! Get the recipe here!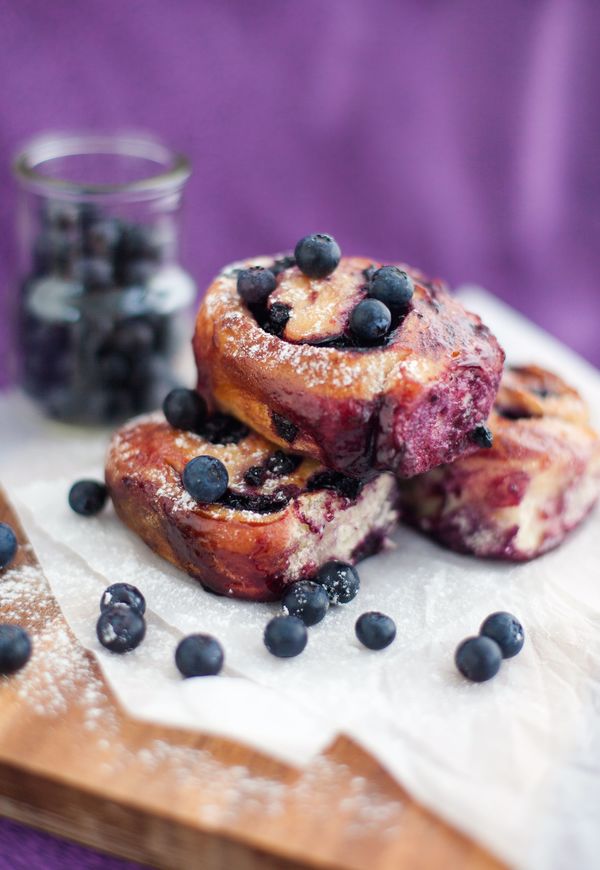 For those of you who love updating a good, old-fashioned favorite, these lemon blueberry cinnamon buns are for you! Cinnamon buns are decadently delicious, but the introduction of lemon and blueberries gives them a little bite to balance out the sticky sweetnessthese buns are sweet, tart and refreshing! Get the recipe here!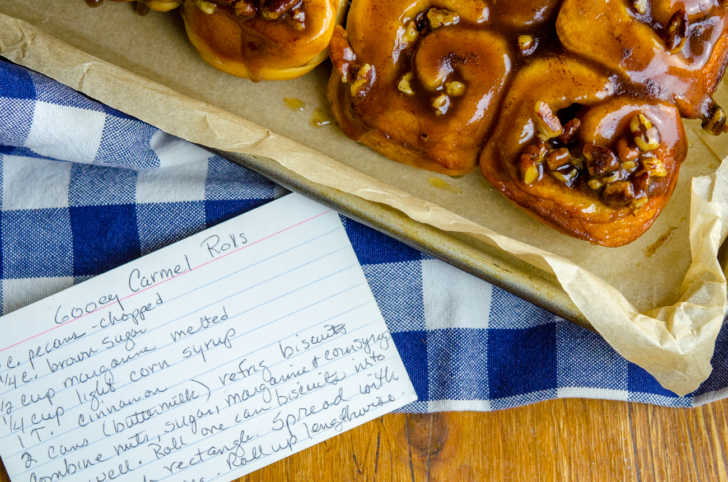 When I came across this particular recipe card, I felt pretty hopeful about the results. Because, one, who can argue with something named Gooey Caramel Rolls? That's just bound to be good. Two, I found the misspelling of 'carmel' super endearing. And three, a glance at the ingredients list revealed that this was going to be a very easy undertaking – there are only six ingredients involved! The results were just as I had hoped – a simple baking project that gives you rolls with all the sweet and sticky flavor that a name like 'gooey caramel' indicates. Get the recipe here!
SKM: below-content placeholder
Whizzco for 12T