If you're like me, you tend to procrastinate everything, especially your yearly Halloween costume (there are just TOO many choices, ya know?) Luckily, with the help of some crafty folk who came up with these unique DIY ideas, you won't have to rush to your nearest Halloween store and pay big bucks for a costume the day of.
So hack your life with these super-cute ideas. Trust me, your friends won't know how little time it took you to put these looks together… For additional ideas, check out the video at the bottom of the page! Please SHARE these super creative, last-minute costume ideas with all of your friends! It may just save them this Halloween.
1. Bag of Jelly Beans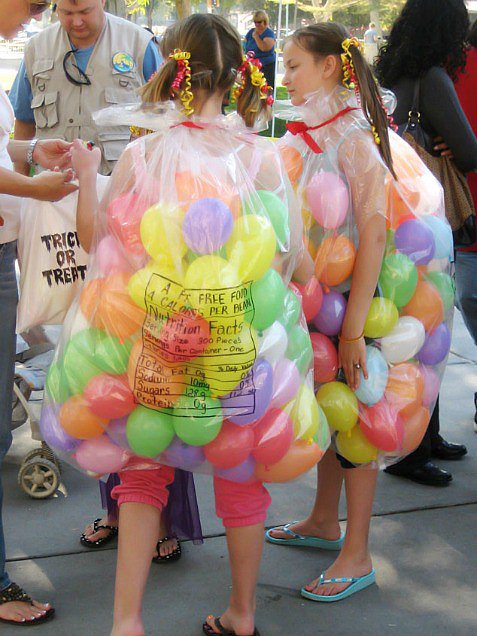 Cut holes for arms and legs in a clear trash bag, then write a nutritional facts label on one side. Fill the bag with colorful balloons and use a ribbon to tie the bag around your neck.
2. Cat Stevens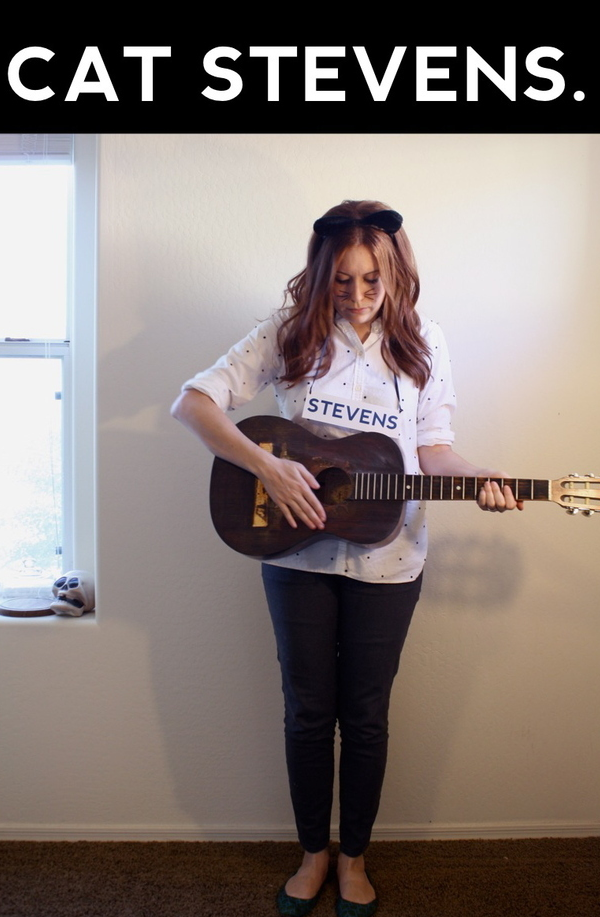 Put a spin on this classic last-minute costume by adding a guitar and "Stevens" necklace.
3. Tea Bag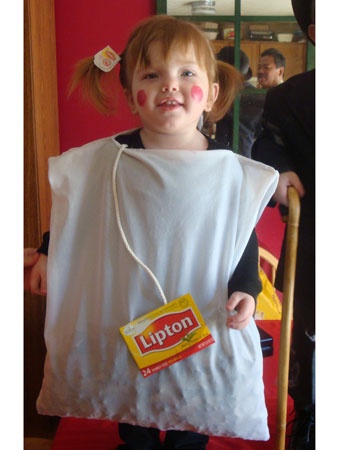 Fill a pillowcase with grass to resemble tea leaves and make slits for arms. Add Lipton tea labels to the front via a rope string and for extra cuteness, your kid's pigtails.
4. Mr. Frederickson from "Up!"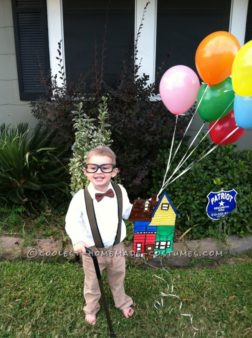 You can use a number of things lying around the house (including your kid's own house drawing) and a handful of balloons to make this super-cute costume.
5. Jellyfish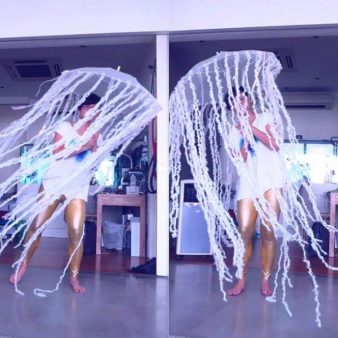 Attach string, ribbon, or any kind of fabric to a clear or bubble umbrella for this fun & easy look!
6. Batwoman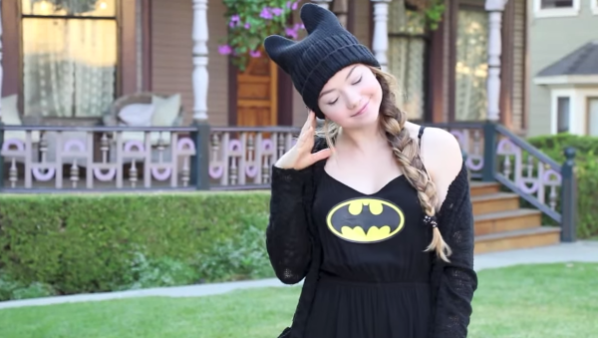 All you'll need is a full-black outfit (preferably boots and a cute cardigan), and a Batman decal or graphic top.
A bat-eared beanie hat is totally optional but completes the look (alternatively, use a pair of old-fashioned costume cat ears).
7. Bandits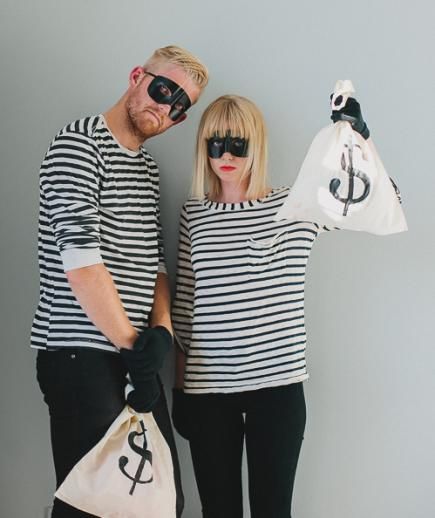 All you'll need for this cute couple's costume are a pair of striped black-and-white shirts, black gloves, black face paint or costume masks, and "money" bags which you can paint yourself.
8. Paint Brush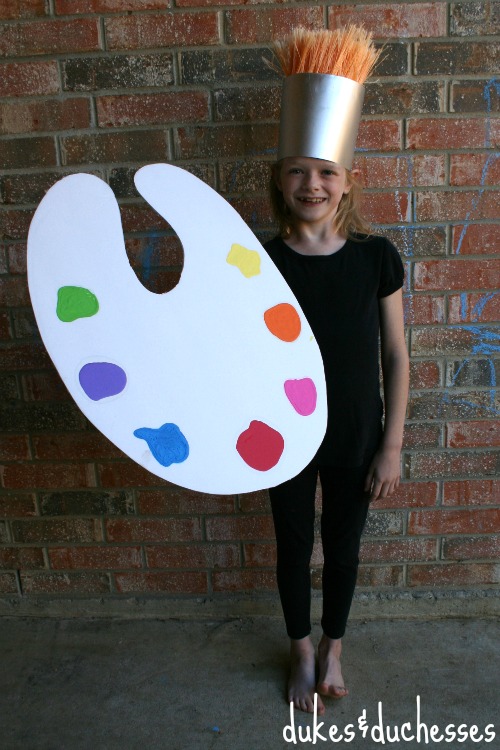 Use a foam board to create the palette shape and add splatters of paint.
Dress in solid black and complete the look with a brush hat, made with broom bristles stuck into a round Styrofoam disc and help together with silver cardboard.
A hot glue gun comes in handy for this hat!
9. Energizer Bunny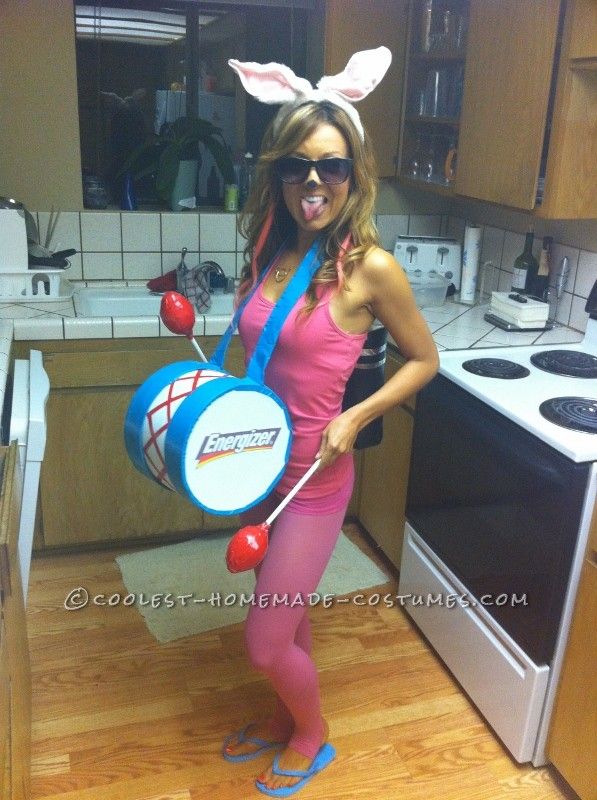 All you'll need for this look is rabbit ears and a tail and a simple matching yoga outfit. Spray paint and duct tape a hat box, and tape the Energizer logo on both sides.
Paint a paper towel roll or oatmeal tube black and silver and stuff it with newspaper to maintain its shape for a battery pack.
Complete the costume with a pair of craft sticks affixed with craft foam and/or red duct tape, or use a pair of drumsticks or maracas.
10. Beanie Babies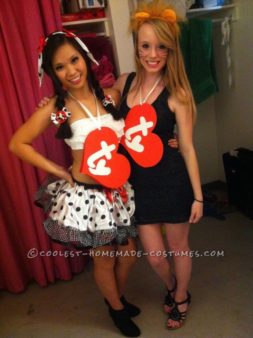 This is a great, last-minute DIY costume you can collaborate with a friend!
Dress up as a simple animal (cat ears and painted on whiskers, for instance), and and a homemade "TY" paper heart strung through a ribbon necklace.
11. "Despicable Me" Minion
12. Wednesday Addams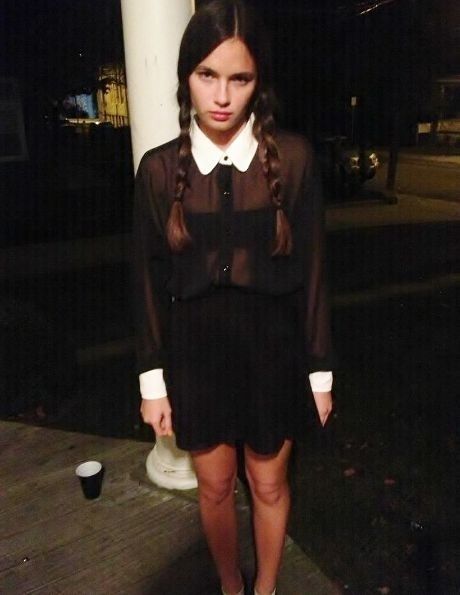 A collared black-and-white shirt dress and a pair of braided pigtails is all you've need to create this spooky look (along with some nighttime make-up).
13. Wolf in Sheep's Clothing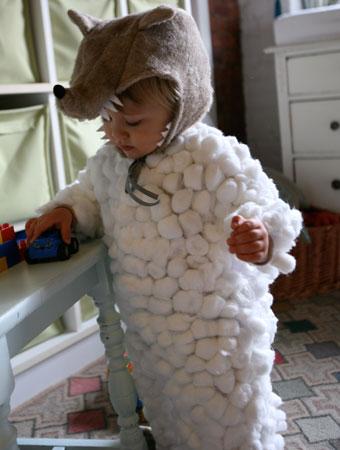 Use a hot glue gun to attach cotton balls to an outfit, and add wolf's ears or a hat for this easy, cute look.
14. Gumball Machine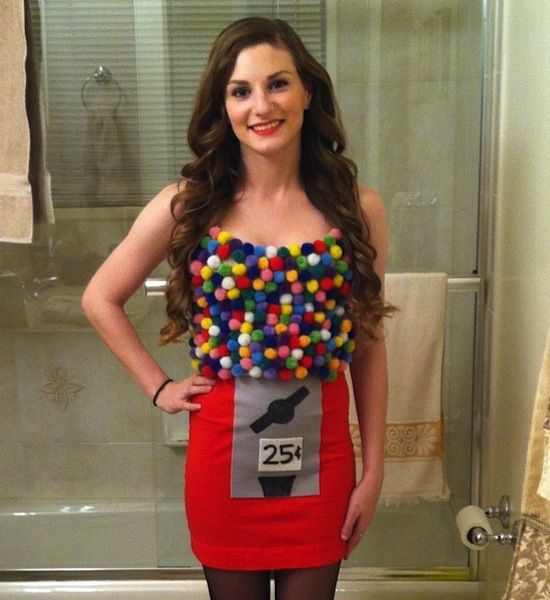 Glue multi-colored pom poms to a top and wear a red skirt for an easy DIY gumball machine look.
15. Rosie the Riveter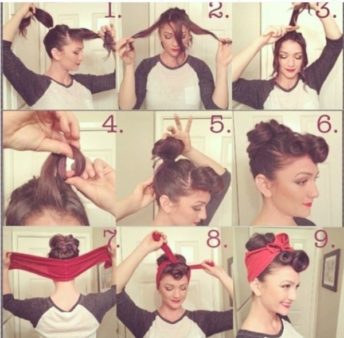 Here's a quick way to create a Rosie the Riveter hairdo.
Complete the look with a light blue shirt with the sleeves rolled up to the elbows, black pants, boots, and a bright red lip!
16. 101 Dalmatians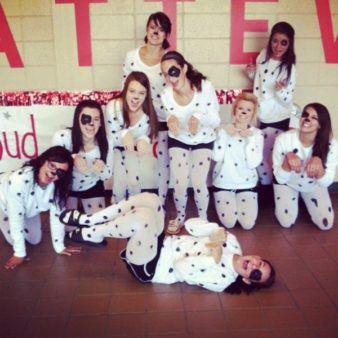 This great group costume is easy enough to make! Use a black marker to add spots to an all-white outfit, then add spots to your face with makeup.
17. Bath Puff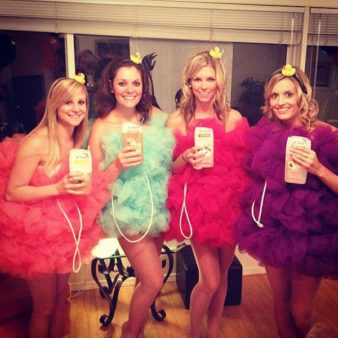 For this easy and fun costume, you'll need colorful tule which you can purchase at a fabric store.
Bunch the tule and pin it to a sleeveless outfit (such as a tube top and shorts) and use a hot glue gun to attach a rubber ducky to a black headband.
Carry an empty bottle of shampoo or soap and voila!
18. Velma & Shaggy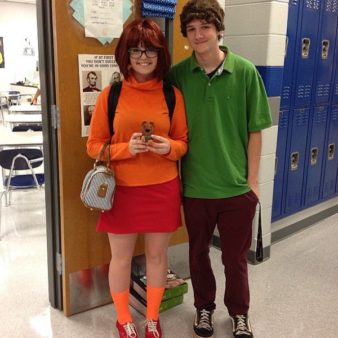 For Velma, you'll need thick black frames, an orange turtleneck and red skirt, and a short red bob wig. For Shaggy, wear a baggy green shirt, brown pants, and show off some stubble.
19. Care Bears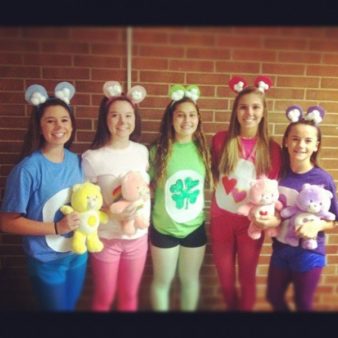 This makes for a great group costume. Use colored paper and felt or cotton balls to make the ears of your bear and attach them to a headband, then pin a handmade symbol of your choice to your bear's tummy.
Make sure to color-coordinate!
20. Men In Black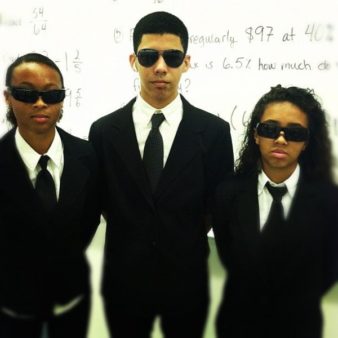 This costume works in a trio perfectly, and the best part is: all you need is a black tux, white dress shirt and black shades.
21. Little Red Riding Hood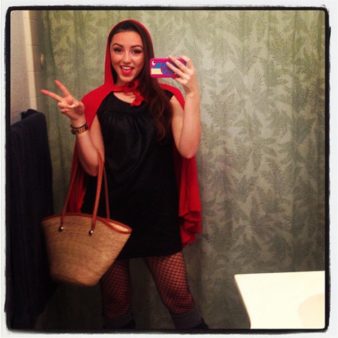 Who's afraid of the big bad wolf? All you need is a black dress, red cape tied around your neck, and a basket, and you're ready to head off to Grandmother's house!
22. Flamingo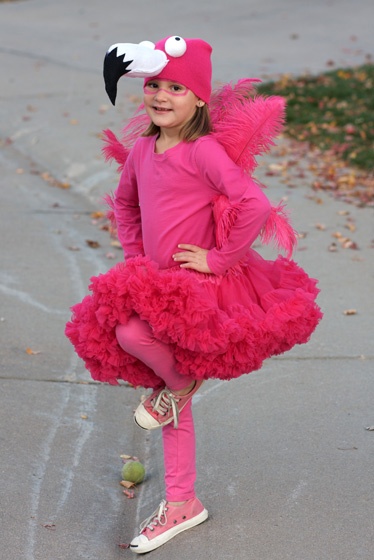 Wear an all-pink outfit, then add a pink tutu and glue or pin big pink feathers (found at a party or craft store) to the back of your costume.
Top off the look with a flamingo hat or make your mask by adding light pink and black construction paper to a hot pink visor!
Please SHARE these creative and fun DIY Halloween costumes with all of your friends!
SKM: below-content placeholder
Whizzco for 12T