If you've never enjoyed an icebox cake, you're missing out! What exactly is an icebox cake? Typically, they consist of some kind of creamy frosting mixture that turns into ice cream, some graham crackers to form the "cake," and then whatever mix-ins you want! They are called icebox cakes because they don't require any baking, just simply throw them in the freezer and let it do its thing. Here are the top 10 icebox cake recipes we've had over the years on 12 Tomatoes. Which one are you going to try first?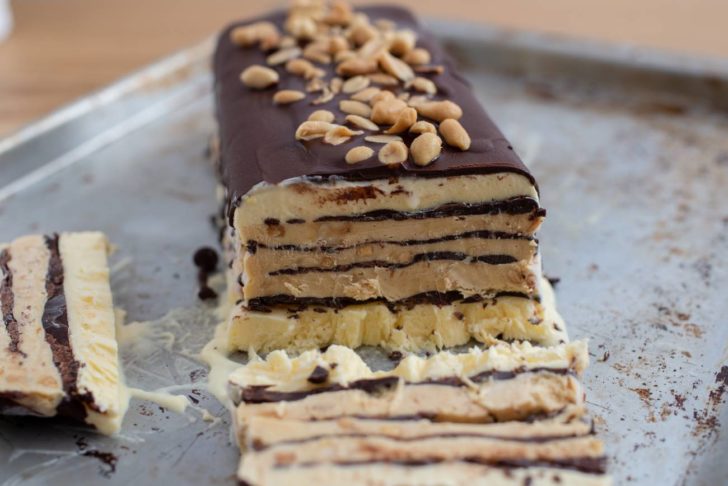 We've combined our love of ice cream, cakes, chocolate, and peanut butter into one perfect no-bake icebox cake. And the fact that we don't even need to turn on the oven makes this dessert feel even more indulgent! As if this weren't good enough on its own, we had to be "extra" and add some roasted and lightly salted peanuts into the peanut butter; we hope you can forgive us this indulgence. Get the recipe here!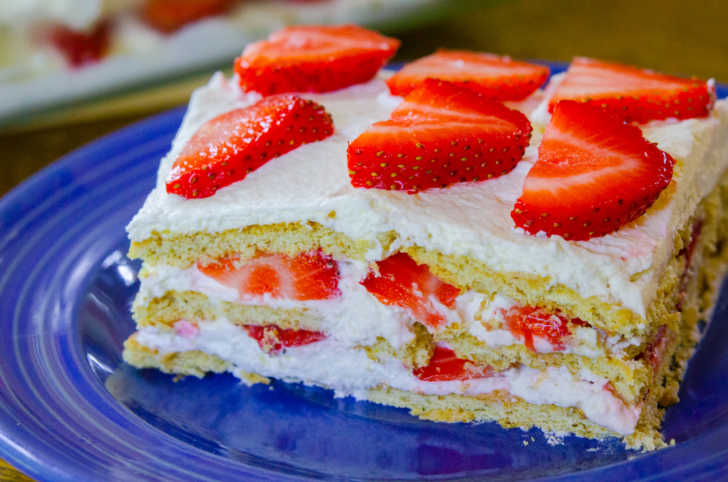 If I told you that you could make a cake that everyone – and I mean everyone – would rave over, and it required only six ingredients and absolutely no baking, you would probably tell me that it was impossible. But it IS possible. It's right here – it's this Strawberry Shortcake Icebox Cake! When I first made it, I was drawn to it because of how easy it looked but didn't particularly expect it to taste incredible… but I was blown away. It's a keeper – a truly delicious combination of strawberries and cream that's so simple to make, no oven required. Get the recipe here!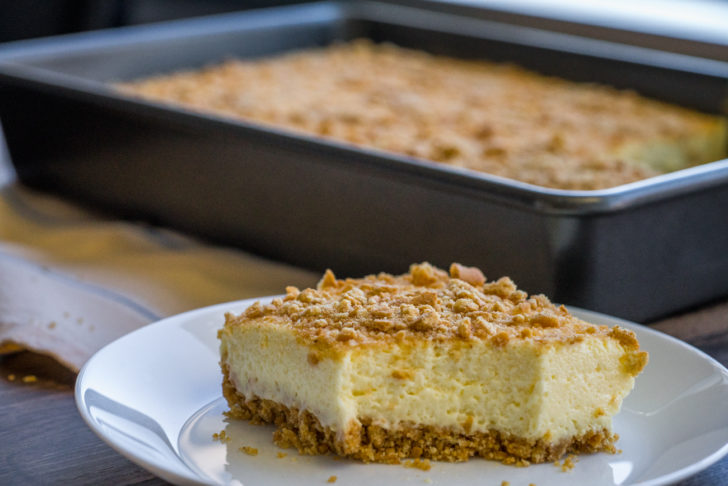 How many of you remember Woolworths and its beloved lunch counter. Woolworths is known for many things (not all of them food), one of which is their signature icebox cheesecake. You guys, we don't know how we could've forgotten about this staple, but we're so glad we remembered it and tried our hand at recreating the classic. For those of you unfamiliar with it, Woolworth icebox cheesecake is a light-as-air, no-bake, lemon confection that comes together easily and is a dessert that's perfect at the end of a meal when you need something refreshing and light and not too sweet. Get the recipe here!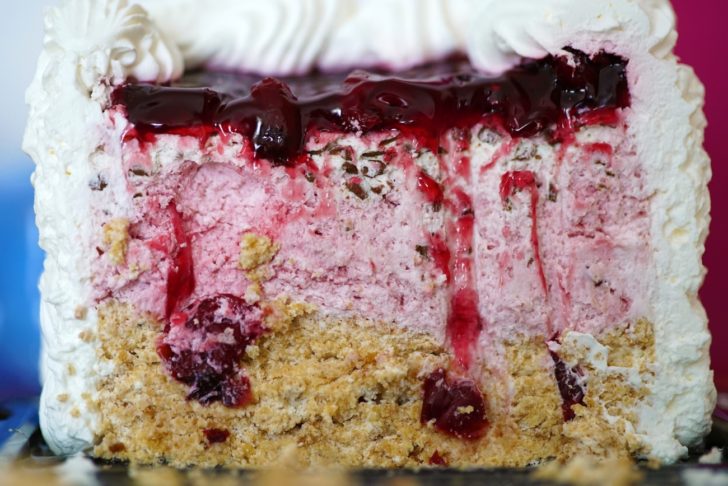 Cherries may be a harbinger of spring, but lucky for us, they're available all year round in the form of a simple can of cherry pie filling. We discovered long ago that pie filling is definitely not just meant for pie and ever since we've been experimenting with tucking it into desserts of every variety. But this particular one just might take the cake. This insanely yummy icebox cake uses canned cherry pie filling to form the irresistible cheesecake-reminiscent ice cream layer as well as the sweet glaze on top. It's a no-bake delight that's so much simpler than appearances might lead you to believe. Get the recipe here!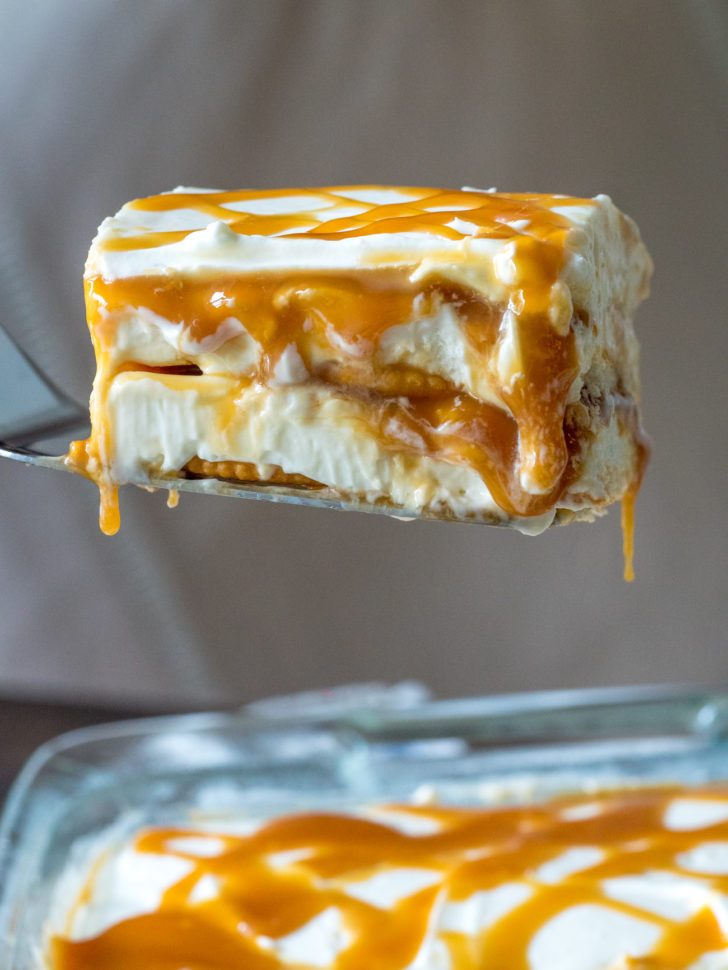 Here, we wanted a fix for our sweet and salty craving, so we decided to use salted caramel as the flavor base for the dish. Whip up a quick, sweetened cream cheese filling mixture, then start layering your ritz crackers in your baking dish. Top each layer of crackers with your creamy filling, then drizzle on a layer of salted caramel sauce. Repeat the process a couple times and you're good to go! We're telling you, the final result is absolutely incredible. Get the recipe here!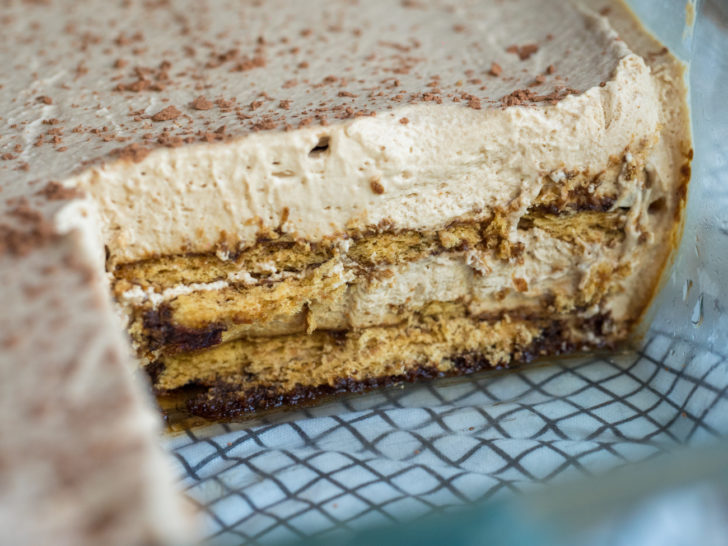 We love the look and taste of this cake: layers of whipped cream and graham crackers soaked in espresso result in a sweet treat with a kick of caffeine. It reminds everyone of a tiramisu – where espresso-soaked ladyfingers are layered with cream and liqueur. The magic behind this cake is how simple it is, how easily it sets, and definitely how delicious it tastes. We really enjoy the combination of textures and flavors; the chocolaty cream is met with the sweet slightly honey crunch from the graham crackers. Chocolate and coffee are a delightful pairing and the combination here works beautifully. Get the recipe here!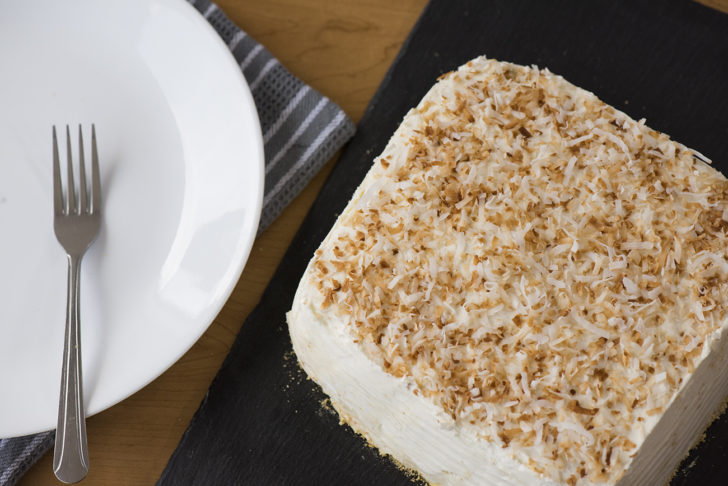 There's something so special to us about coconut cream pie. It's unclear what it is specifically about that sweet and creamy dessert, but it brings back great childhood memories and always puts a smile on our faces. Whenever we get a hankering for it, we'll typically make one the traditional way, but the other day was a scorcher and we knew we wanted to try things a little differently…enter: the coconut cream icebox cake. Get the recipe here!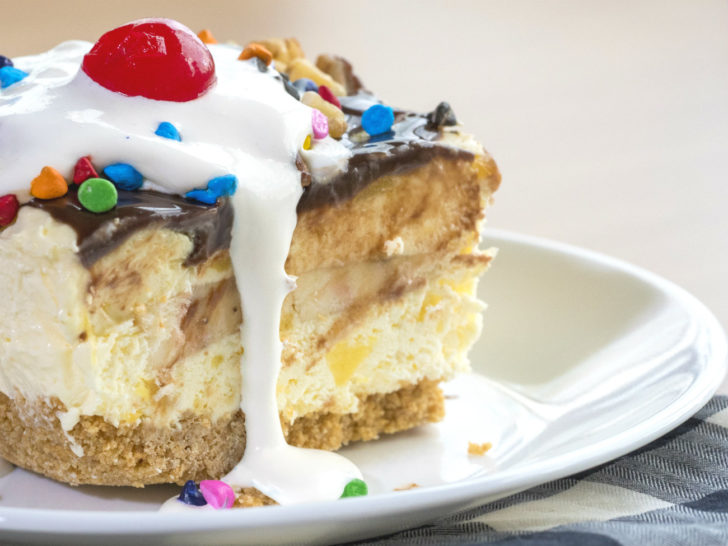 Without further ado, we give you the banana split icebox cake. This bad boy is packed with the same frosty flavors (thanks to vanilla pudding mix and frozen whipped topping), and full of bananas. We topped everything off with hot fudge, walnuts, sprinkles, and cherries, just as you would the traditional banana split, so the finished result is a cool and delicious cake that brings back all those childhood memories – all while being a breeze to whip up and serve to a group. You might not think anything could ever be better than the real thing, but give this cake a shot; you'll love it! Get the recipe here!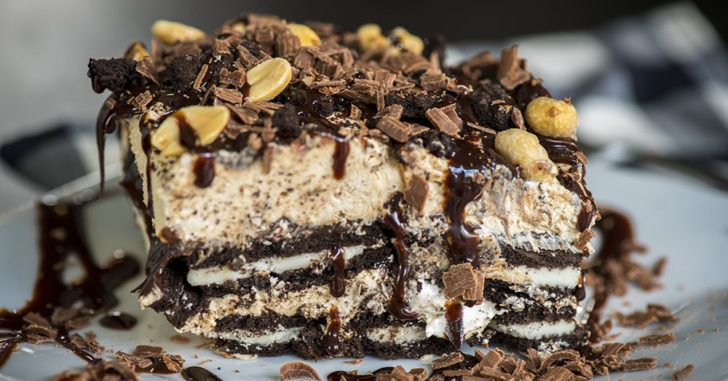 This recipe is perfect for those days when we're craving a sweet treat but don't want to turn on the oven. It takes less than ten minutes to create the cake, then we pop it in the freezer for a few hours to set up – and did we mention it only has five ingredients?! Delicious desserts don't get much easier than this. Our family gobbled this up, and we bet yours will too! Get the recipe here!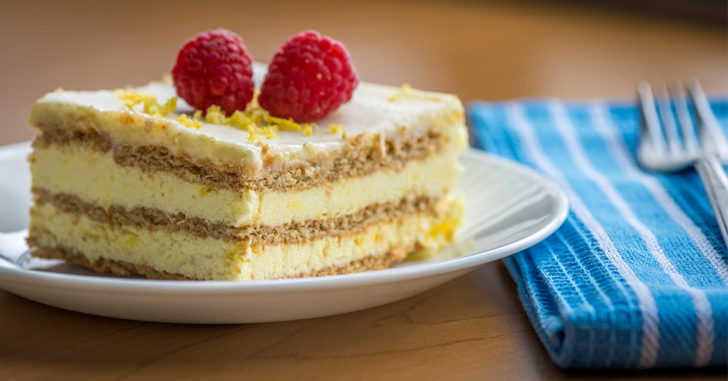 Lemony desserts always take us to our happy place – they're so bright and sunny, it's hard to not feel cheerful while enjoying them. This versatile lemon icebox cake is the ideal treat to cool us down in the summer, or to brighten up a dreary day. It requires very few ingredients and minimal work, and is perfect for anytime we want to whip up a sweet treat without turning on the oven. We love the combination of cool and creamy filling with the vibrant, citrus glaze, and we bet you will too! Get the recipe here!
SKM: below-content placeholder
Whizzco for 12T